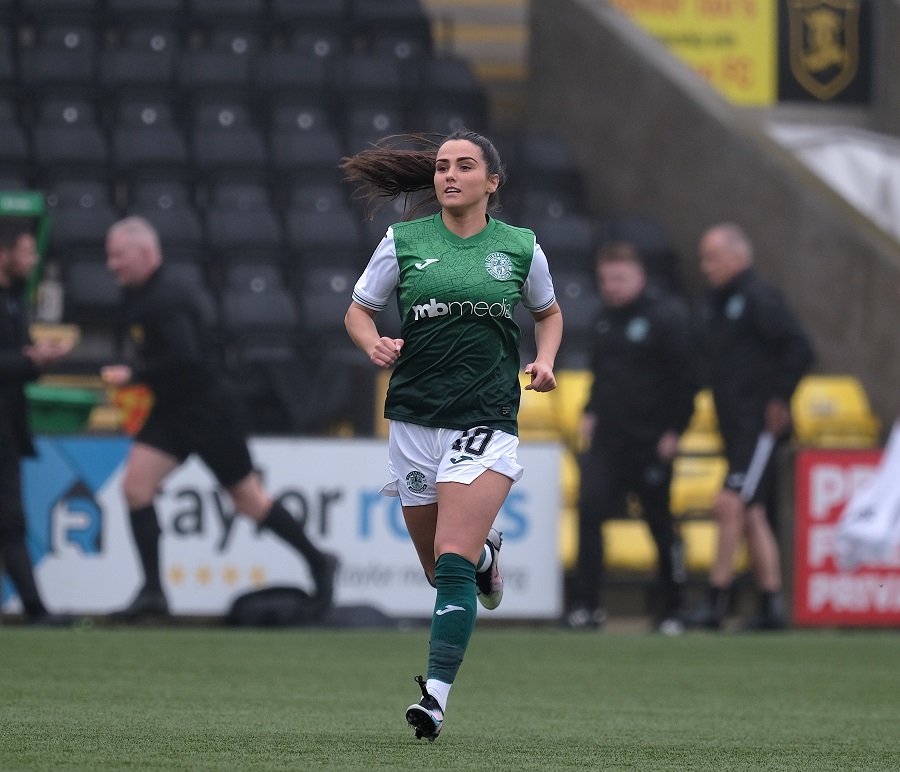 Shannon McGregor has had her fortitude called upon far more than she could have bargained for in her career's formative years. Hibernian's number ten takes pride at how she fought back, though she hopes more than ever that the here and now can finally take top billing again.
The 2021/22 season will be widely remembered in future years as one in which familiarity began to come roaring back for football. For Shannon McGregor, it was certainly a campaign that yielded an overwhelming sense of regaining what had been taken away.
The Hibs midfielder was back in first-team action last October, a year after her second ACL injury, and would play her first 90 minutes shortly before 2021 was over. The attacking prospect has started every game so far this season, and while she will not turn 23 until next month, making up for lost time is exactly how it feels for a player who had almost a full two years stolen from her grasp.
"Definitely, because my first injury was 2018 and my second was 2020," she recalls. "They're really important years in your career, so from 18 to 22, I've missed quite a lot of football."
"It was probably worse for me because my second injury was throughout COVID as well. In total, I never played a game for 22 months.
"I do feel like I'm having to make up some time and prove a point, to even the Scotland national team as well."
The most memorable snapshot of her early potential is the Scottish Women's Premier League Cup final goal she is often reminded of. She was just 18 when she hit a magnificent half-volley from outside the box into the far corner, in a 9-0 win in May 2018 that might just have made Celtic's players hate Gala goal music ('Freed from Desire') forever.
Featuring and scoring for her country up to Under-19 level, her manager Dean Gibson is one to have publicly backed her case for a senior Scotland call-up, and maybe there is an opportune moment on the horizon. The squad includes representation from leading leagues overseas, but the recent World Cup play-off loss to Republic of Ireland means missing a second successive tournament, prompting a chance perhaps for fresh faces to offer some reinvigoration.
Unsurprisingly, it is a long-held dream for Shannon, and a prospect that has previously felt within reach.
"Before both of my injuries, I was hearing things that I was maybe going to get a call-up for a training camp. That was probably worse as well, when you get told you were nearly there and then you get injured and know you're out for another 12 months; it's difficult to take."
She carries a touch of versatility to her advantage, having slotted into variations of her typical midfield berth this season, though the number-ten role is where she feels most natural. Another adaptation of sorts has come with being among those to have worn the captain's armband in the absence of club stalwart Joelle Murray.
"It kind of came as a surprise for me. I've always wanted to be a leader, but to actually get the captain's armband was a real privilege for me."
Today's captain ©️💚@Shannon71299 pic.twitter.com/jqyeLpYug2

— Hibernian Women (@HibernianWomen) September 25, 2022
Ellis Notley and Leah Eddie have also taken on the role, an admittedly significant breach to step into at that, with Murray so synonymous with the club. Part of the Scotland squad at EURO 2017 and the 2019 World Cup, she has also been one of our long-time (long-suffering?) She Kicks columnists.
Respect and admiration for more experienced players aside, does Shannon have any revelatory gems up her sleeve regarding the skipper?
"No, she's a great role model," she laughs. "I always look up to Joelle; very organised, very equal to everybody.
"Her knowledge about the game, on and off the pitch, it's unbelievable."
Inspiration has also come from seeing the respective paths taken in recent years by some of those she has figured alongside at the club. The likes of Abi Harrison, Jamie-Lee Napier, Lizzie Arnot, Kirsty Smith and Lucy Graham went on to play in the WSL after thriving with Hibs, which only whets the appetite further for Shannon in her own career.
"It just shows this is a stepping stone towards moving down south or to a different country, to play in another full-time environment that's probably been doing it a lot longer than Scotland. It's definitely a step up and it's something I definitely aim for, as well as the Scotland A squad."
As enjoyable as cruising to wins can be, the most impactful individual development surely comes from being taken out of the comfort zone and tested against strong opposition. Arsenal star Kim Little, also once a Hibee, was an 'idol' for Shannon growing up, and she notes the link they share in wearing number ten.
It was, though, another player currently featuring for a leading WSL side that provided the opponent encounter she most vividly remembers. It came in Hibs' most recent European run, in the last 32 in September 2019.
"Yeah, Champions League game against Slavia Prague, I think she's just signed for Chelsea (Kateřina Svitková) – I just remember I couldn't get anywhere near her!"
View this post on Instagram
International talent is something that Hibs have more than a dose of in their own right, with its calibre in SWPL 1 also steadily on the increase. It can be seen especially at long-time dominant force Glasgow City, and ever more at Celtic and reigning champions Rangers since the surge in backing for their women's teams.
A great deal has changed since that aforementioned 9-0 cup-final dismantling of Celtic, with the scoreline even reversed when the teams met in the league in August. For Shannon, they are the side that offer the starkest example of how the domestic playing field has shifted.
"The biggest change for me was probably Celtic; the way they play is unbelievable. The way they attack is similar to the men.
"I think the coaching and the players that they've taken in has definitely changed their team and the way they play."
While she actually grew up a Celtic fan, with her dad taking her to Parkhead, Aberdeen is where she comes from. It was her form as a Dons player that attracted outside interest, ultimately leading to following her career some way south with Hibs.
Announced as signing at the end of 2017, she had turned 18 only shortly beforehand. Her successes with the club have also since included the Scottish Women's Cup in 2018 (with a win over Motherwell), and another SWPL Cup in 2019, when she was among the shootout scorers against Glasgow City.
For the highs, there has been plenty more time than she could have wished for to get acquainted with the harsher side of the game. The realisation of a long-term injury lay-off is a lot for anyone to process, but there are countless players who have had to tackle that while simultaneously trying to make their way in another job.
Fans and observers see the very end of the recovery road, when a player is back in the matchday cut and thrust again, without witnessing the impact on basics of everyday life during their absence. In Shannon's case, there was time away from her 'other' job while she was in a cast and unable to stay seated for prolonged spells, though she was actually glad to have a profession outside playing while she rehabbed.
"I think COVID obviously had a huge impact on my injury, but also, kind of good that I had another job. I'm an eyelash technician and a beautician, so I managed to go away from football at times when it was more difficult and just work, which allowed me to be in different environments and talk to other people, which probably helped me quite a lot."
She highlights learning more about the game while she was forced to watch on, seeing 'different pictures' from the sideline. With her spectating brief since consigned to the rear-view mirror, her importance to Hibs' plans was reiterated with the new two-year deal she signed in April this year.
She certainly feels at home in the company that surrounds her, in a Hibs dressing room with a few distinct and eager voices.
"Siobhan Hunter, Leah Eddie and Micky McAlonie are probably the loudest, but I think I have my days. I can be loud some days but there's other days where I just be quiet, so I can be a bit of both."
View this post on Instagram
Teammate liveliness apart, she considers what else she feels puts her in a position to reach her best.
"I quite like getting told off if I'm doing wrong, but also, I quite like being told when you're doing right. I would rather be shouted at to be told what to do, I can take it on the chin."
Hibs' cup pedigree is a proud and substantial one, and the team face Glasgow City this Sunday (6th November) in the semi-final of the rebranded Sky Sports Cup (SWPL Cup). The final, at Hearts' Tynecastle Park on Sunday 11th December, will be televised on Sky Sports as part of the broadcaster's new agreement with the Scottish Professional Football League.
Champions League qualification via a top-two finish was Hibs' obvious target last season but they would have to settle for 4th for a second year in a row. Currently 5th, with 11 points from their first nine games, what now constitutes success for the club, in an undoubtedly-altered SWPL landscape?
"Obviously, it's a bigger competition now, there's a lot more teams that are full-time. This is probably something that we've always wanted, so it's a good thing, and I think for Hibs, the history of winning cups is really important to us, so that's probably our main point to try and succeed in, alongside the league."
A new era was spoken of this season, with SWPL 1 and 2 now under the stewardship of the Scottish Professional Football League. The respective growth of women's leagues around the world has been cause for great enthusiasm in recent years, but each nation has its own history and set of circumstances that play into what can feasibly be pushed for at present.
As the pieces of progress continue for the Scottish women's game, Shannon is asked what else can be done to help players that is perhaps less obvious to those on the outside.
"I think a big thing that England get a lot of is sponsorships. I know it's such a small thing, but players being sponsored by Nike, Adidas, being able to get boots, they mean a lot to us as individuals.
"I think small things like that definitely make a difference, and it makes you feel valued."
The theme of now making up for lost time is a sentiment felt just as strongly by her family. There were tears when watching her come on and make her return last season, and with opportunities to spend time with them typically limited, she cherishes any chance she gets.
On the pitch, helping to spark success again for a club that has become a home in the last few years would be special. She believes that taking care of the task in hand, a step at a time, can eventually see her on her way to realising some dearly-held ambitions.
"The main thing is to stay injury-free, that's my main focus, but I also want to keep performing consistently. My aim since I can remember is to play in England, so that's a goal that I want to reach, and also play for my national team."
Interview/article by @chris_brookes