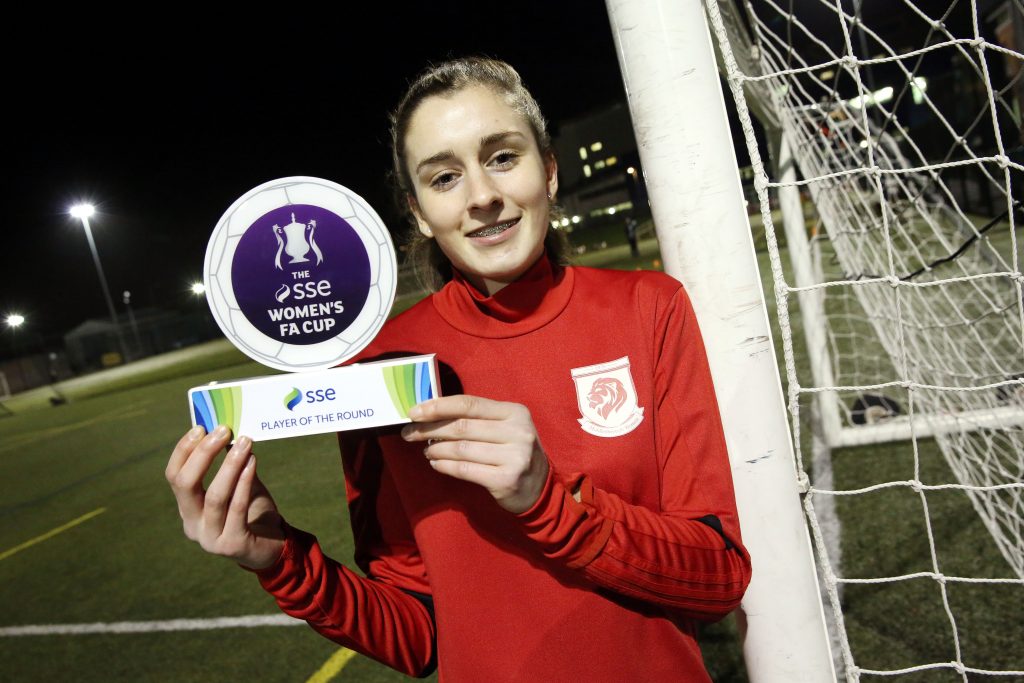 Middlesbrough starlet Emily Scarr pinpointed her SSE Women's FA Cup player of the round award as the highlight of her remarkable season so far – but hopes there is more to come.
Scarr was in sparkling form to help drag Boro back from 2-0 down to win 4-3 in extra-time with two stunning goals against Liverpool Marshall Feds, including a last-minute winner.
And the prolific winger, whose side are currently five points clear at the top of the Women's Premier League Northern Division, admitted the cup competition held a special place in her heart.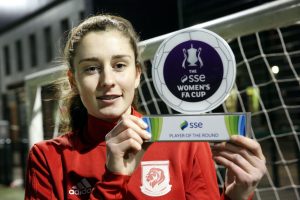 She said: "I'm delighted to win this award, it's amazing.
"The winner is probably the best goal I've scored this season. It's the FA Cup, it means so much to me.
"There was so much relief when I scored the winner, and this award just caps off a brilliant experience."
Boro's reward is a fourth round tie against Women's Super League 2 outfit Aston Villa (on 4th Feb), and Scarr believes her team are more than a match for their opponents, who on paper are the more illustrious side.
Yet Villa sit second bottom of the FAWSL 2 table with just one win also season, while Scarr's side are flying high and have promotion very much in mind.
She said: "I think we've got a good chance against them. Our attacking form is what help us win games so that is what we'll do.
"If I score goals like that against them, hopefully we'll win against them and go in the next round again.
"We'll play how we normally play, attacking them, trying to score goals because that's what we're good at."
Scarr is also confident that Boro can soon become a Women's Super League side themselves, with foundations now firmly in place for a push up the leagues.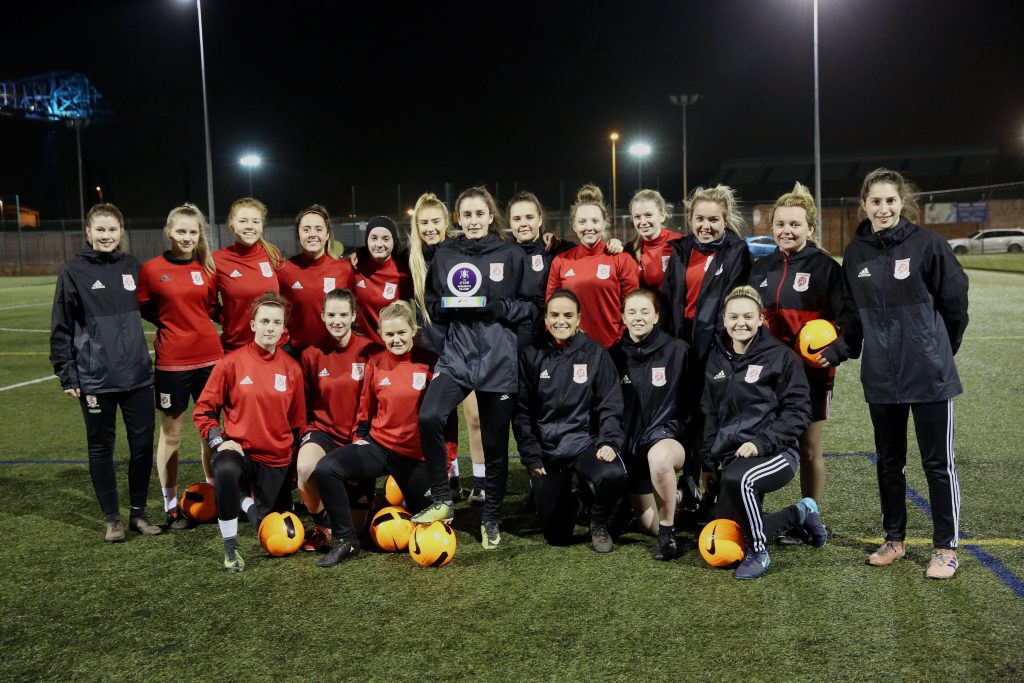 The striker is eyeing further improvement this season, both for herself and the team, in the hope this can lead to opportunities higher up the leagues and, ultimately, future international recognition
She added: "We want to be a WSL2 side. We need a few more players, more sessions and more tactical development to push up there.
"I'd love to be the top goal scorer in the league, that's my personal aim for this year.
"I'd also love to play for England and play at a higher level, hopefully for this team."
Unsurprisingly, Scarr's footballing idol is also a prolific scorer with a tendency to drift inside into dangerous positions.
She said: "My role model is Cristiano Ronaldo, I see myself in how he plays, because he doesn't stick to one position, he plays all over and scores loads of goals."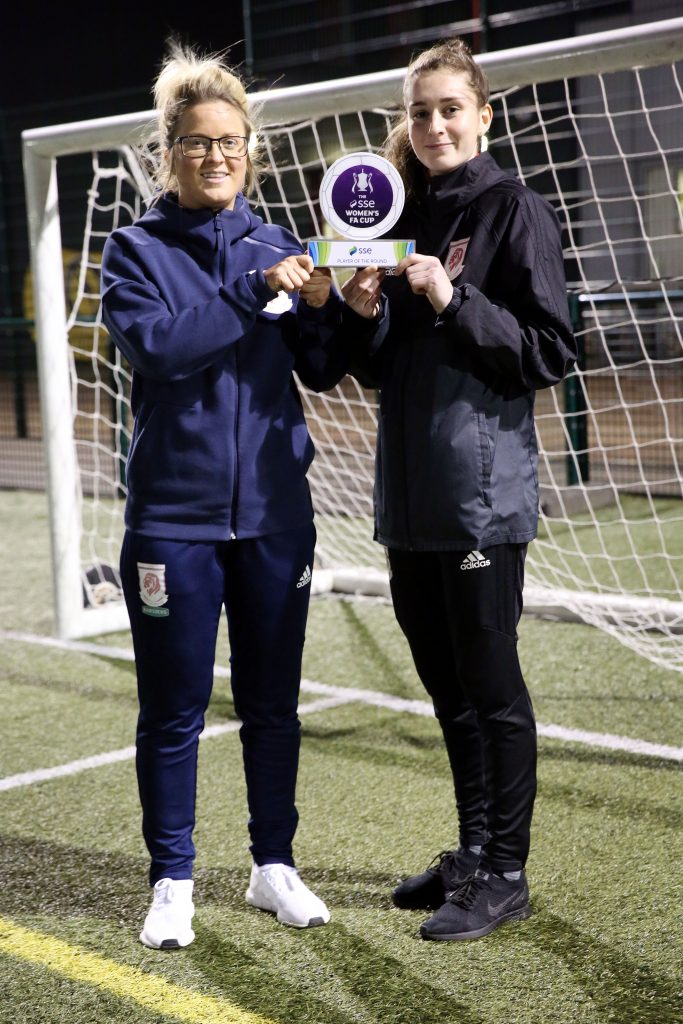 Middlesbrough Women's manager Lindsey Stephenson is eyeing a big future for Middlesbrough College pupil Scarr and is confident the club can continue to grow alongside its star player.
She said: "It's a huge award for us as a club because Emily has been one of our outstanding players this season.
"She consistently performs in more or less essentially every single game she plays in so if anyone deserves to score a last-kick-of-the-game goal it is definitely Emily."
"I'd like to think we could grow as a club and keep her here and go through the leagues to the Super Leagues together.
"How far we'll go in that we don't know but that's what we want.
"If we can keep her here, doing that, performing consistently, and establishing herself back in international football, that's probably one of our big aims for Emily.
"We want to keep pushing her to fulfill what we know her potential is."
With several in her young team facing the prospect of extra time for the first time in their careers, Stephenson knew the importance of keeping her cool.
She said: "As extra time kicked off, I told all the staff to keep calm, to keep sitting down, keep the instructions clear and let the girls go out there and play.
"Even at 2-0 we had confidence the girls could bring it back.
"Stay calm, stay positive, keep the girls positive, applaud them when they do something right, and if they do something right just keep behind them."
Like Scarr, the Boro boss is relishing the Villa tie and the chance for her young charges to again demonstrate their technical skill and mental strength.
And the manager believes her fledgling side has shown what they are capable of during their stunning season so far.
She said: "We've got some really talented young players in your team, we believed in them and we know they're capable of pulling something out of the bag when they want.
"They showed us they are capable of doing it with that performance. [against Liverpool Marshall Feds]."
Tickets are now on sale for the SSE Women's FA Cup Final on Saturday 5th May at Wembley Stadium connected by EE. For more information about tickets and SSE, the energy behind women's football, visit www.sponsorship.sse.com