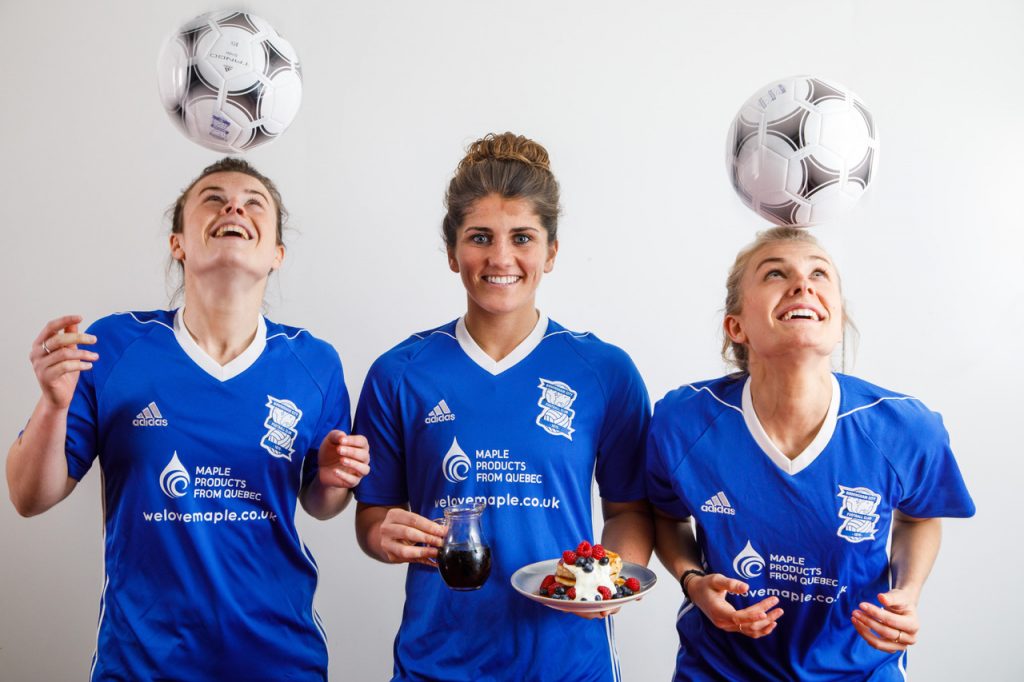 Pancakes and Canadian maple are the ultimate "match of the day" for Birmingham City's women footballers on Shrove Tuesday…
These light pancakes are made with wholemeal flour and hit the spot with footballers at Birmingham City Ladies FC.
The fluffy treats, developed by David Colcombe, UK chef ambassador for Maple from Canada, are accompanied with vitamin C-rich mixed berries, low fat yoghurt, and maple, of course.
Players from Birmingham City Ladies made the pancakes at a special cookery session run by Chef Colcombe. Lemon zest is grated into the batter for maximum flavour, rather than being squeezed at the end, which can make the cooked pancakes "wet" and astringent. Ground ginger provides extra heat and flavour.
Chef Colcombe says: "Wholemeal flour has a lower glycaemic index than white flour, helping athletes to iron out spikes and crashes in their blood sugar, so it is ideal for pancakes. The berries, low fat yoghurt and maple are the perfect combination for topping these light pancakes."
Blues Ladies' defender Paige Williams said: "Pancakes are a special occasion food but there is no reason why they cannot form part of a healthy diet – and everyone deserves a treat. I love the lightness of the pancakes with the fresh fruit and the Canadian maple."
Want to know the recipe?! Of course you do – give it a try (and send us a pic!):

Lemon and vanilla pancakes, maple syrup and mixed berries
Serves: 8
Ingredients
225g wholemeal plain flour
225g self-raising flour
2 eggs
600ml semi-skimmed milk
5tblsp soft light brown sugar
2tsp baking powder
2tsp ground ginger
Pinch of salt
1 lemon, zest finely grated
4 drops of vanilla extract
2 tblsp sunflower oil
To serve:
8 tbsp low fat yogurt
200ml pure Canadian maple syrup
Mixed berries (strawberries, raspberries, blueberries)
Method
1) Place flours, sugar, baking powder, ginger and salt into a large bowl. Finely grate lemon zest. Beat eggs, oil and milk together, adding lemon juice and zest.
2) Add mixture until a smooth butter and rest.
3) Heat oil, when hot and 2tblsp of the mix and cook for 1-2 minutes until golden brown. Keep warm.
4) Serve with mixed berries in season and yogurt.
Tweet us a pic if you make it!