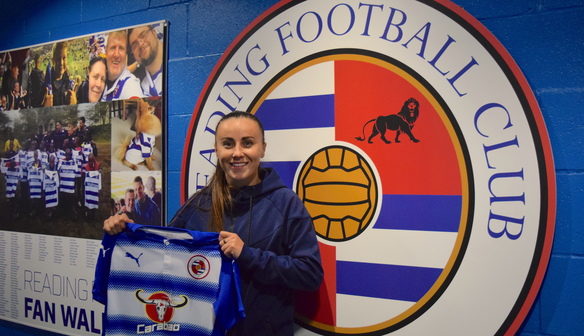 Reading have signed 28-year old Welsh International Natasha Harding on a long-term contract.
Harding's contract with Liverpool ended at the end of December and she scored four goals in five league games this season for the Reds.
Harding told reading.fawsl.com about her motivations for signing; "It's a new challenge, and it's an exciting club to be a part of. One of the club's ambitions is to get into the top three and that's more than achievable. So being a football player and wanting to win, to turn down this opportunity would have been stupid."
And when asked what she would like to achieve at Reading, Harding commented "More goals, and I don't think it would be too far-fetched if I said I want to win silverware here. Kelly [Chambers] knows me from working with Wales and she knows I've got a winning mentality. Before I retire I'd like to have something else to my name than a FA Cup runners up medal. I've come here to help the club achieve what they want to achieve."
Reading manager Kelly Chambers commented; "We're delighted to have added Tash to our squad. She's a player with a huge amount of WSL1 experience and is someone who can strengthen our attacking threat. She's scored 4 goals in 5 league games already this season which speaks volumes for her ability".