It was a joyous display of breathless football and a spirit-lifting celebration of a home nation winning a tournament and embracing women's sport, but what was it like for one of the players, who was a part of it all? The Mixed Zone after the game was more of a party than a place to have meaningful exchanges with players but CHRIS BROOKES did grab a few words with Arsenal's new #WEURO2017 champion Dominique Janssen, who was delighted to win and finally get minutes…in the final (and as humble and honest as ever):


SK: To finally come on in the tournament, in a situation like that (replaced Desiree van Lunteren on 57 minutes with Netherlands 3-2 up), how did that feel?
DJ: I was really happy that I finally came on, because it's been a tough tournament; I haven't played anything. I was really happy because I trained really hard this tournament and finally getting the 30 minutes is really good for me.
SK: You're understandably so excited to get on but what were the nerves like? Did the excitement outweigh them?
DJ: I tried to relax. I was just thinking 'Okay, I know I can do it' and when I came on, I felt that the players were tired and I was fresh, I'm super fit. I was like, 'It's only 30 minutes, I can give 30 minutes,' so my nerves were pretty good. It felt really good to be on the pitch. I think I had one mistake, when they passed the ball through my legs, but I'm just so eager because I want to play so bad. I had to try to relax and just defend, because we were winning. They told me that I had to stay in defence; I wanted to go forward but they said 'no, you have to stay,' so I just did my job.
SK: Coming on at right-back against Katrine Veje, were there any specific instructions given to you on how to approach being one-against-one with a winger like that?
I just had to make sure that I pressed her whenever I could. I tried to read the game and whenever they changed the play to the other side I tried to go there and just press her. I think that went really well. I think I had the ball twice or maybe three times, so I was happy about that. Only that one moment where I was like, 'Okay, shit!' but we didn't concede a goal so that's the most important thing.
SK: With the team doing so well these last three weeks, building more and more confidence and support with every win it seems, has that made it easier or harder to not have a chance to get out there until today?
DJ: You just want to play so bad and you want to be part of it on the pitch to help the team get the victory, so it was really, really tough. Also, the semi-final, I warmed up the whole second half, so I was ready to come on whenever, but they didn't put me on and that was really frustrating. Also against Belgium, there was a chance I was going to play and then I didn't. I had to put my emotions aside and just try to focus again on every training. I knew I was ready because I was the only person in the team that went to the gym in the morning; I was just making sure I was ready. Getting minutes finally makes me really, really happy and also makes me feel more a part of the team.
SK: I know for you growing up that you felt you were welcomed and supported by the boys you played alongside, but to see all of this happen, 28,000 here to watch the women's national team achieve something so huge, does this feel like a different world to what you knew growing up? Or even just a few months ago?
DJ: Yeah you see that the game is growing so much. I think the record of how many people were in the stadium (to watch Netherlands' women's national team) was not even 20,000, and now we play in front of 28,000. You see it's growing every game and every time we play a bigger stadium it's sold-out; that's incredible for us. It's really good that we performed and got the country behind us.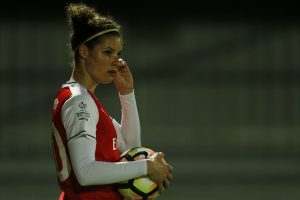 SK: One thing I remember you saying last year was how you would hear a lot from your English teammates at Arsenal about how 'England are doing this, England are doing that!' and that you just wanted to beat them and show what you could do as a team. Have you had any messages of support for this game from any of them? Or have you spoken at all to them since the semi-final?
DJ: I haven't spoken to them yet but I think they will be proud of us. I think they are still devastated they went out in the semi-final but they also have a very good squad. I think it's a good thing for Arsenal that we performed so well. It means more good players and we just want to perform well with Arsenal. The more good players you have, the better.
SK: Finally, what is the plan now for celebrations?! Are you going anywhere as a team?
DJ: We're going to a secret location! We're going to celebrate with the team and then tomorrow we go back. I have no clue what's going to happen tomorrow but I know that there's a family moment between 4 and 9 o'clock. Then the day after, I go fly to my boyfriend and I'm going to celebrate my holiday.
#WEURO2017