So, the dust has started to settle after Thursday's #WEURO2017 semi-final match and defeat for the #Lionesses but the sinking sadness for supporters and the heartache for players, staff and their close ones, will linger on for some time.
To have put so much energy, dedication and heart into a cause and not achieved the desired outcome is a crushing pill to swallow. But as ever with such painful disappointment in football, there is also comes the chance to reflect, to learn and to move on (at least after a few weeks to recuperate).
There is always another game and for many in the Lionesses contingent there will be other tournaments. And though they did not achieve their goal, and frustratingly did not show their best against the Netherlands, they did not fail either. More people noticed, more people watched, more fans travelled than before, more people care, more people are inspired.
I was in the crowd on Thursday, rather than the media tribune, amongst the players' family and friends. It was wonderfully uplifting and then it was terribly draining and emotional (at least in the press areas you are 'doing' and can try and disconnect emotionally, even if only slightly) but overall there was pride. They knew how hard these young women had worked.
We are always proud of our teams and players and should be (and that includes every side that takes to the field, from England and Scotland and all sides at these finals, through WSL, SWPL, FAWPL, to your local U11s league) if their attitude is right. And the willingness of players and coach to engage with the media straight after a gut-wrenching experience, with dignity and respect for their opponents, speaks volumes about their attitude.
Here's just some of what they had to say…

Jordan Nobbs, England midfielder
"We had our chances but it was not our day today. Two big penalty shouts would have changed the game but we still gave it our all to the last minute and we will accept we didn't do enough on the day."
Jodie Taylor, England forward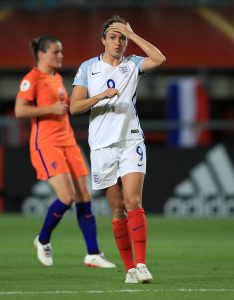 "Their game plan was really good, credit to Holland. We played well but some things did not fall our way, unfortunately. The crowd did not faze us, but it did help them.
"Holland matched us physically tonight, they had the energy, we need to raise that bar, there is more to come physically, we are nowhere near where we can be. Mentally we are in a good place but we could give more: technically and tactically we can improve. This was not our night but we are not far off, there is more to come from us and you will see more from us. It is small margins, I had a really good chance I would have liked to put away, we hit the post, there were two penalty shouts.
"At 1-0 we would have been confident we would get a goal and win the game in 90 minutes, 2-0 was more difficult but we did have the chances. The last half hour we dominated.
"We have been in form for a long time, look at our record, we have done so well. I am proud of every player. I believe we could have won this tournament and we are going to keep improving. Look at where we were two years ago to where we are at now. We will go up a whole new level before the World Cup.
"Mark [Sampson] is absolutely the right guy to carry on, I really hope he does not get poached and move on. He has been fantastic for this group, you have seen how far we have come under him in a short space of time. I really hope he is still here as we have a lot more to do.
"And I hope we get more awareness, more attention for our domestic league and the international matches we have at home."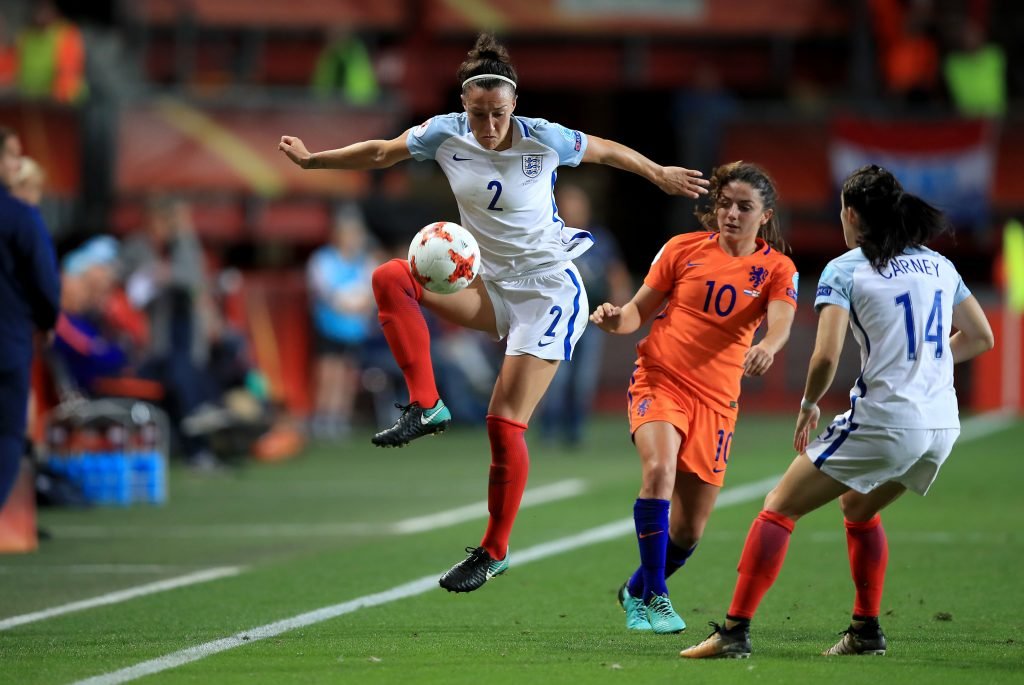 Lucy Bronze, England full back
"We are absolutely devastated, the girls gave 100%, every single person who stepped on to the pitch at this tournament has given it their absolute all.
"We couldn't have asked for anything more from the staff, the spectators, everybody back in England. We've pushed ourselves to the very, very end, which is why we conceded that third goal at the very end.
"Holland played well, really well. It took us a while to get going in the game, that's probably the most disappointing thing, because we conceded a goal quite early and that is when we started to get into the game.
"Obviously the crowd played a huge part, a lot of decisions went against us at key points, crucial decisions, game changing decisions. If they had gone our way, it could have been a very different evening. If we had got one of the penalty decisions, it would have silenced the crowd and given us a chance of equalising at the end. We had a few chances, too, and on another day, we would have taken them.
"I've watched them [the penalty claims/decisions] all back and I can't see how at least one wasn't given. On my one, I even said to the referee, 'If you think I went down too early, the girl was steaming in, I've got to protect myself, if you think I've dived, give me a yellow card…' There was no yellow card, she didn't make a decision. It's either a penalty or a yellow card. In my eyes, something wasn't right there and it comes down to fine margins in these games.
"Mark came in to the dressing room after and it was emotional, he said how proud he was of all the players. I am too, we worked so hard, we did everything we could, unfortunately some things are taken out of your own hands.
"Holland are the home nation and they played their hearts out, we wish them all the luck in the final and I hope they win it now."
"I didn't think I could be any more determined after what happened at the World Cup, but what has happened tonight, what we have been through at this tournament, the support back home, I am more determined.
"Tonight was a stab in the heart and tournaments don't come around too often but we will keep knocking on the door. We've made two semi-finals in a row (an England team hasn't managed that for a while) and I don't see any reason why we can't challenge in the World Cup and the Euros in four years. And, you know, I hope we get a shot at the Olympics as well after that was taken away from us (for Rio).
"But the team is in a good place, we'll be fighting fit, ready for the next tournament, we've got a good core of players who will still be around and we've got some good young players coming through as well. I think we're all more determined than ever to get to the World Cup Final, that's the aim."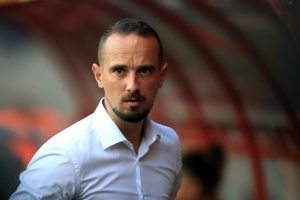 Mark Sampson, England manager
"We're devastated with the defeat. I've got 24 players in our changing room who are on the ground. They gave so much over the last 12 months to try and help the team achieve something special this year, but it wasn't to be and the key moments didn't go our way. In the big games you need the key moments to go your way.

"From my point of view I couldn't have asked to work with a better group of women or group of staff. I don't believe there's any group of people in the world who've worked as hard to achieve something in the last year. So they can go away tonight, they can go and give their families a hug and cuddle and tell them they love them, and their families will know – they've seen close up how hard our players work – and our players will look in the mirror and know they left absolutely nothing out there. They did their all to try and achieve something special.
 "
I think you always have to have a period of self-reflection as a coach and look at what you could have done better to help the team. One thing's for sure, I've got a wonderfully talented, resilient group of players who I'll do my best to support. So I'll go away and reflect on what I've done in the last 12 months to support them and try and find some solutions to support them even better, because they deserve that.
"The last 12 months for a coach in a major championship year is incredibly difficult. You've got to make a hell of a lot of sacrifices, like the players. This year's been the most special of my life, my young daughter's been born and her mum has given up so much of her time, hasn't gone back to work yet to make sure dad could give his all to the team. The first thing I want to do is go back home and spend some time with family, because I've missed them and I hope they've missed me. I want to go home and tell them how much I love them and how proud I am of what they've done over the last year to help me have one of the most special years of my life both professionally and personally.

"To get to a major championship final you've got to have a lot about you as a team and this Dutch team have got a lot about them in every single area. So congratulations to them, Sarina [Sarina Wiegman] has done a fantastic job with the team and the coaching staff deserve all the plaudits and we wish them all the best in the final. And also the Dutch supporters made it a very special night for women's football tonight. Women's football is in a fantastic place and for a women's football match to be played in front of a crowd like that was a very special occasion to be part of. They have been the most welcoming of hosts and I wish the nation all the best in the final."
#WEURO2017