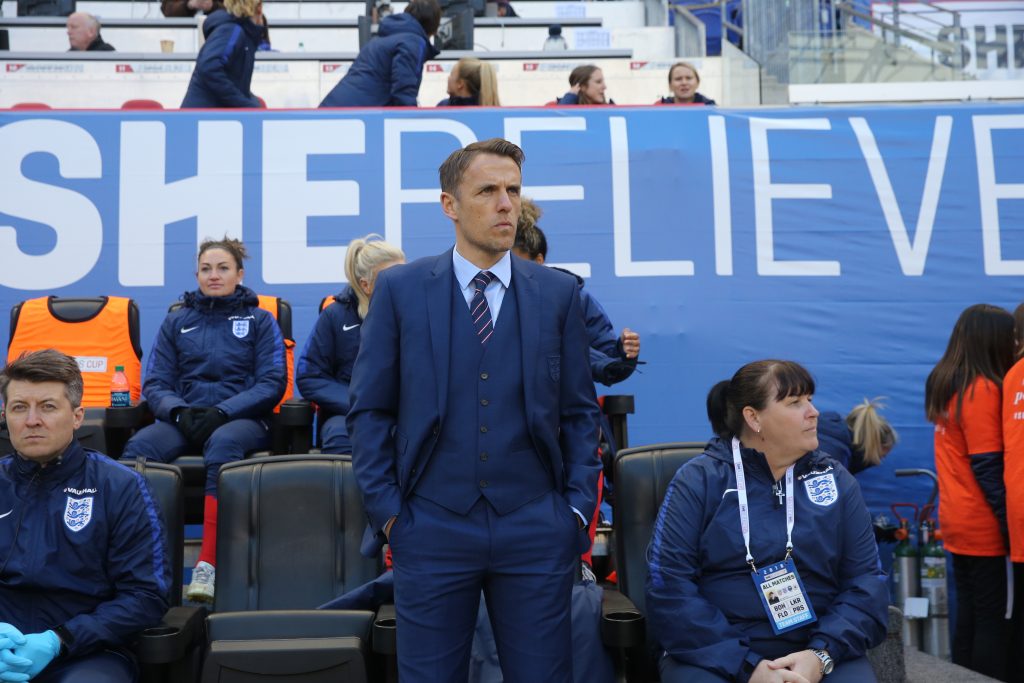 England Head Coach Phil Neville had made no bones beforehand about the fact that he wanted to beat Germany at the #SheBelieves Cup. He was also under no illusions that Germany – who the Lionesses were facing in their second match, held in the Red Bull Arena, in New Jersey – are a very, very, well-organised and technically-strong team with two outstanding forwards.
So after seeing an up and down performance from his slightly changed side (with five different starters from the France game), the team hauling themselves back level twice after conceding two messy goals and then not burying chances to win it, it's understandable his emotions were mixed.
He might not have been content but he certainly wasn't downbeat and had praise for the group's character and words for Mel Lawley and Ellen White and for how strongly the team defended towards the end.
Here's what he had to say…
On his emotions at the end:
I've just had ten minutes in the office at the end there. I came in [after the game] and I was disappointed, I've got to admit. I spoke to my staff and they brought a little bit of reason to me because I don't think an England team has ever played a German team and created that many chances. Did we do enough to win the game? Yes. But then we could have lost it to. So in the end I think 2-2 is a fair reflection of the game – they're a good team.
I wasn't happy at half time. I didn't think we played with any belief in the first half but I've got to say the character in the team was fantastic, the way they came back twice and kept going to the end. There were a lot of tired legs out there in the end, on both teams.
We put players in positions that they're not used to and they did a great job for us. We defended the goal magnificently at the end because we didn't have a big team on – we had Izzy [Christiansen] and Keira in midfield and our back four isn't the biggest either. We had to really be strong in the organisation.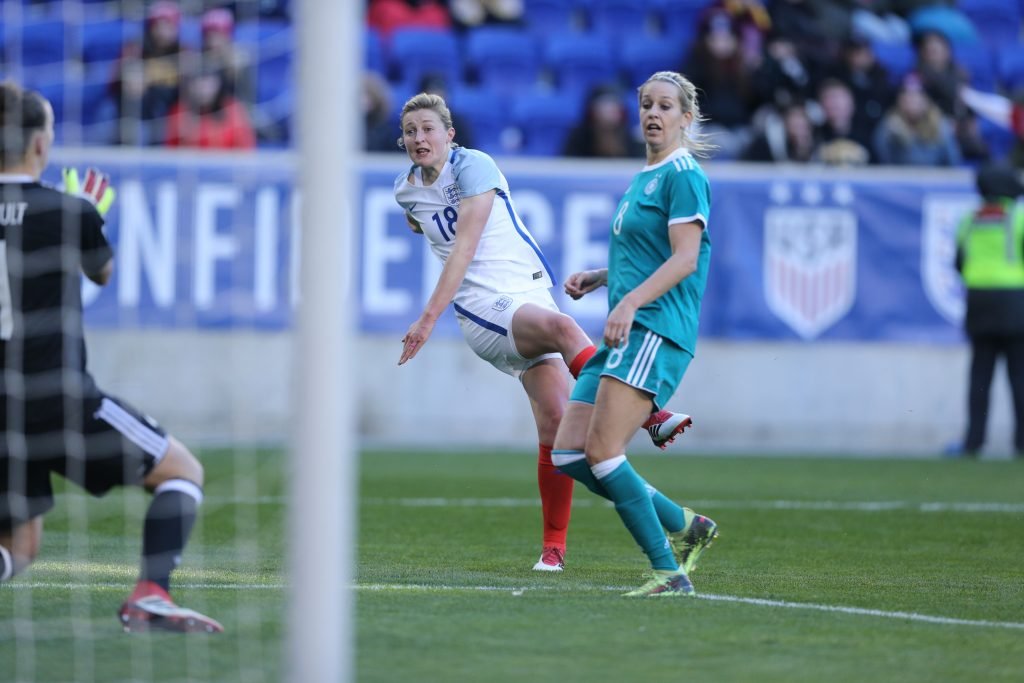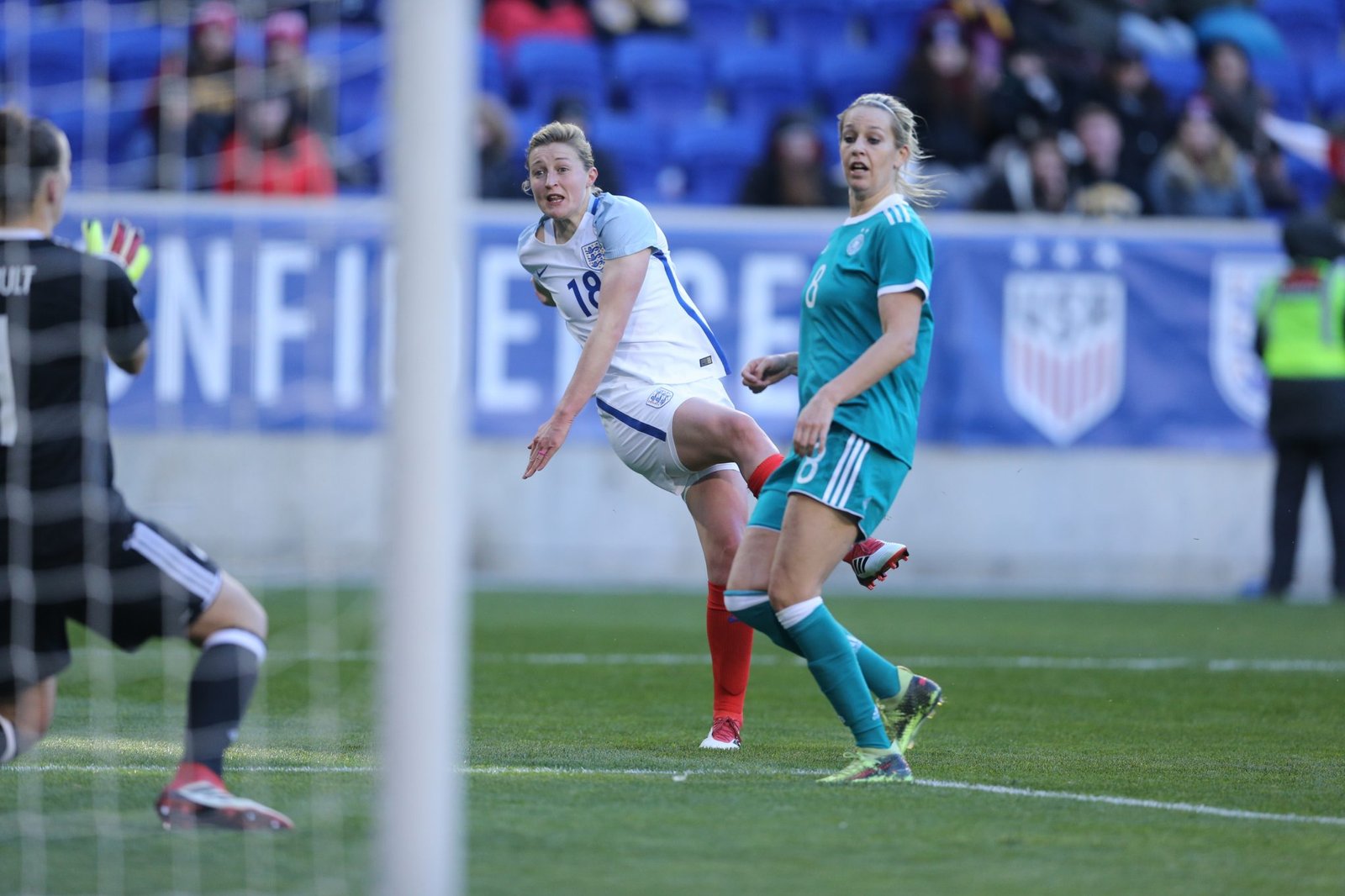 But I just look at the chances we had: Toni [Duggan] in the first half, Fran [Kirby] just after half time, Rachel Daly and Ellen White going through one-on-one and I think to myself what an opportunity it would have been to beat a German team. So I'm pleased. I think we're heading in the right direction and it's now set up nicely for the last game. I don't think we've ever won this many points in this SheBelieves tournament so it sets it up nicely for us to go up against the best team in the world and go for it!
On David Beckham being at the game:
His son is 19 and in New York with his wife and the minute I got the job he said he was going to come to the game. He just came in and spent five minutes with the team, presented Shiv [Chamberlain] with her 50th shirt, Abbie w[McManus] with her shirt from the other day when she got her first cap and said a few words about what it means to play for England which is something that he was always very proud to do. Then he came into my office and we had a laugh for half an hour about his life and his plans in Miami. His enthusiasm for the game, particularly the women's game, is fantastic. I think he would have enjoyed that game 100% because we tried to play with a style of football that he would have liked to have played himself.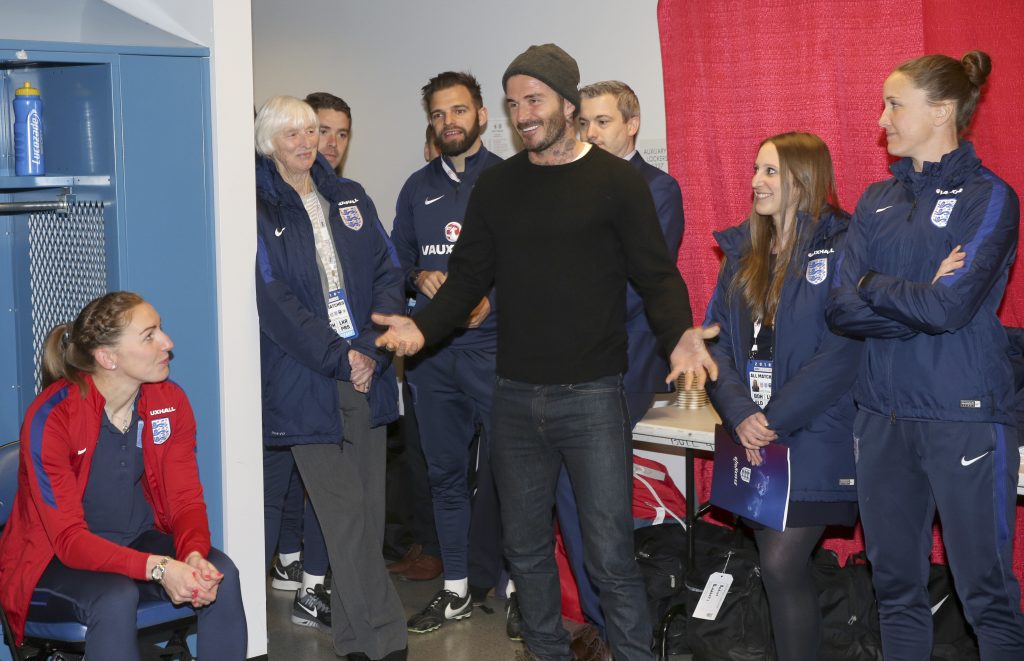 On the USA game ahead:
Look, it's not a world cup final but the challenge I'm going to set my team is to treat this almost as a dummy run. The best team in the world against the third best – this could happen when we get to France. I can feel the confidence and belief building in our team. Obviously, Jill [Ellis] on the other side has got a fantastic team (I watched the game after ours the other night), they've got fantastic players and great qualities but there's a trophy to be played for here and it's a trophy we've never won. Three weeks ago when I met my team in La Manga I told them I wanted them to start thinking like winners and when you're talking about winners that means getting your hands on medals and trophies. This is the first opportunity to get our hands on our first piece of silverware. Did I think we could get it so soon? Yes I did because I know the qualities we have in that dressing room.
On Mel Lawley's performance:
I would have thought she was probably our most dangerous attacker, particularly in the first half. She's been outstanding in training. She's shown qualities that I hadn't seen in the WSL. She's got twinkle toes, good balance on the ball going left and right and she's the type of player that goes past defenders whilst not looking like she's running fast, she's got a really smooth running style.
Actually, we walked together to board the plane when we were heading to Columbus and we had a really good chat. She's an ambitious girl, she wants to play for England and she's hungry. It stuck in my mind, that conversation. It was always my plan to play her in this game, now she's given me a selection problem for the USA game because of her performance today.

On the crop of youngsters he has brought out with the squad and brought into the team:
Young players and young people can sometimes surprise you. There were probably a few sceptics before the game today saying we've got an inexperienced side but I love giving young players the opportunity to go out there and show it. Abbie McManus did it against France and she's stood up again today against what I think are probably the two best forward players in world football, physically, in Popp and Maroszan. She gave as good as she got, she was composed on the ball.
The young players I've put on haven't let me down and I trust them and believe in them and I want my team to trust me more. Every game now that we're playing they're beginning to trust me more. Today was a big step because I think it's fair to say the French really didn't play well the other day, although today they were fantastic against the USA. Today was a test for us to see if we could play this style of football that I want to play. I think we tried to, I think we can do it better but we're heading in the right direction. And the young players are a big part of what I want to do because I've got to plan for now but also for France [2019] and I want the quickest, freshest, youngest team.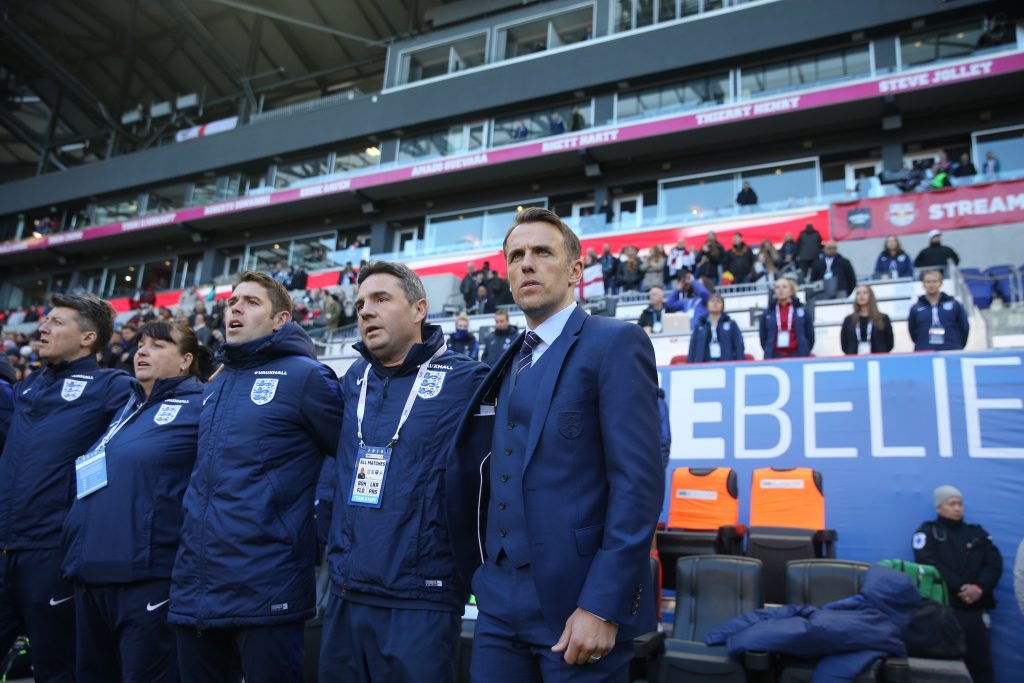 On how much of a headache his forwards are giving him for choosing the team for the next game:
Jodie is an out and out goalscorer, Ellen White – I think sometimes can be taken for granted because she can play left wing, right wing, centre forward, I dropped her in to no.10 towards the end – but she's a fantastic centre forward. She runs in behind, causes problems and never gives up. Her attitude is absolutely phenomenal, the best attitude of everyone in the squad. She's so diligent in everything she does and she's going to be a valuable member of my team going forward.
I've got two players banging my door down to play on the right wing v USA in Mel Lawley and Nikita Parris and two centre forwards that'll be doing the same through the week. So it's going to be a really difficult job because everyone wants to play in the USA game, this is the one we wanted to be peaking for, that we wanted to play our strongest team in but now I probably don't know my strongest team because of the performances of a lot of my players.