As you know, we excitedly blabbed at some of the England players in the Mixed Zone after their win against France on Sunday and we even allowed them to get a word in edgeways too. Here's some of what they had to say…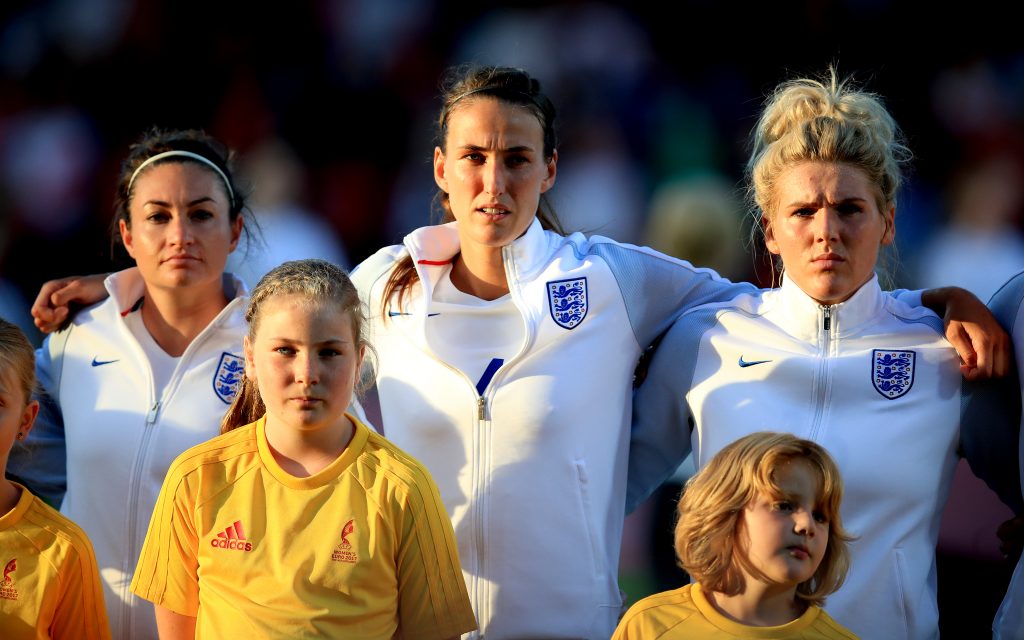 England midfielder Jill Scott
On whether she enjoyed it:
Honestly, I'm so happy. Obviously in the past, playing against France a lot of times, the Quarter finals in 2011, losing a goal in the last few minutes, it's always stuck in my mind. And even the games after that, never having that win, so yeah I'm so happy tonight.
On her battle in the midfield with Amandine Henry:
Our tactics today allowed us to get a little bit higher on their midfield as opposed to the game against Spain where I felt like we couldn't really get up to them. So it was a battle between us two and I was determined that I wanted to win that battle. Obviously disappointed to get a yellow card but today was all about winning this game and I'm just so happy that we've done that.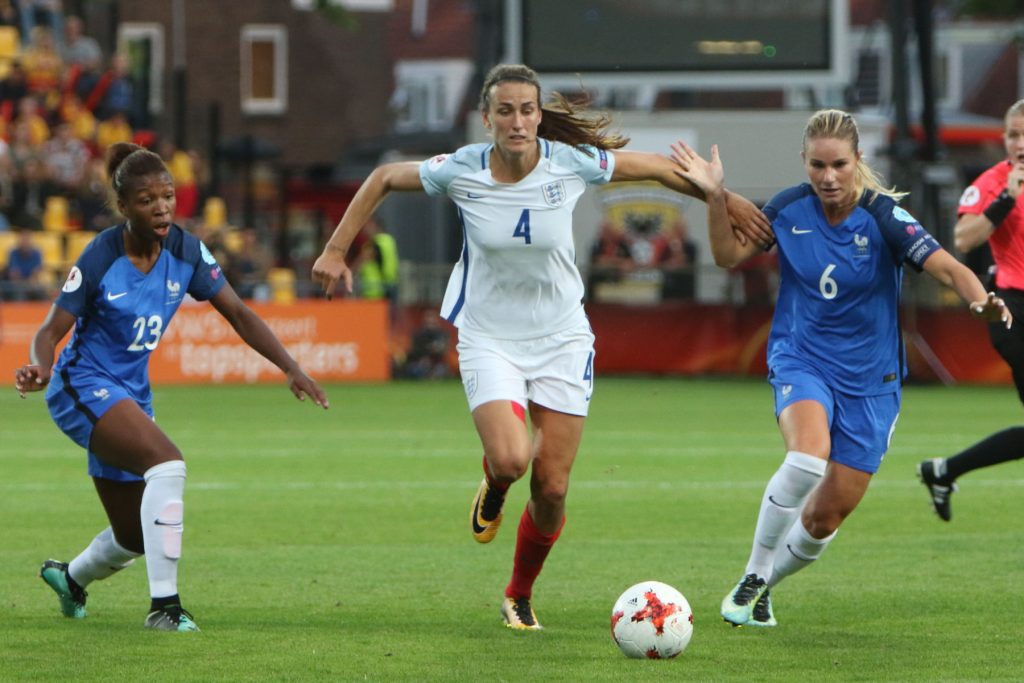 On whether it affect her getting a yellow, and know she was missing next match:
No, I don't think so because that would then mean that it was about me. For me it was just about winning that match. I actually haven't had that many yellow cards, so to get two in this tournament… but I think Mark knows as well that I'm an all or nothing player and so I'm a little disappointed on a personal note, that I'm not going to be available for selection for the next game but as I say, the overriding emotions of winning this game will override that.
On her nose not being available to get the winner v Netherlands in a Euros semi (like in 2009):
No it won't. Hopefully someone else's will though!
On not being a very good spectator:
No, not at all. I hate watching. Just like any of the girls. Even today when the 6 minutes went up on the clock I was just wishing the time away but it was great game management from the girls. But I'm just so happy to finally beat a French team and help put this team in the semi-finals.
I'm sure Mark would have liked to have had everybody available for selection for the semi-final but it's not going to be the case. Hopefully we can get the job done, which I'm sure we can. I don't think by not having me there weakens us in any way, so hopefully we can get the job done and look forward to the final.
On the prospect of watching the semi-final:
It's going to be massive. They've played some fantastic football, not going to take that away from them and they deserve to be in the semi-final but I think we do as well. So bring it on.
On what she or the girls said to Jodie after the game:
I think I went up to her and hugged her for about five minutes. It's just like anything she touches at the minute she scores. She needs to put the lottery on! I'm over the moon for her because as well as being a fantastic player, she's also a fantastic person as well and she really deserves all of the accolades she is getting at the moment.
England forward, Fran Kirby
SK: How does that rank with games you've played in your career?
FK: It's pretty unbelievable, actually. I think it's really emotional. To be able to start in a quarter final, actually win the game and play 90 minutes. It's been a long time since I played 90 minutes of football. So, for me, it was absolutely fantastic, I loved being a part of it and part of a winning team that really believes and knows that we can go on and win this tournament.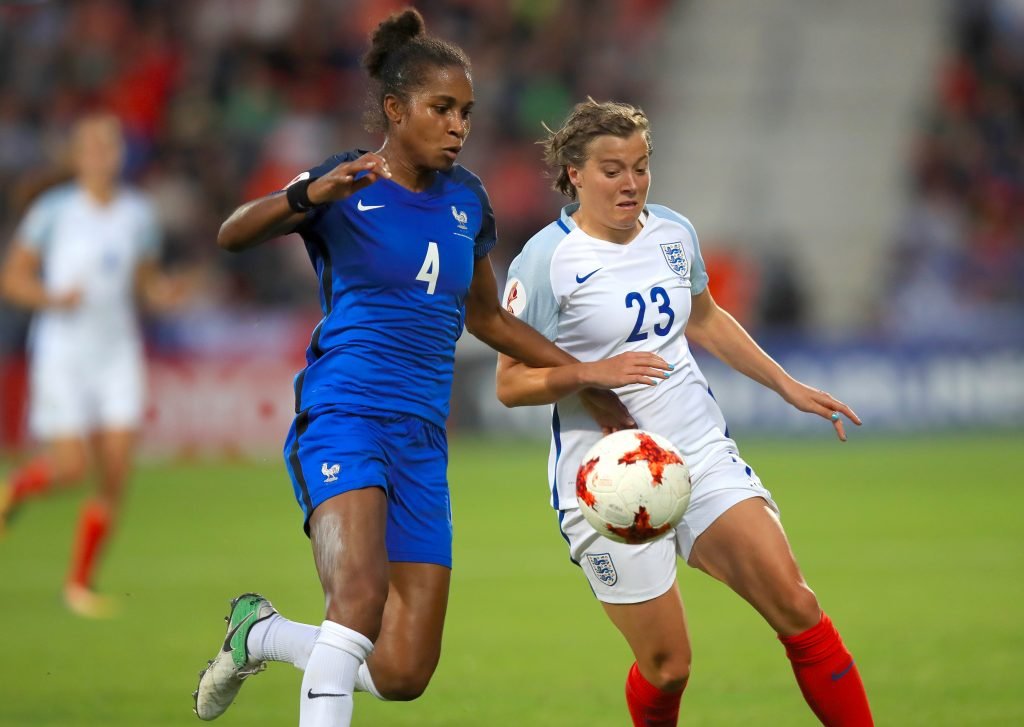 SK: How she finished the game strongly?
FK: Yeah I knew I needed to get on the ball more. I think in the first half I wasn't able to get on the ball, I think it. It was a bit of a basketball game in the first half and I knew it would settle down and that's when I was going to get on the ball and really make a difference and I feel like I did that, being able to take the ball to the corner or playing passes to put people through. As an individual, I'm always better when I'm getting on the ball, confident on the ball and I feel like I did that tonight.
SK: Your the partnership with Jodie, both working defensively from the front and also going forward, what makes it click?
FK: I think we both know each other's strengths. I know that Jodie's going to be a player that wants to run in behind, I'm a player that wants to come in and get on the ball and get in the pockets so we just really bounce off each other. Even for the goal, she's splitting one side and I'm splitting the other, it makes it difficult for any team to defend against. So, I'm really enjoying playing with Jodie and I'm really happy that she's getting the success that she deserves.

SK: What did you say to Jodie after the goal?
FK: It was just a case of emotions coming out, everyone's celebrating. We always gee each other up before a game, you know, in each other's face. 'Come one, come on,' we can do it. So yeah, we've got a really great partnership and we motivate each other as well.
SK: It's a bit different for you isn't it, not having frustrating experiences v France in the past?
FK: Yeah for me, this is the first time I've played against France. So it was a real learning curve for me, Luckily enough I was on the winning side. So you can see all of the emotion in the girls when the final whistle went, everyone was absolutely buzzing and rightly so, we've beaten a team that we have struggled to beat in the last however many years. Full of emotion and full of adrenalin at the moment.
SK: Does it change things with you being the big team left in the tournament?
FK: We always felt in ourselves that we were confident enough o come and win this tournament, we've said that from the beginning. And I've said in all of my interviews that to be the best, you've got to beat the best. For us, we had to play France in the quarter finals but we knew that we were gonna beat them eventually or the likes of Germany – who are out now – so obviously in our team we have the depth in the squad to go and do that and go and beat any team in this tournament.
SK: Playing the Netherlands in the semi-final is a mouthwatering prospect isn't it?
FK: Really exciting. It's what any young girl dreams of, playing the host nation in a European semi-final, in front of a sell out crowd, you can't ask for anymore than that. For us, we just make sure that we are fully focussed on ourselves, going into the game putting everything else in the back of our minds, the whole stadium is going to be full of orange, but we'll be confident going into the game.
#WEURO2017