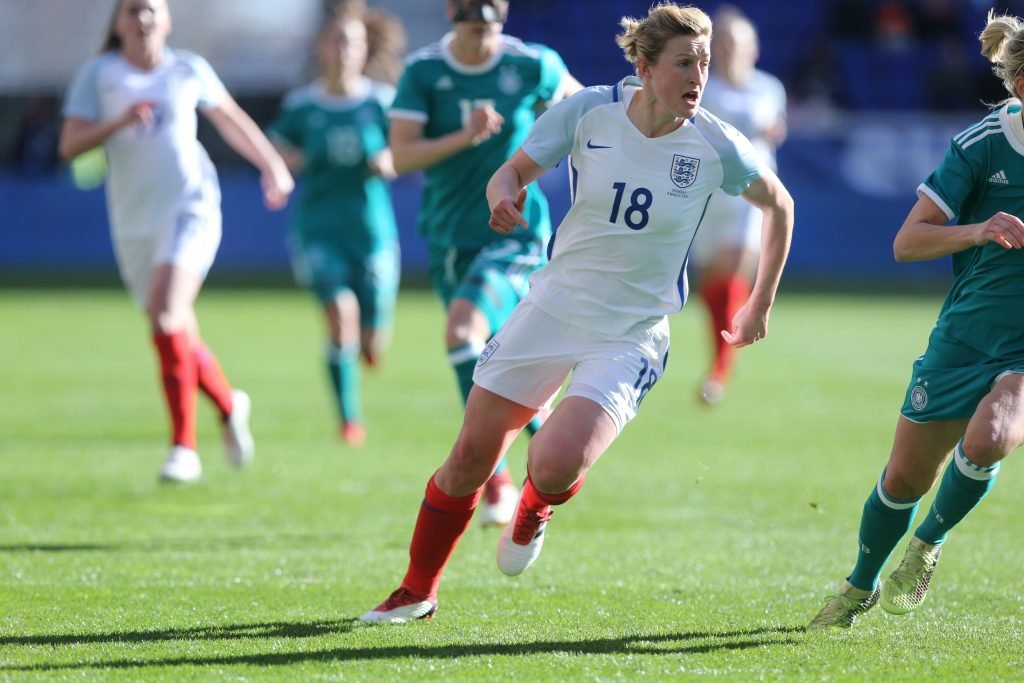 She ran and ran and ran, battled for every ball, lead the line in a tough and tidy fashion, bagged a brace (that's three in two games at the Red Bull Arena) and has almost certainly provided the management with a bit of a head-scratcher in terms of team selection for the next and final game of the #SheBelieves Cup. We caught up with Birmingham forward Ellen White in the mixed zone after the game and can you guess what we said to her first? If you remember last year's game at the same ground [when Ellen scored the only goal late on against the USA], you will. It was 'It's Ellen Show here again, you love this stadium!' Here's what she had to say:
On loving the Red Bull Arena:
I know! I saw my husband at the end and I said, 'I really like this stadium,' and that he tends to come to the good games, so obviously I'm delighted to have scored and to have contributed for the team. I think we're a little disappointed that we didn't win, to be honest and I'm disappointed that I didn't get a hat trick but we showed really great character to come from 1-0 down and then 2-1.
On having created chances but also conceded scrappy goals:
Nothing else to really say about them goals is there? We're frustrated to concede goals in that manner but we showed great character and then defended well, we highlighted their weaknesses and exploited them.
I think it shows how far we've come that we're disappointed with a draw against Germany – they're second in the world – and now we're excited to face USA. We can't wait. It's all or nothing now.
On treating the next game like a potential 'World Cup Final'?
We're excited by this tournament. We've faced France (6th in the world), faced Germany 2nd in the world and now USA, who are 1st in the world. This next game IS like a world cup final for us. This tournament replicates tournament football for us.
On the importance of being able to perform in front of sell-out crowds in pressure situations:
We did it last year, we beat the USA on their home soil. So we're excited by the big crowd, we like that, we're looking forward to going to Florida where hopefully it's a little warmer but we've got to thrive under these pressures, in these situations and in front of these crowds.
On her goals, particularly her first one!
Yeah it reminded me of a goal I got against Canada [cheeky but friendly little dig at Canadian journo Har Johal who was also in the mixed zone]…Fara [Williams] got some welly behind her strike and I managed to get in the way and direct it into the goal with my stomach. It wrong-footed the goalie, so I'll take that any day!
And on the second one, which was a great finish:
I pretty much caught them off-guard. A great ball by Demi [Stokes] and I had so much time – as a striker you sometimes don't want that time – but she [the goalkeeper] stood her ground and when she started to go down I picked out my spot and thankfully it went in.
On hearing that her manager says that she's got the best attitude in his squad, she just does what she's asked and works so hard for the team and how she's found his coaching so far?
I appreciate that comment! We're delighted. We're really excited by the boss coming in and the last 7-10 days have been fantastic. You can see by our performance against France and our determination against Germany to get the draw and potentially get the win, we're excited for the future.
On it being nice when he invites his mates along:
I was hoping for Ryan Giggs or Paul Scholes or someone! No, obviously we were really delighted for David [Beckham] to take time out to come and see us and it shows his support for us as an England team. We were excited to go out on the field knowing we have the backing of the likes of David Beckham. He said just to go out and enjoy it, that playing for your country is the best feeling and the best moment of your life and you can't ever take that for granted, so we felt really pumped and touched by him taking his time to see us.
On how far the team have come to not be satisfied with a draw with Germany:
We've grown over the last four or five years with Mark [Sampson] in charge and now with Phil in charge. We not only want to be competing against the best teams in the world, we want to be beating them. We want to show that we can play football and what England are all about and we're starting to show that. We want to go from third to first in the world.