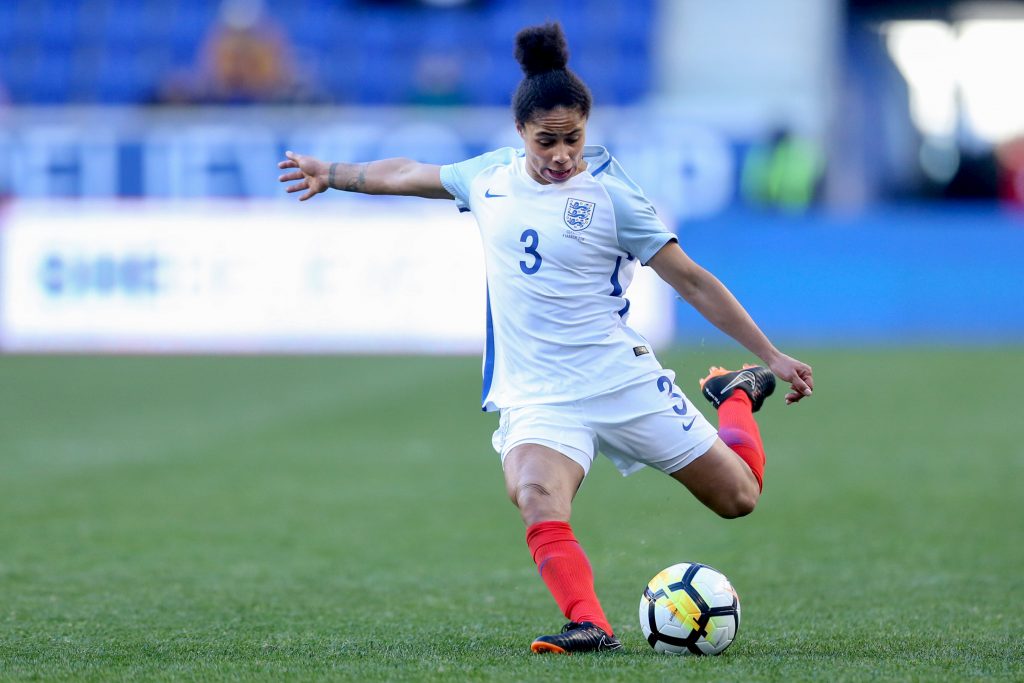 Indestructible Manchester City defender Demi Stokes (and we describe her thus because she just puts it out there for 90 minutes in game after game after game, for club and for country) played a somewhat unwitting part in the calamities of the two goals England conceded against Germany at the #SheBelieves Cup yesterday. But she was also integral in the performance that saw the #Lionesses claw their way back into the game twice, create chances that could have won it and held on at the end too.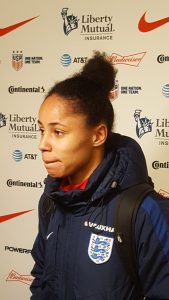 We made her talk to us after the game:  
SK: Firstly, what a fantastic pass you played for the equalising goal!
DS: I don't remember. [We think she's being too humble!] It's just good that we got the goal and Ellen did great to finish it. We didn't lose and that's the main thing. Obviously we did well to come back and stay in the game.
SK: You're really disappointed not to beat Germany. It's incredible to think where you've come from as a team to where you are now?
DS: Yeah I think that's why we play this game and why we want to be at the top level because we want to be the best, we want to beat the best. Obviously to do that you have to win consistently. So credit to the girls, everyone involved did great to come back but ultimately we did want to win and so we're a little bit disappointed but we'll go back to the training ground and work just as hard for the next game.
SK: A big game coming up! It's the She Believes Cup Final (as we're calling it)! Excited?
DS: Yeah of course. Like I said, this is why we want to be at the top level, playing against the world's best, so why not do it on their home turf and I'm sure there'll be a big crowd.
SK: And in a state [where she studied at University of South Florida] you know well, will you have friends there?
DS: Yes, so I'll have support there. Old college friends and coaches, so it'll be a good game.
SK: What was the surface like out there today? It looked like the ball was moving a little slowly, was the grass long?
DS: It was a little bit dry but again you can't use that as an excuse. You've just got to focus on what you can focus on.
SK: The two goals you conceded, you must be a bit disappointed they were that scrappy?
DS: Yeah of course. Deflections, rebounds, it did ping about a bit but again we'll review it and we'll improve. At least it wasn't something we could control. It wasn't a good play of passage where we were broken down but I think there's more work to do, we'll keep going and we're moving in the right direction.
SK: Were there a few tired legs out there towards the end?
DS: We've played two games, that's tournament football, we've got three games in a short space of time… but that's what you want. We'll keep going.
SK: Is it different coming to this tournament in the middle of the season rather than in pre-season? Do you feel you got going against France more quickly because of that?
DS: Yeah, everyone's mid-season, everyone's at their full fitness and so I think it probably does feel a bit different. Everyone's been playing for their club consistently, so everyone's in a good place.
SK: Ellen White can't stop scoring at this place, that's three in two games!
DS: I know, she loves it! Credit to Ellen today, she was brilliant.
SK: And lastly, is it nice to see your City team mates Abbie [McManus] doing so well and Mel [Lawley] had a great game to?
DS: Yes and it's fully deserved for the both of them and the first of many. They're young and they're raring to go. I think if they keep doing what they're doing, they'll be just fine.