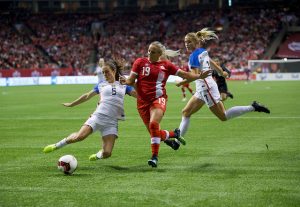 CONCACAF rivals Canada and USA faced up in a highly competitive Women's International Friendly match at BC Place in Vancouver (venue of the 2015 FIFA Women's World Cup Final), in front of a sold-out crowd (28,017).
Orlando Pride striker Alex Morgan opened the scoring in the first half before Adriana Leon of the Boston Breakers equalised in the second period. This fixture was the first of a home and away series of games between the neighbouring nations, with the follow up match seeing Canada travel to San Jose, California for the 12th November match at Avaya Stadium.
It was Morgan's sixth tally of the year for the UWSNT and her 79th international goal, while it was Leon's seventh for Canada, on this night assisted by captain Christine Sinclair shortly after Rebecca Quinn hit the crossbar.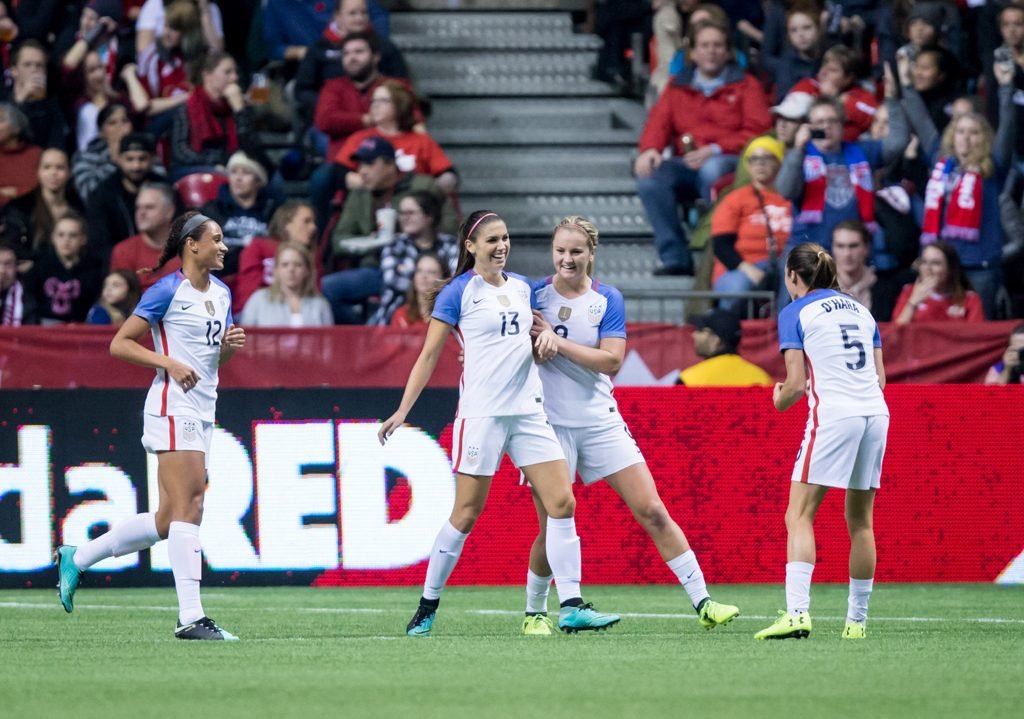 USA had drawn first blood in the 30th minute. Casey Short headed a clearance back into danger, Morgan collected.  Her right footed volley deflected off Rebecca Quinn on its way into the bottom corner of the Canadian goal.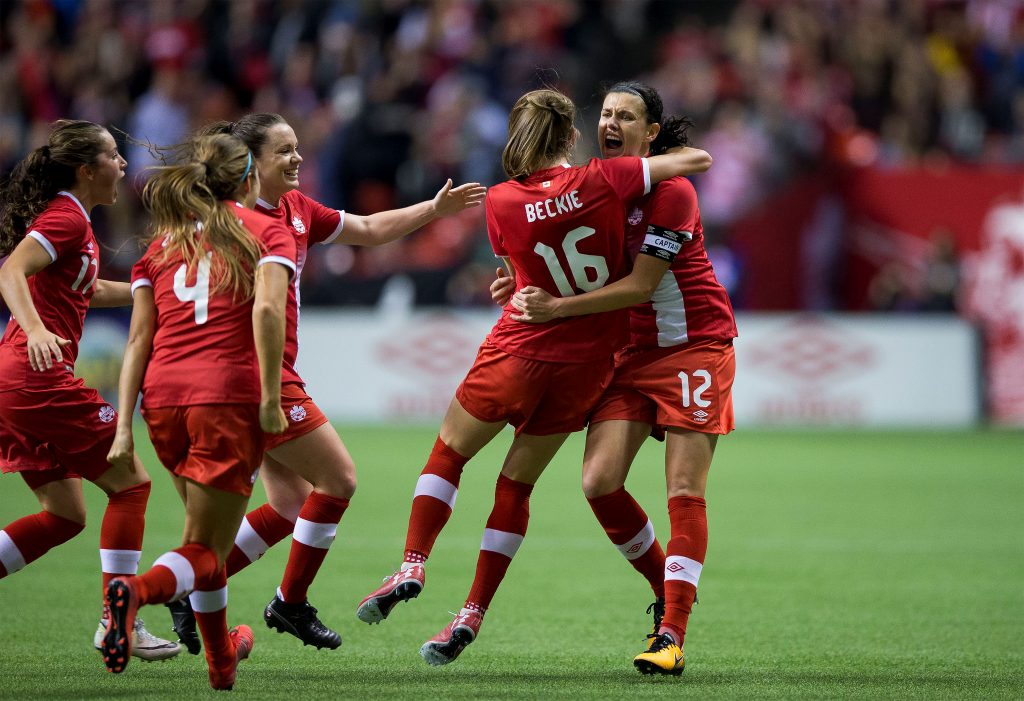 On Canada's goal in the 57th minute, Beckie started the play with a long range right footed strike that called out the best from Naeher who two handed it over the bar for a corner. Off Beckie's corner, Quinn headed it toward goal; Naeher punched it back out, Quinn collected and shot it again, this time off the bar. The ball came to Sinclair, with her back facing goal, kicked it over head toward net, Leon touched it in to level the match.
Canada's young midfielder Jessie Fleming and USA's centre back and captain Becky Sauerbrunn were selected players of the match for their respective teams.
Fleming was creating a buzz on social media:
Jessie Fleming is next level

— Rachel Daly (@RachelDaly3) November 10, 2017
Feisty 1-1 draw between USA and Canada women in Vancouver. Fair result. Player to watch – 19-year-old Canadian Jessie Fleming in centre mid

— Ian Darke (@IanDarke) November 10, 2017
Oh my, baby Fleming ⛸️⛸️ pic.twitter.com/yQ8A3dL58u

— Ann Odong ? (@AnnOdong) November 10, 2017
REACTION FROM THE HOME TEAM:
Canada Coach, John Herdman:
"The crowd was great, everyone was on their feet.  The only thing that's bruising is to not come off with a win tonight. There's an exciting future for Canada here. We have had extensive training leading up to this game, we know what the USA can do and it was nice to see the preparations worked. I am really proud of every player on the field."
Canada Captain Christine Sinclair:
"We look at our roster and we have veteran players and a handful of teenagers. It is a great mixture with some world-class players. During half time we said that we could score. Adriana Leon is one of those players that is never going to give up and never going to quit. You saw that tonight: she was a sparkplug."
Canada Goalscorer Adriana Leon:
"We played well and had a dominant performance. We were unfortunate to come out with a draw. We need to work on attacking cross. We put in some good balls but fell short. I thought we could have scored more goals."
"It felt amazing. There are no words to describe the feeling. It was great to tie the game and get going."
"I had to watch the replay on my phone (to remember how I scored) because I blacked out a bit. I guess Sincy kicked it towards the goal and I just helped it go in."
"That was exactly my job to come on the field and change the game. I think I just worked my butt off and did what I could out there‎."
Line-ups:
CANADA: 1-Stephanie Labbe; 2-Allysha Chapman, 4-Shelina Zadorsky, 5-Rebecca Quinn, 6-Deanne Rose (19-Adrianna Leon, 31), 10- Ashley Lawrence, 11-Desiree Scott, 12-Christine Sinclair (capt.), 15-Nichelle Prince (20-Maegan Kelly, 71), 16-Janine Beckie (9-Jordyn Huitema, 90), 17-Jessie Fleming
Subs not used: 18-Sabrina D'Angelo, 21-Kailen Sheridan, 14-Jayde Riviere, 22-Lindsay Agnew, 23-Julia Grosso, 24-Ariel Young
Head coach: John Herdman
USA: 1-Alyssa Naeher; 5-Kelley O'Hara, 4-Becky Sauerbrunn (capt.), 7-Abby Dahlkemper, 14-Casey Short (22-Taylor Smith, 66); 8-Julie Ertz (6-Andi Sullivan, 74), 9-Lindsey Horan, 3-Samantha Mewis (10-Carli Lloyd, 65); 12-Lynn Williams (20-Allie Long, 87), 13-Alex Morgan, 15-Megan Rapinoe (23-Christen Press, 66)
Subs not used: 24-Ashlyn Harris, 16-Emily Sonnett
Head coach: Jill Ellis
IMAGES: Canada Soccer