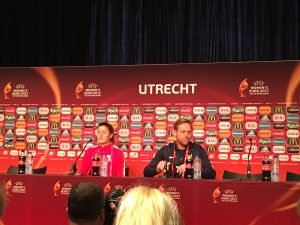 Norway's Chelsea star Maren Mjelde says her side will not be intimidated by a sell-out Dutch crowd in the opening game of the UEFA Women's Euro 2017 in Utrecht reports MARK DONNELLY.
Their opponents, host nation the Netherlands, are set to be roared on by a 23,750 crowd at Stadion Galgenwaard tomorrow (July 16), but Mjelde is confident that this will not affect the Norwegians.
"We're not used to playing in front of so many people, but it will motivate us more than it will scare us," she said during the pre-match press conference.
"The team is really ready and this is something we have been looking forward to for a long time, so we are ready."
Manager Sjögren echoed her views, saying that his side need to relish the opportunity to play in front of such a large crowd.
The former Linkopings coach did, however, admit that playing in front of a capacity crowd was an unknown for him and that he would be seeking help from his seasoned campaigners.
"I think it's quite hard because it's a new experience for me as well," he admitted.
"I have high hopes for the more experienced players who have been in this situation before to maybe get the young ones who haven't been there to calm down a little bit.
"This is the way we want it to be every time we play.
"We are not spoiled with having such a big crowd and I think you have to look at it the other way around even if you are going to get a little bit nervous, which is okay.
"You have to look at the positive that you will get to play in front of almost 24,000 spectators, which is fantastic."
After reaching the final of the last competition in 2013 many have tipped Norway as outsiders, with their young squad full of exciting attacking talent.
The Norwegians have developed a reputation as tournament specialists after performing strongly over the last few years, and with a new manager in Sjögren at the helm many expect them to register a similarly strong showing this summer.
Mjelde, however, does not believe this prior success will put any pressure on her side.
"I don't feel we have a pressure on us," Mjelde added.
"Nobody believed that we could go to the finals at the last Euros.
"Maybe we're are a dark horse, but at the same time we have a young squad now mixed with some experienced players.
"We will focus on one game at a time and then we will see how far we can go."
#WEURO2017