It was job done for Scotland this week as they closed out their opening World Cup qualifiers with all six points after wins over Hungary and the Faroe Islands, writes CATHERINE ETOE.
Spaniard Pedro Martinez Losa had spent just a few days with his new charges before they walked out against Hungary in Budapest, but goals from Erin Cuthbert and Martha Thomas got his new era off to a winning start.
And the former Arsenal manager's home debut, at Hampden Park Stadium in Glasgow, proved equally rewarding, more than 4,500 fans there to witness a 7-1 win over the Faroe Islands.
It was to be expected against a side that were ranked 73 places below them in the world, but with Chloe Arthur, Christy Grimshaw and Jenna Clark all claiming their first ever goals for Scotland, it was a memorable night.
Cuthbert and Thomas were once again on the scoresheet, as was Claire Emslie who made it seven with a delightful goal from a free kick.
The only blots on the copybook came when Maria Biskopsto nicked a goal at the start of the second half. Then when player of the match Cuthbert was stretchered off in stoppage time, although the standing ovation she received as she was wheeled away was enough to leave the hairs standing on the back of your neck.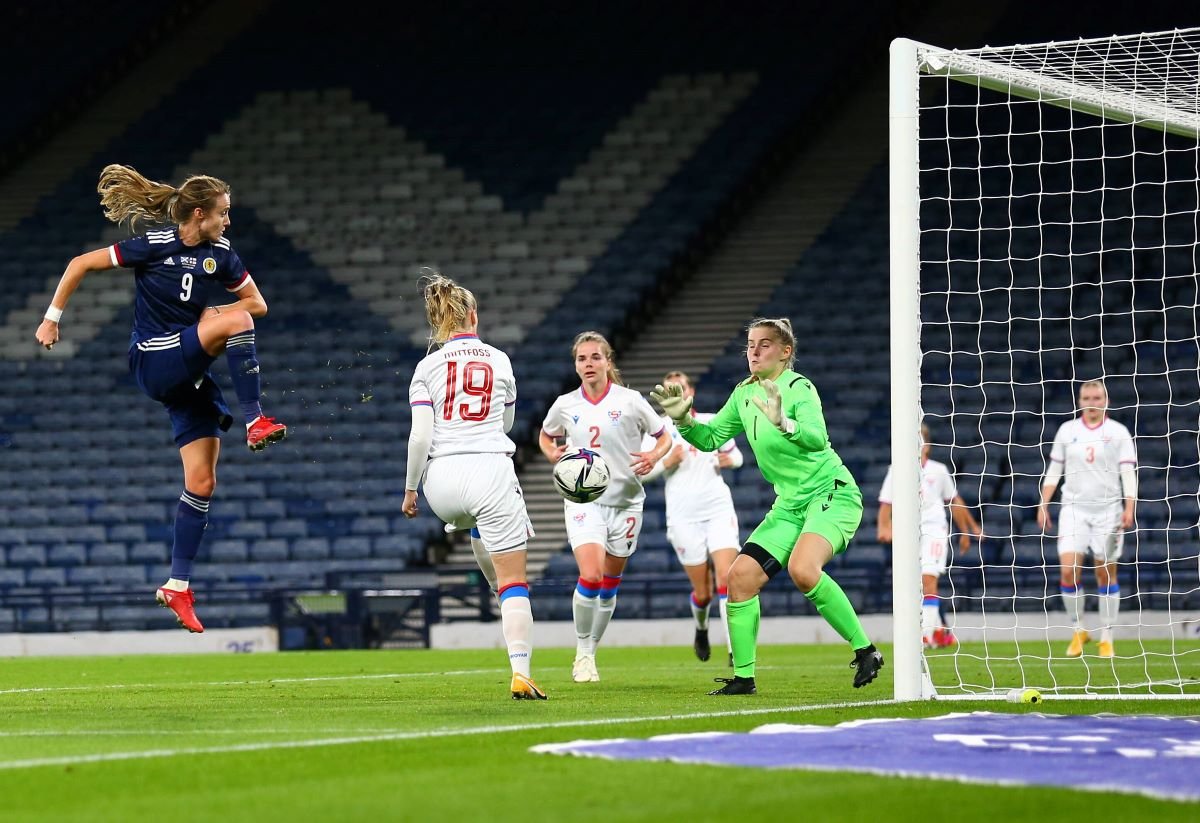 Here's a snapshot of what Arthur, Grimshaw and Martinez Losa had to say to the press pitchside after the match.
AC Milan forward Christy Grimshaw on scoring her first goal for her country in front of her family:
"I really enjoyed it. My family were here and it was the first game they've seen in over two years before Covid, so it was great they were there."
On how this camp will help Pedro get to know the squad:
"We've got videos now, training analysis, match analysis, so he can really do his job behind the scenes now, really break games down, break training down to see what we're not so good at and what we excel at so, for the next games, the big ones coming up, hopefully we'll just improve and improve."
On working with Pedro:
"It's a new adventure for us. He's really experienced, in Europe as well, he's coached at a lot of places, so his experience has really helped us break the teams down. It's been a really positive week."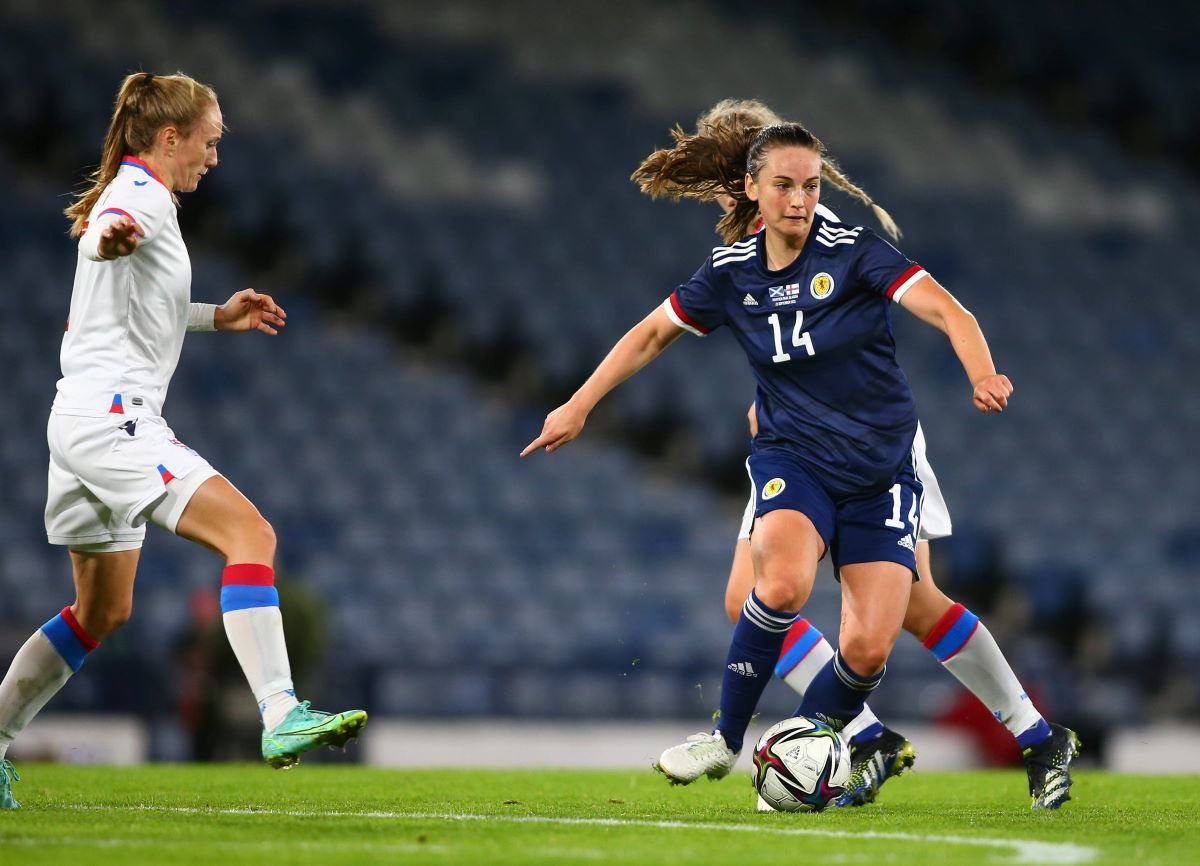 Aston Villa midfielder Chloe Arthur on grabbing the first and second goals of her Scotland career in the space of six minutes:
"Absolutely delighted, to get your first goal at Hampden and then get another one was such a good feeling."
On the scoreline and playing at Hampden:
"You're going for as many goals as you can, especially in the qualification rounds, it's really important. It wasn't just the same players which was nice, especially for Jenna [Clark] on her debut. It's just a really special day for a lot of us and having this as our home at Hampden, makes it even more special."
On breaking the Faroe Islands down:
"They sat really deep so it's quite hard to break down teams when there's not that much space, but we covered their weaknesses and knew that getting balls into the box was going to be key for us, and it was. As soon as you get that first goal the momentum starts."
On a new start for Scotland:
"It's a new campaign and you have to go in with a fresh mind. It is kind of a breath of fresh air having Pedro and his ideas and his passion and the players are really on board and we're excited to see what we can do under Pedro."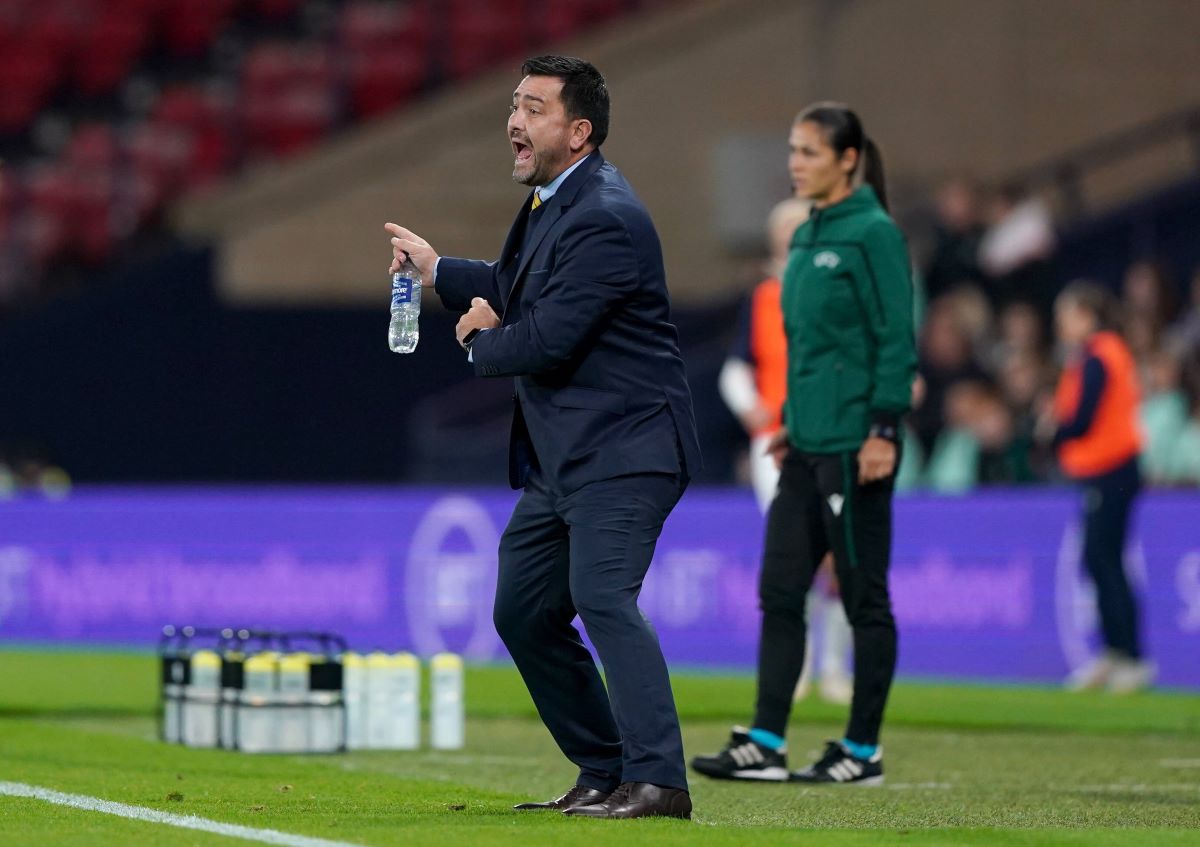 Head coach Pedro Martinez Losa on building a fanbase at Hampden Stadium in this campaign:
"Next time hopefully we will have more. I think we can build something really special. The beautiful part of the game is connecting with everyone and everyone feels you are one of the team and playing a part in the success that happens."
On his hopes to build the confidence of the group in the wake of their Euro qualification disappointment:
"This group of girls feel so passionate about their country and what it is to play for Scotland. So they felt disappointed by what happened in the past – and proud of what happened before – so [it's] to bring them back on track and make them believe and to give them full confidence to have that enjoyment of playing for Scotland. It doesn't mean there was anything wrong in the past, it is just part of the game. We have to see defeat as part of the process."
On the upcoming friendly with Sweden:
"We will have more time to prepare. It will give us time to build and to try new things, but it is important for us to keep the standard that we have set from the Hungary game. The connection between the players is what matters."
On 19-year-old Glasgow City defender Jenna Clark scoring on her debut:
"We are here to detect the talent and who are the players who can help us to get to the World Cup – and not only this World Cup but future World Cups. She has been brilliant, she came a little late in the camp [to replace Lisa Evans] but from day one to day four she is growing quickly and getting confidence and she has the potential – as well as others who maybe didn't participate, but who I think will do well."