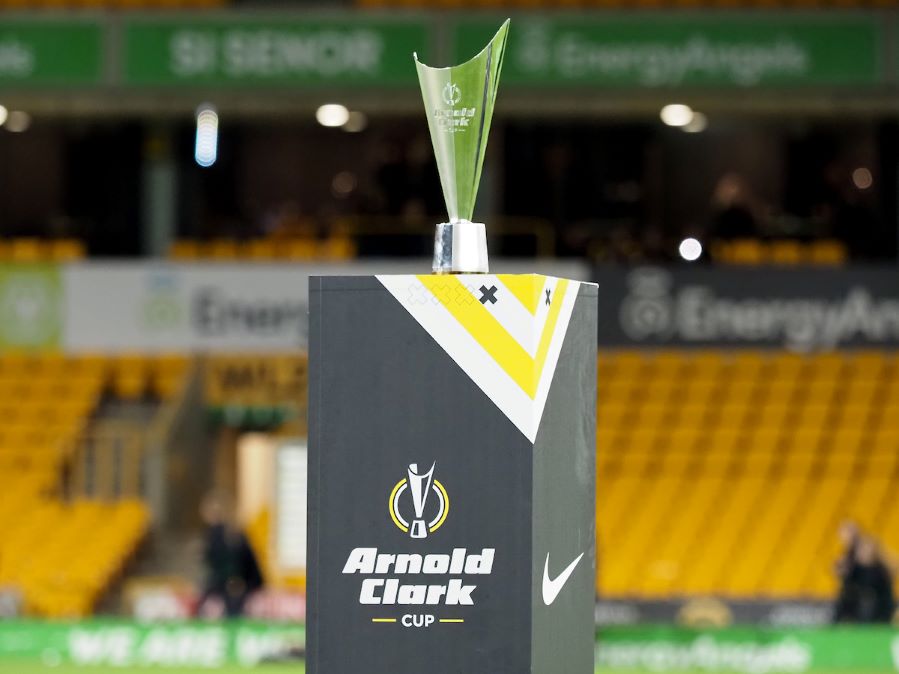 England Women will seek to defend the Arnold Clark Cup against Belgium, Italy and South Korea in February 2023.
The Lionesses' quest to retain the trophy will begin with two other World Cup bound opponents, taking on South Korea at Stadium MK in Milton Keynes, followed by Italy at a venue yet to be finalised. The home side's final match will be against Belgium at Ashton Gate Stadium in Bristol, where one team will lift the Arnold Clark Cup.
Tickets for Milton Keynes and Bristol are on sale now at www.arnoldclarkcup.com. Fans will have the opportunity to watch both matches of the double-headers using the same ticket, which will start from £10 for adults and £5 for concessions.
As one of the final chances to see the European champions in action ahead of the FIFA Women's World Cup, fans are encouraged to purchase their tickets early.
Sarina Wiegman, England Senior Women's Head Coach said: "Winning the 2022 Arnold Clark Cup was a big achievement and gave us momentum and confidence heading into the Euros.
"It's great to have the opportunity to defend this title in front of our fans. Everything we now do is about being ready for the World Cup. Facing three different good opposition, each with a different style of play and playing three matches in ten days is the perfect preparation for the challenges that await us this summer. We hope these games excite the fans and they continue to give us such amazing support."
One Brit who will be trying to stop the Lionesses from winning back-to-back titles is South Korea coach, Colin Bell. While full of praise for the home side, Bell was looking forward to the test that the Arnold Clark Cup would provide.
"The Arnold Clark Cup will be a very difficult and stressful tournament for us, but this is exactly what my team needs," says Bell.
"We play top teams; they will expose and exploit all of our weaknesses. This will enable us to iron out all of our problems before the World Cup. Also, it will enable us to prove – mostly to ourselves – that when we are well prepared, fit and tactically disciplined that we are capable of beating everyone."
England fans will be able to watch every match live across ITV.
Tournament schedule
Fixtures 
Location 
16/02/2023
Italy vs Belgium

England vs Korea Republic

Stadium MK, Milton Keynes
19/02/2023
England vs Italy

Belgium vs Korea Republic

TBC
22/02/2023
Korea Republic vs Italy

England vs Belgium

Ashton Gate Stadium, Bristol