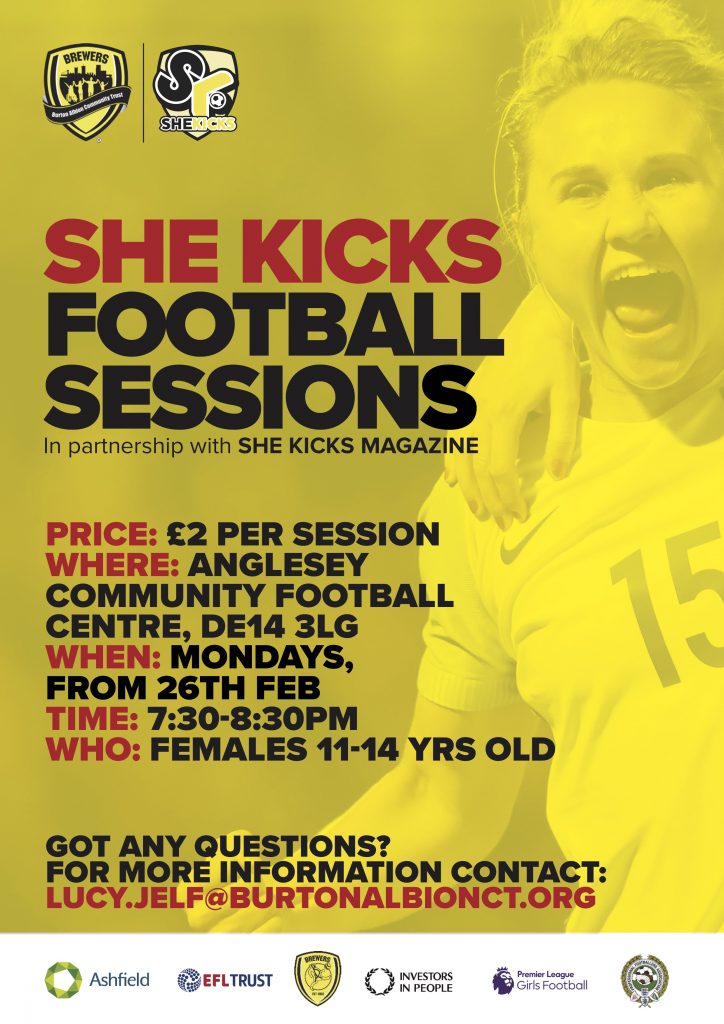 We at She Kicks are pleased to have partnered with Burton Albion Community Trust to promote fun footie sessions for 11-14 year olds. It's hoped that it will help encourage more girls to play the game regularly, be it just for fun with friends or with the aim of getting better, or both!  
We asked Lucy Jelf, who is coordinating the programme to answer a few more questions…
SK: So, what are the sessions?
LJ: Basically, the sessions are run for females who are between the age of 11-14 years.
SK: Why has Burton Albion Community Trust introduced them?
LJ: To provide opportunities for those who do not play in teams who would like to play football and grow in confidence, equally these sessions are also for those who do play in teams and want more opportunities to continue to practice in a fun and social environment.
SK: What are the aims for the sessions and what can people who turn up expect?
LJ: We are want to engage more girls to play football and to provide links to teams if it's something they would like to aim towards. We want girls to feel confident enough to come to these sessions – regardless of ability – to make new friends and enjoy themselves.
SK: What do people need to bring with them and should they come in groups with friends or on their own?
LJ: They should bring shin pads (if they have them), suitable footwear (trainers/boots) where possible, and a drink. They are more than welcome to come with friends or of their own!
SK: Who will be taking the sessions – can you tell us a little bit about the coaches?
LJ: Sessions will be run by a female coach, headed up by me! I'm the female football coordinator, and I'm very passionate about getting girls involved in football. I'm so enthusiastic about being able to lead the programme, I think it's going to be great!
SK: Is there somewhere for their parents to wait/get comfortable while they are there?
LJ: There is a community centre which offers some space for parents to sit in, plus it is also quite local to town if they want to do their shopping.

SK: When will the sessions run until?
LJ: We are hoping to create a sustainable session that continues running, so there are no current plans for an end date.
Sounds great – spread the word and let's get girls along to enjoy a kick about!