Clarice White scored her first ever senior women's league goal for Keynsham Town in her club's 9-0 away win at St Nicholas in the FA Women's Premier league, on Sunday.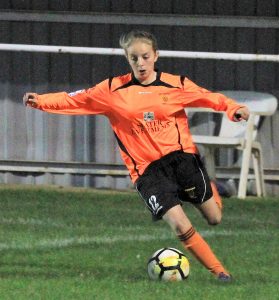 Her club are wondering if she is the youngest player to score in an FAWPL game this season, as Clarice only met the minimum age criteria just before the start of the season, when she turned 16 years old in July.
First Team manager, Barrie Newton remarked that Clarice is a highly talented young player, but it is a big jump from the Bristol Girls League to the FAWPL.
"We had an exciting U16 team last season, but Clarice is the only one of that squad to go straight into our First Team," explains Barrie. "The others have gone into Keynsham Town Development. If Clarice is not the youngest player to hit the back of the net this season, then she must certainly be the smallest, standing at only 4ft 11inches! We would like to know if there are any other players in the League with similar claims to fame?
"Some clubs would not look at playing small players in their teams, but we have no problem with that. After all, Messi and Maradona are not that tall for men's football either and our Spanish player, Keka, is only a little over five feet tall."
Midfielder, Clarice was delighted to get off the mark, meeting a left wing cross at the far post in the 42nd minute.
So, can you help Barrie and Keynsham Town out? Do you know of a younger or shorter player than Clarice?