What is it like to attend and report on your first major football finals? University of Derby Football Journalism student Jonty Colman (pictured below, speaking to Magda Eriksson in the Mixed Zone) gives you some insight and shares his experiences here:
As any dedicated football fan will tell you, watching any kind of major tournament is something that all supporters crave. Whether you watch the matches in your living room, a pub, a football club or a fan zone; it is always an ambition that one day you get to go and watch a high-profile competition in the flesh.
I still remember the first ever tournament that I ever watched on television, the 2002 FIFA World Cup, which was held In South Korea and Japan. It stood out especially because all of the matches were played in the mornings and early afternoons and I must say this event was probably where my passion for football began.
It was the tournament full of shocks, where defending champions France failed to get past the group stage and failed to even score. Argentina also failed to reach the knockout stage, with Sweden progressing at their expense. The Netherlands didn't even qualify for the tournament. Host nation South Korea somehow reached the semi-finals, alongside Turkey. It was entertaining from start to finish and I still to this day, I regularly watch my DVD of the tournament featuring every single goal from it.
In the 15 years since then, I have sternly watched every male football tournament, in the hope that just one day, I will attend a competition in some capacity.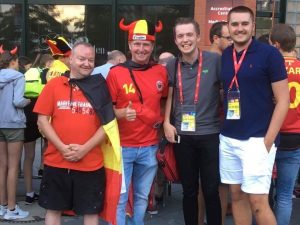 My name is Jonty Colman and I am a 19-year-old who is currently studying Football Journalism at the University of Derby; the only Football Journalism degree available in the country. It is fair to say that I've had a passion for football since as early as I can remember; even my first word was "ball". I am a Chelsea fan because of my Dad, who has supported them for the last 47 years.
As I've mentioned, it has been a lifelong ambition of mine to both attend and report at a major tournament and this summer I've got to do that. Alongside ten of my course mates, I have been able to travel to the Netherlands to report on this year's UEFA Women's EURO.
When the opportunity arose, I instantly grabbed the chance to go because it was a simply an opportunity that could very well never happen to me again.
So where did it all begin?
After deciding that this was what I wanted to do as a career aged 13, I chose both my GCSE's and my A-Levels accordingly and have been working in this direction ever since. When I began sixth form, I decided to write match reports of our college academy matches, as I was struggling to play much for the side myself. From then on, I'd write a report on any kind of game I went too, including England Under 20's, Plymouth Argyle and even the Saturday pub team that I was playing for at the time.
Roll onto September 2016, when I joined the course at university. I was instantly determined to get as much experience as possible with the aim to attend one football match in the press box in the whole course.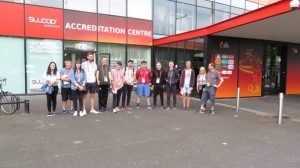 Precisely ten months, 45 matches and 28 press box matches later, I found myself preparing for the biggest journey and experience of my life; not including my drive from Cornwall to Utrecht. Over the first year at University, I was able to develop my skills as a writer and a journalist. Having arrived at Derby with a very limited ability to correctly use grammar and punctuation, I felt I came a long way. English was never my strongest subject at college, but I was determined to rectify that, and with the help of my fellow students and lecturers, I was able to do so. It's not exactly perfect yet, but it's heading in the right direction at least.
In my first year at university, I learnt a lot of skills which I was able to both use and develop whilst attending matches and real world opportunities. I was taught the basic rules of interviewing, how to write match reports, basic news stories and how to use various platforms to connect with audiences such as social media.
So how did I use my previously trained skills to practice whilst in Holland?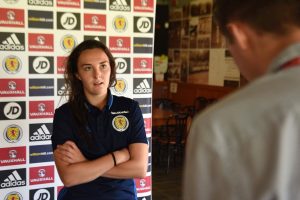 I have spent the last 11 days at the tournament, and to put a long story short, it's been a surreal experience. Every day I am gaining confidence to speak to the biggest names, ask more questions that perhaps aren't necessarily commonly thought about and talk about general life with my interviewees every now and again which makes it more personal to both the reader and the interviewee.
A great example of this is when I interviewed Scotland and Chelsea Ladies teenage sensation Erin Cuthbert. Rather than immediately focussing on the fact that she had just lost 6-0 to their biggest rivals, I asked her about the historic occasion for Scottish football and the fact that it was her birthday on the day of the game; I even asked if the team shared her previously promised birthday cake and to my surprise they did.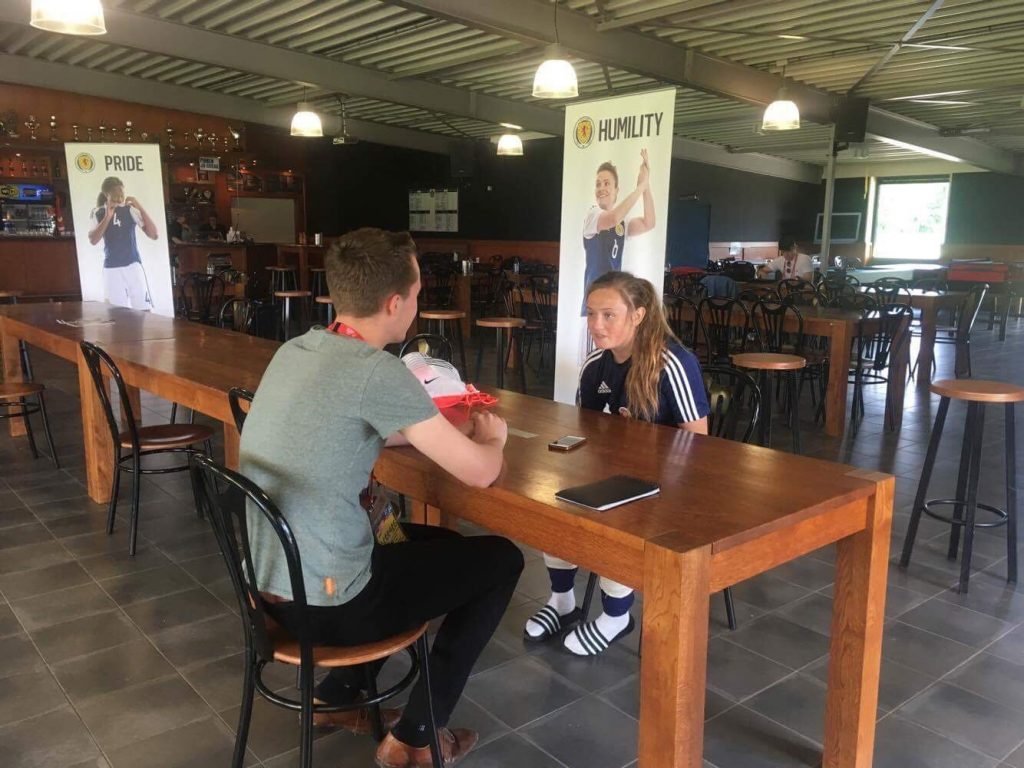 Organisation is key in any kind of journalism, and that is made paramount when you are reporting at a major tournament. I was one of three designated drivers out of the 15 strong party that went on the journey to Utrecht. When others could enjoy an extra hour or two in bed or a couple of beers every now and again, I was unable to do so. But it wasn't all so bad, it was something I was prepared to do and in all honesty, I've enjoyed driving round the beautiful landscapes that the Netherlands has to offer.
Because of driving and having to park my car two and a half miles from where we are staying, alongside the workload that I had agreed to take on, then I often found myself snowed under. But to be honest, I feel that is when I work best. The commitments of writing pre and post-match pieces, match reports, interviews and driving meant I sometimes have to do four or five things at the same time. It taught me how important scheduling is and how to prioritise your commitments. The simplest methods tend to be the most successful and I used the reminders application on my iPhone so I could list what needed doing and when; and it's the technique that I felt benefitted me the most. At university, I am used to prioritising coursework and it's a similar skill. It turns out I'm more adaptable than I thought.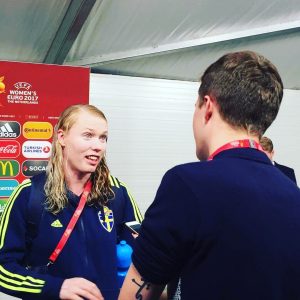 Research is also vital. I felt like I had researched reasonably well prior to the tournament, but as I discovered quickly that it was not enough. I learnt a lot from this and this was proved just on the ferry when fellow student Holly Percival showed us her massive booklet with a picture of every single player featuring at the tournament, their age and a fact or two about them. I thought this was highly commendable and it made me think that more needs to be done. Luckily, I had decided to print off a list of every squad at the tournament, what shirt number each player was, their age and which club they play for. It helped me a lot, but it still wasn't enough.
I found out why this became such a problem on a few occasions. So far at the competition I have interviewed 13 players and one manager which has been incredible. However, a few of them I was nervous with, as I had never experienced a real mixed zone before. My knowledge of women's football was nowhere near the standard that it is at with the. men's game. This therefore meant that when it came to facial recognition in a mixed zone, I struggled at times. I persevered when I needed to and in all honesty, I'd say that all of my interviews went really well and I got a lot of fantastic content out of it.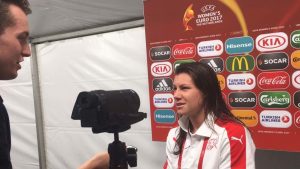 Obviously not everything can go perfectly, and it was my facial recognition that led to this. The only negative incident took place at the mixed zone following Austria v Switzerland. On this occasion I was there for the Chelsea website. After Austria's shock result I had got myself all set out to interview Chelsea's Swiss forward Ramona Bachmann (left). My only issue was that I had only seen the odd picture on Google of Bachmann, so I wasn't 100% sure of what she looked like. So like any journalist, I got chatting to a Swiss journalist and he kindly offered to point her out to me when she walked past. However, an unnamed English journalist happened to overhear our conversation and decided to unnecessarily bark at me, which really knocked my confidence. I guess she wasn't aware that it was just my second match into my first ever tournament and to be frank, she wasn't going to ruin this life-changing experience.
Prior to the tournament, I had seen a very limited amount of women's football. I had only seen England play twice, Manchester City play Reading and Notts County play Yeovil. Like men's football there were aspects of the game that I both liked and disliked. I liked the family feel for the game and I loved how accessible it was for both fans and media. This tournament has been the epitome of that. The access I've had has been simply outstanding and the interviews that I have managed to secure have been great.

I guess my one previous criticism was attendances and that they appeared to be so low. This tournament has seen some crowds of over 20,000, but it has also seen one of less than 700. Women's football isn't as popular as the men's game and I think a lot of that is down to awareness. There is not enough being done at home to show more regular coverage of Women's football. This tournament is only being broadcast on Channel 4 and Eurosport, which is a step in the right direction but it's not enough. Not everyone has Eurosport and Channel 4 have only showed a select few matches. If this was the men's tournament every game would be shown on BBC or ITV without fail, making it easier to view and also pushing up viewing figures.
After the experiences I've witnessed at this tournament, I'd urge anyone reading this to start watching more women's football whenever possible. This tournament has shown the true underdog stories from the likes of Austria and Scotland who captured the world's hearts with their performances; in the same way that any male tournament would. The players themselves even take time out of their schedule to go and meet fans and make it not seem like a chore; it's a joy to witness.
Follow Jonty on Twitter: @JontyC123
#WEURO2017