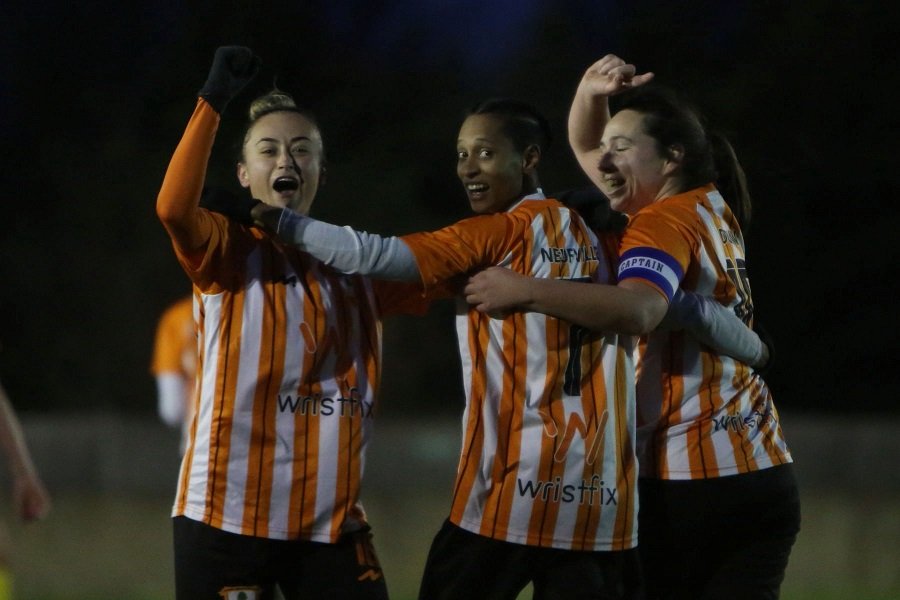 By Ben Gilby
Tier Five London & SE Women's Regional Premier side Ashford Town (Middx) are having the greatest season in the club's history. After going into the campaign disappointed that their application for promotion to the FA Women's National League Division One South-East was denied, they have responded in the best possible way.
Unbeaten in the league all season, with a place in the Capital Cup final sealed, along with a Combined Counties Midweek Cup semi-final to come, Ashford can also point to a giant-killing FA Cup run. It has all ensured that this campaign will never be forgotten.
Ashford drew top FA Women's National League Southern Premier side Oxford United in the second round. The game, which took place at the club's Robert Parker Stadium, was one that will be remembered for years to come, as the Tangerines pulled off a sensational 3-0 victory.
Leading the line for the Middlesex club is Ashley Cheatley, one of the most prolific strikers outside of the FA Women's National League. Stats of 35 goals in 25 games and 12 assists mark Cheatley out as a real star of the game.
Reflecting on her team's stunning success over Oxford United, the striker said: "This was the result of the season so far. We played so well as a team and got the result we deserved.
"We went into the game with nothing to lose. However, we never once doubted ourselves and our abilities, and thankfully, we came out on top, and on the night, we were the better team, we played with a real quality.
"Everybody was up for it; the players' WhatsApp chat was so loud and positive. The vibe was unmatched.
"I mean, I've never been to a club where there was such a vibrant energy approaching a game. This is what makes us Ashford, I guess!
"I think as a team, we prepared well, got behind each other, encouraged each other at training during the week approaching. We just got a big vibe going."
The club received another plum tie at home in round three when they were paired with London City Lionesses from the FA Women's Championship, the second highest side that they could possibly have drawn. Cheatley was full of excitement and pride when the news came through.
"What a draw! We knew a Championship side with international players playing full-time was about to play at our ground in Ashford.
"At this point, I think we all knew we had a massive challenge ahead of us and the odds are against us, but despite that, we went on and put in what we could. We wanted to enjoy the experience approaching the game, and being hosts, we were fortunate to have that within our home setting.
"The build-up to the match was loud, like it always is! I think there were a few nerves around the dressing room and I include myself in that.
"You always think 'what if?' 'What if we get a result and make it to the next round?'
"But I feel like nerves like this can only help someone come out and excel on the pitch; it shows care and passion. We were already set on a vibe – winners' energy we call it – we love a cup run and this was a special occasion."
Despite going behind, Ashford managed to level the score, although the Lionesses added a second before the break. Cheatley was pleased with the way the first half went.
"I thought we did well, we kept possession and played our football, I felt we were composed and we didn't let going a goal down get to us, and to head in just 2-1 down at half-time is a big statement."
Whilst London City Lionesses added four further goals in the second half, there was so much to be proud of for the striker and her team.
"It's an experience, to have a Championship team come and play at our ground. We knew their qualities were up there, but we still got stuck in, and for the first half, held our own. I'm proud of everyone and it's something that will go down in our history; such a big achievement."
There were almost 300 people at the match supporting Ashford, which shows that there is a real groundswell of support for the team as they focus in on gaining that place in the FAWNL.
With the London and South-East Regional Premier title race approaching its final stages, Ashford Town's qualities are now very much known around the women's game. Cheatley believes that they are now even more of a 'target game' for opponents.
"I think more and more people know of us and that we are a good team. We take each game as it comes and we know the importance of every game.
"Even if we win the league early, we still want to kick on and win every game we can. Not only do we want to win the league, but we are in two other cup competitions, one of those a final.
"We always look to add to our games; me and Alissa Down head to training early sometimes and practice before training starts. I think everyone wants to push on and develop.
"We have quite a few young players as well, who are adding to the qualities of the team and are growing as players. It helps that as a team we're so close, literally a family, and everyone wants everyone to do better so we can achieve big things together."
Interview/article by @BenGilby1