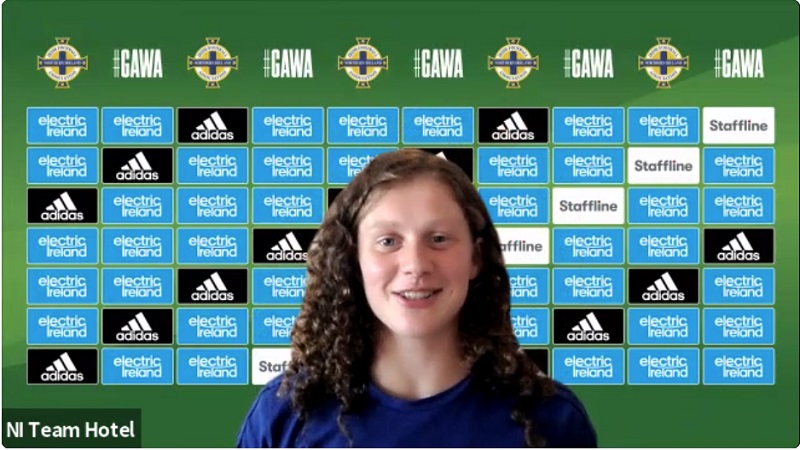 It is approaching ten years since Caragh Hamilton's senior debut for Northern Ireland – even if she's only just turned 25. This time last year, the attacking player was processing the news that she had torn her ACL, MCL and meniscus, so to be in contention 12 months down the line to take on England at Wembley is as exciting as it is commendable.
Simply enjoying taking part is far from the ethos running through Kenny Shiels' EURO 2022-bound side, however, as they look to gain a further foothold in their World Cup qualifying group, after two wins, eight goals and none conceded in their opening two fixtures. She Kicks was part of the conversation as Glentoran's recent domestic treble winner Caragh spoke to the media ahead of the game this Saturday, and the home match with Austria to follow next Tuesday.
On how difficult it is to focus on the game rather than the occasion:
I think that comes with the great experience that we have and a lot of the players playing in these big games a lot. A lot of the girls obviously play in the environment and against these girls week in, week out, so it probably doesn't faze them as much as it would in the past, but it all comes from Kenny and the coaching staff as well. Just focusing on us, focusing on our game plan and doing what we do best, and what's given us success up to now.
On where they feel they may get some joy against England:
I don't know that we're looking at individual weaknesses; totally respect them, each and every player for what they can bring. It's more just to focus on what we do well, as opposed to trying to change our game plan to adapt to maybe where they're weak.
On if there's any potential complacency from England that they could capitalise on, after the 6-0 friendly win against NI in February:
Yeah, potentially. I haven't actually really listened to any of their interviews and what they're sort of saying on the game, so I don't know if they are maybe going in with that mentality, but definitely, 'underdog' card again. That's great for Northern Ireland in our history; whenever people aren't expecting anything of us, that's when we usually step up and do the job.
On the prospect of now playing at Wembley after her injury setbacks:
Massive for myself, personally. There's probably times where I didn't know if I would be at this point, especially earlier on in my career when I spent almost four years out injured. There were times I was close to giving up, I just didn't think it was going to happen for me. I'm so, so grateful to be here and to be able to play any part in the squad, whether it means being on the pitch, being on the sidelines. Whatever I can give, it's an honour.
On her love of CrossFit and possibly choosing it over football at one point:
At one point, yeah! I think I'd got to a point where I was maybe a little bit burned out, just kind of needed a break and just wanted to explore another avenue for a while. It turned out I was quite good at it, I started competing for about 18 months, and then once everything shut down with the pandemic, there weren't any competitions and I found myself back with football again once that opened up again.
On how big a bearing this game could have on the destiny of the group:
I think everybody realises the magnitude of the game. With there being such fine margins and only one coming out of the group, I think we know that this double-header is massive for us. You really could have been out of it by that stage if you didn't maybe win your first two games. Getting past that, we know this is the task at hand now, and then we'll sit down and reassess after this month, as to where we sit going into the November games, but this one is massive, yeah.
On whether having a crowd this time (after the friendly at St. George's Park without one) could work to NI's advantage: 
Yeah, I think we'll thrive off that energy, and we'll try and use that as much as possible. Not in a negative sense of feeling overwhelmed or anything, I think we're really going to relish having a crowd there. It does sort of change the mentality; this is probably one of the biggest games we'll ever play in. Every World Cup qualifier is massive and we want to get out of this group, and we have ambitions to qualify, there's no doubt about that. We fully believe that we can, and so, having the crowd driving us on is going to be massive for us.
On Kenny Shiels' suggestion (in She Kicks Issue 65) that NI's players feel as if they've been dismissed, in terms of getting their chances sometimes at clubs in England and Scotland:
Yeah, I can see where that would be coming from, and people might sort of think that. It's down to us now to go and prove that that's the case. If we're saying that we maybe haven't had the opportunities that we deserve, now it's time to go and prove that we are as good, if not better than some of the players there. We have to step up and take those opportunities, there's no point just saying that. We've got to prove it on the big stage.
Having spent part of her recent injury comeback working alongside NI teammate Demi Vance, which member of the squad she would NOT want to be stuck rehabbing with (light-hearted of course…):
(Laughs) No, I think they would all bring something, whether it's hard work or maybe a few jokes! I think Demi's the best of both worlds, to be honest. She brings a bit of a laugh to it, but also wants to work really, really hard. It was fantastic having her by my side throughout it, and we made our return together, so it was just the perfect way to kind of bookend it as well.
On any difference in preparations this week because it's England:
I think there is a sense of just keeping it the same, and why not? We don't want to sort of disrupt anything; stick to what has worked for us. Plenty of video analysis, as we would always do, of both ourselves and of their games as well, and then training has been much the same. Just setting up the way that we're going to play the game and making sure that everybody knows not only their own role but everyone else's. You just don't know what could happen in the game, and everyone has to be ready if called upon.
On what it says about Kenny Shiels that they've qualified for the EUROs and that NI are seen as big enough for the England game to be at Wembley:
Yeah, I don't think he'd want me to say too much, he'd obviously be the first one to point the spotlight towards us, but both him and the rest of the backroom staff – (son and assistant) Dean (Shiels), and Dwayne (Nelson), our goalkeeping coach, and all the medical staff as well – as much as there's a strong bond between the girls, there's a massively strong bond between the backroom staff, and between us and them as well. We really are sort of one big family, everybody trusts each other, and that's a massive thing, that we trust the decisions that Kenny and Dean and the rest of them make. We know that it's worked so far, so we absolutely trust them to take us forward on to even better things now.
On if there's any point to prove after NI players missed out on the GB Olympic squad:
(Laughs) I hadn't even thought of that myself, probably because I wasn't even thinking about myself being considered. With these girls, there maybe is just a bit of that sort of feeling there, that they maybe have a point to prove.
On the feeling of making her return to action for the national team after injury:
It was the perfect way to come back really. If you could write it, you would say you won the game on the night and you got to step out at Windsor (Park), which we don't get to do all that often. It was the first time I'd played there, and the first time everyone had played there since the Belgium game in 2012. It was a great way to come back and I was just hoping the whole game that I would get a chance to get on. Thankfully, I got some minutes at the end.
On the genuine belief that they can cause an upset against England:
Looking back to what was a recent game, they did beat us 6-0, but there's a totally different feeling this time around, even though it isn't that long, because we've since qualified for the EUROs, and we know that next year we're going to be going and playing against Englands, Denmarks and all of those teams. I think we've got to get into the mentality now of how we approach these games and how we play against these teams, because this is going to be the norm when it comes to the EUROs. It's fantastic prep for that.
On whether a positive result can make teams possibly want to avoid NI in the EUROs draw:
Yeah, I've no doubt that probably teams are sitting there looking at the pots and who they want to get, and I'm sure we're top of everybody's list at the minute! But hopefully we can change some of those minds after Saturday's game.
On whether England's unbeaten run in qualifiers (since the second-leg World Cup play-off loss to France in November 2002) is a motivator:
It is now! I didn't know that (laughs); I'll make sure that I make a few people aware of that! Yeah, as if we needed any extra motivation to go out and try and win this game, but what a feeling it would be if we could end a run like that.