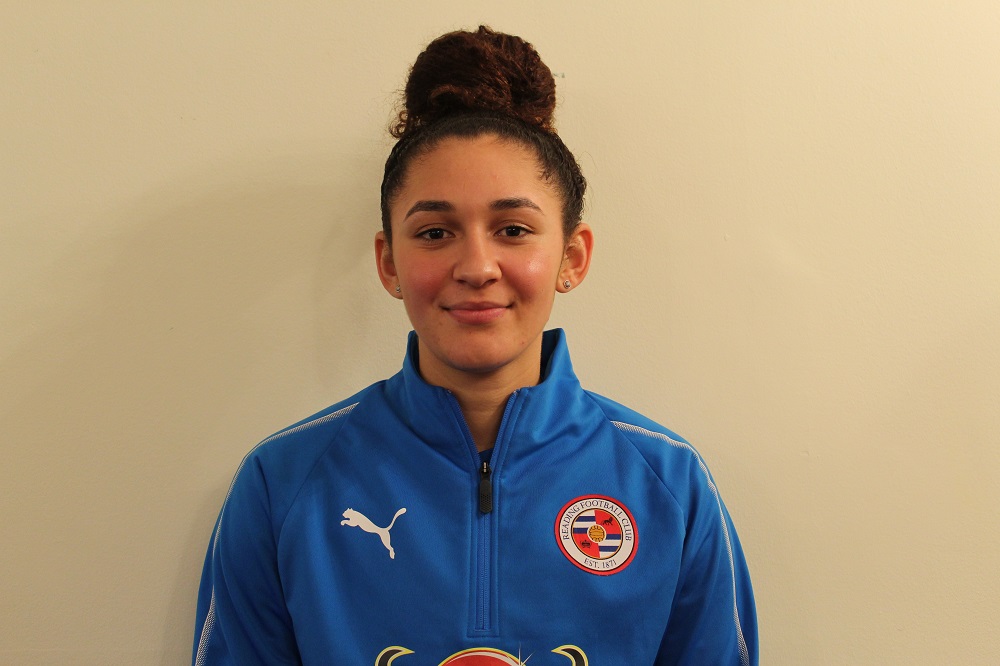 At 18, Jade Bailey already had two Women's FA Cup final appearances and a pair of winners' medals.  An Arsenal prospect who featured for England in the 2014 FIFA Women's Under-20 World Cup in Canada, she joined Chelsea in January 2016.
The versatile 23-year-old is most typically a central midfielder tasked with helping to keep it all ticking over nicely, but April 2017 saw her young career halted by an ACL injury. She has been back in action in recent months and it was announced last week that she signed a new one-year contract with Chelsea before moving on loan to Reading for the remainder of the season.
She links up with a Royals team who are 5th in the FA Women's Super League after a strong showing thus far, debuting as a late sub in the 2-1 loss at Birmingham City last Sunday. We caught up with Jade, who wants to show everyone that she is ready to get the show back on the road…
SK: What have your impressions of Reading been so far and has anyone in particular welcomed you in? You knew Gemma Davison already from Chelsea, of course.
JB: All the girls have been pretty cool, to be fair, since I got there. I knew Gemma before and that was probably a good thing that I did know someone, and Millie Farrow's been at Chelsea as well; we did our rehab together. I felt really comfortable going in, because I knew people and everyone was cool. It's very professional. They have good facilities; they have access to a gym, their own pitch at Bisham (Abbey) at the moment. There's a process of them moving into the training ground but it's just being built at the moment, but it's a very professional environment and it's been good so far.
SK: You are playing for a coach in Kelly Chambers who Emma Hayes said she knows will look after you. What has she said about how she sees you fitting into this team and how she can help you?
JB: Well I kind of knew that I wanted to go on loan and as soon as Reading came in for me I knew it was somewhere I wanted to go. I spoke to Gemma (Davison) and a few of the other girls and they said that the coaching and the detail they give, since they've been there, they've only got better. Going there, I knew that I wanted to get minutes and I spoke to Kelly about that; after being out for so long that's something that I really need to continue to progress. I knew that going there, Phil (Cousins) and Kelly could give me that small detail to make me a better player as well. I wasn't just going there to get minutes, I wanted to actually better myself.
SK: Have you had to move in somewhere new temporarily or is it not too far from where you already live?
JB: I still live around Cobham so the commute in isn't too bad; it's about 35 minutes. I think there's a few housies in Reading but a lot of the girls don't live in Reading or around the training ground. It's been pretty easy for me.
SK: Coming on in the final few minutes against Birmingham as you did, was it tough to try and show what you can do?
JB: I think it's always tough to play against Birmingham and coming in for the last ten minutes or so, it's quite hard to get your touch in, and we were losing 1-0. I think it was quite hard for me to come in and make a difference in those ten minutes but it was good to make my debut for the team.
SK: It would be remiss not to mention your comeback. After your ACL injury in April 2017, what has the road back been like and how did you handle it?
JB: Yeah it was in April when I had my first op, and I had the op about three days after initially having the injury, so I think with having such a short turnaround I kind of just had to get on with it. Maybe at the beginning I didn't cope with it, because it's tough to get your head around that you're going to be out for that long period of time, but a few girls had big injuries at the club so they really helped me through it. I think it was about seven months later and the progress of the first op wasn't going to plan. I came back and I played a few games for the reserves – that was around January of last year – and I was still struggling a bit so I had a scan, because it just didn't feel right.
After the scan it showed that there was a lot of scar tissue and I couldn't really get into extension and flexion properly, so they knew that they had to go back in. From then it did really kick on and I played my first game I think 16 months after my first op, which is a pretty long time but sometimes you just have to be patient in those situations and know that you're going to get there eventually. I played in the Conti Cup, so I think three full 90-minute games, but most recently was in December, where I played two games, one after the other. We played in the Champions League and I came on in the last 20 minutes of that, I think.
SK: In that spell out, did you have the chance to eventually do other things, to travel, or enjoy some variation in your life?
JB: I was pretty focused on rehabbing; we did have time to go on holiday but I think that was my main focus. We don't get much time off at Chelsea; it's pretty full-time with the treatment and we kind of follow the men's team's schedule. Probably being in so much was also quite tough, but I knew where I wanted to get to. If they said 'you have to be in at this time' then I was in at that time and wanting to do extra stuff to get to this point. Millie Farrow also did her ACL, and at the time, I think I was the first one to do it. There were five other girls who did it around a similar time and we were all going through the same process and we could all push each other on; sometimes someone might be having a bad day and you can relate to it and pick each other up. What I did find hard was going to the games, because it's good being amongst the girls at training and seeing how they're getting along, but when you actually go to the games I felt it was quite tough for me. Yeah, you can watch, but after ten months, when you're still watching from the sideline it can be pretty tough. I'd say I was just concentrating on the positives and I had good people around me to help me through it.
SK: What has Emma Hayes been like to work with since you joined Chelsea? What has her approach been to managing you personally?
JB: She's really been good. You know you're going to be out for a long period of time and she was just patient with me and kept reassuring me that I will get there eventually. She doesn't want to rush people back; she knows how serious these injuries can be. She's always been there to support if I needed to talk to her. She'll come into the treatment room and see how you're going. I think most players need that reassurance that you're still in her thoughts but at the end of the day she's still got that whole other team and she wants to win games. I think it was a balance between talking to us and also having her other players that she needed to focus on.
SK: In your time at Chelsea so far you have been around some teammates who are not only experienced players but really have a handle on who they are as people. Have you grown as a person from being around that?
JB: I'd say that being through this injury and being amongst those players, it's helped me to grow up. Being around those experienced players like Kaz Carney, she's been through injuries and she really helped me during that time. So I'd just say really that you grow up through that.
SK: It's a few years since you came through at Arsenal and you're still just 23, but what do you hope the impression people take away of you in the years to come will be?
JB: That this was just a blip and it's not going to define the player I am. I want to now kick on and to be noticed again and get back into things. I don't want this to define who I am as a player; I need to push on now. I don't want that to be an excuse at all.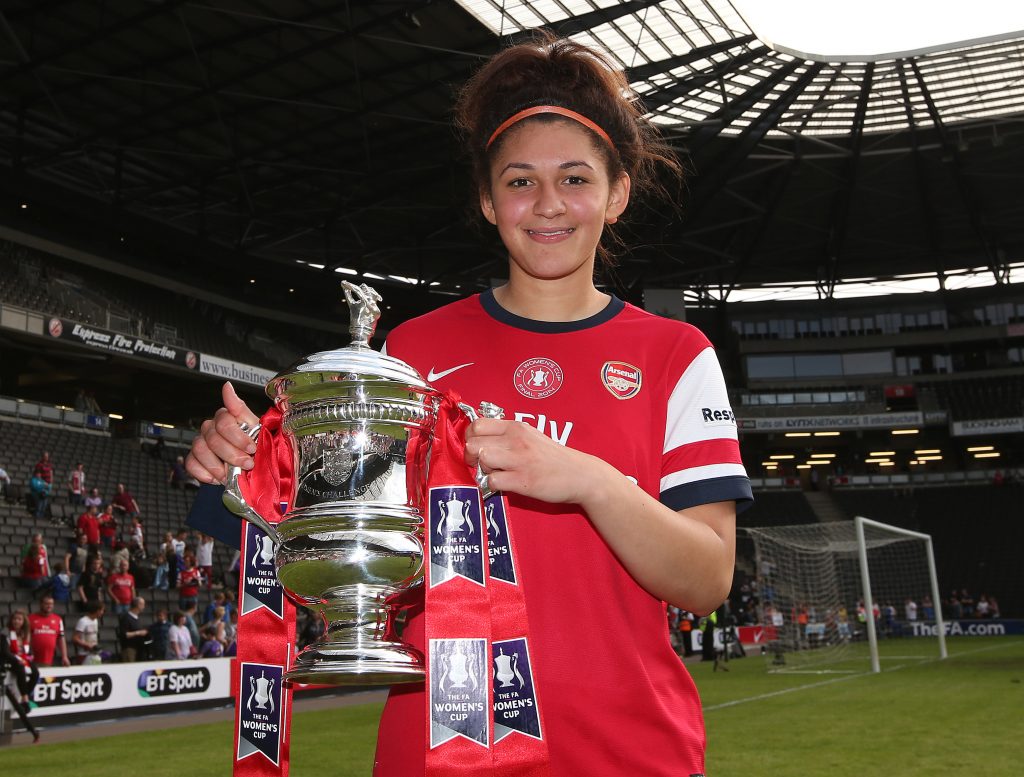 SK: Taking it back a bit, where in London did you grow up and is it a small/big family you come from?
JB: I grew up in Walthamstow, east London, and I'd say I come from a big football family. My dad and my uncle run their own (Bailey Elite) football academy, so I was always playing from a young age with the boys, in tournaments, and then you have to stop playing in boys' teams. I think it was at 11 when I was growing up.
SK: In the video Q&A you did with She Kicks the other year at the WSL launch, you said you'd just seen Straight Outta Compton! Whether it's films, music, what kind of things interest you away from football?
JB: I love music; that's a big thing for me. I love hip-hop and r&b, and growing up I was always listening to songs, soul music and stuff like that. I love going to concerts and festivals.
SK: What was the last song/album/artist you listened to?
JB: I listen to Lil Baby, he's an American rapper, so he's the one I've been listening to at the minute.
SK: Is there a place in the world you really want to visit?
JB: I haven't even been to America yet. I booked it with some of my teammates just before I had my first injury; I wasn't allowed to fly but I really want to go to Miami.
SK: You carried the Olympic Torch on the last leg of the Torch Relay for London 2012, as some may already know, but what might people not know about you? A hidden talent, something about your family background, whatever it may be.
JB: Yeah I've got Jamaican in my family.
SK: What's the funniest or strangest thing you've seen a teammate do, at Arsenal or Chelsea maybe?
JB: Hmm, Chelsea…Erin (Cuthbert) usually does some strange things. I can't think of one, but she's an interesting character!
SK: Finally, what do you hope Reading fans and people in general will get to see of you in these next four months?
JB: Just that I'm back and like I said before, that I have been out for a while but I am here and I am giving it a real go.
Interview by @chris_brookes