HOW'S ABOUT TATS?
Natasha Dowie's goal record in her career stands alongside the best the Lionesses have to choose from, and at present, no England-eligible player in the FA WSL has outscored the Reading sharpshooter this season. Since her integral part in Liverpool's back-to-back WSL titles, 'Tats' has been to five more countries, across three continents in her career, and the finishing touch has translated each time.
Competition for places in Sarina Wiegman's squad ahead of this summer's EUROs is considerable to say the least, though if any from outside the current fold merit a chance to showcase their credentials at close quarters, the ex-Milan forward is surely one to fit the bill. Here is an extended version of her interview with us from SK60 (May 2020), shortly after her return to Europe upon departing Melbourne Victory…

There's been goals right through your career, some notable team success as well, but what has felt the happiest, most complete time for you so far?
Definitely I would say my first season at Liverpool, when we won the league, and the group of players we had was just incredible. It was the first year I think that internationals had really come over to England to play; we had the German players, Swedish, Icelandic, American. Then to win the league, and I got the Golden Boot and Players' Player of the Year as well, so everything just clicked that year. That was special, for sure, and definitely hard to beat. Then I'd probably say Australia. Football-wise, every year it's getting stronger and stronger. Is it the most challenging league I've ever played in? No, but with regards to the whole package and what the W-League has to offer, it's definitely my happy place.
What about Boston Breakers, not just on the pitch but overall, what impact did that experience have on you?
It was incredible. I remember when I first signed for the Boston Breakers, and obviously knowing Matt (Beard) as well, and a couple of the players like Louise Fors (Schillgard), Amanda DaCosta, from Liverpool. It's kind of like, it sounds so cheesy, but your Bend It Like Beckham, where it's 'oh my God, I'm actually going to go and play in America!' It was my first move abroad, it was just a real, exciting time. I remember making my debut, scoring, and we won 1-0 against Orlando; I just remember pinching myself. Training at Harvard, don't get me wrong, the facilities weren't incredible, we trained on a 4G and changing rooms weren't the best, but just to be able to say you're training at Harvard.
2016 #NWSL Best Moments: @BostonBreakers @tatsdowie scores on her debut. https://t.co/Oob9XGeC5H pic.twitter.com/R2t2Bx2B67

— National Women's Soccer League (@NWSL) September 29, 2016
Football-wise, I'm not particularly happy if we're not winning, and in the two years at Boston, we struggled. We finished pretty much bottom of the league both years, so it was tough on that side, but bigger-picture-wise, I just soaked it up. The opportunity to play in that league against the best players in the world, a completely different style of play to what I'm used to, and probably one that I don't particularly enjoy – very transitional, end to end, who can run the most, who's the fastest? – but on the flipside, it challenged me, and I love that as a player, to come out of your comfort zone. Playing in front of well over 20,000 people at Portland Thorns, just incredible, and Boston was an absolutely beautiful city. My family came over, Becky's sister and her partner, and we just loved showing them around Boston, so it really was a great two years, and just sad how it all ended, but not surprising as well, because of, unfortunately, how the league is.
What would be the type of approach that you think gets the best from you, from a manager? Is there anyone who has understood that most so far?
I've actually enjoyed every manager that I've worked with. You look at the likes of Keith Boanas at Charlton, Mo Marley at Everton, Matt Beard, Jeff Hopkins; I've had some great managers, even in Norway and Sweden. There's never been a manager that I've had problems with, and I think as well the type of player that I am, I'm there to do my job, I'm the last off the pitch, and I'd like to think I'm a pleasure to work with, but I wouldn't say I've had a manager who really ticks all the boxes with knowing how to get the best out of me. I think if I could pick different traits from all of them, it would work. Beardy's very to the point, says it how it is, old school, and I like that a lot, so I would definitely take that side from him. Then I'd also maybe have Jeff Hopkins in Australia, where he's softer and the way he man-manages me is probably slightly better, where he makes me feel like I'm the best player in the league. He doesn't blow my ego up at all but I just get a feeling from him; he's genuine, happy to have me in the team, made me captain of Melbourne Victory for the last three years. I definitely think those two combined is a good mixture, and to be fair, Mo (Marley) as well. Her knowledge of the game and her commitment and everything she gave to the women's game, I think was really inspiring.
With your punditry work in recent years, how have you found putting yourself out there like that, the nerves of it, and also expressing an opinion, because it's easy to sit on the fence?
Yeah, it's been tough, and I think I've learned some harsh lessons in the past, having done some in England. The kind of mindset in Australia is very different to in England. I think in England, when you say your opinion, people don't like it. They like people to sit on the fence, 'everything's great', this and that, and that's not me. I personally think the way the women's game has got now, it deserves to have the correct critique, and whether people agree with my opinion or not, I'm getting paid to express how I feel and what I think I see. In Australia, they embrace that a lot more. I think the type of person that I am and how enthusiastic for the game I am, I have no loyalties to anyone, I just love football. I'm doing my A Licence coaching badge at the minute, so I'd like to think that I know a bit about the game. FOX Sports giving me that opportunity in Australia over the last couple of years, I've had really lovely feedback via social media when I've done the Grand Final this year. People on social media saying how it's refreshing to hear an honest voice, and that was nice for me, because I feel like in the past when I've done that in England, I've basically been slated, I'm 'bitter' etc. But I've loved doing it, I've got a real hunger for it and it's something that I want to get more involved in. Hopefully those avenues will open up, and alongside my coaching, it's 100 percent something I'd like to pursue.
Speaking of multiple talents! You said once that you were Baby Spice in the band you had in primary school, as well as doing a dance routine with Jill Scott and Fern Whelan to Backstreet Boys when you were in Belgium for the Champions League with Everton. Have you had to do anything like that in recent years?
(Laughing) I'm not gonna lie – (wife and ex-England international) Becky (Easton) knows this but no one else does – I'm actually a decent singer, you know?! This is the honest truth, but I get quite shy, and when I was in Norway recently, Becky actually told my teammates that I'm a very good singer. They kept asking me to sing and I'd say no, and normally when you go to a new team you have to sing, but luckily, I got away with it. Even though I'm quite a confident character on the pitch, I get a little bit shy dancing and making a bit of a fool of myself, so since then, no, I'm lucky I haven't had to get up and sing or dance. I leave that to my younger years! I'm always one of the oldest in the team now, so that's the excuse I can throw in there!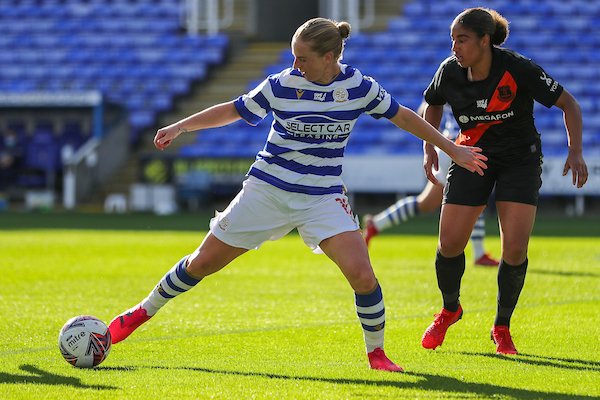 I remember watching Soccer AM one morning in 2011, when you and Megan Harris appeared as guests, promoting this new thing called the FA Women's Super League! That was the year I started with women's football, and I actually think you two being on the programme had a little part in sparking that interest and awareness for me. Back then, it was out of the ordinary for female footballers to be on Soccer AM, so how did you feel going on there?
Yeah, do you know what? It was just fun. It's funny you say that, and kind of the mindset that you've had towards that is really interesting to see. I think, for me, it was a case of just 'what a cool opportunity'. I watched the show and they were talking about doing all the challenges outside. I love speaking anyway, and being on TV, what a great opportunity, but I felt no pressure whatsoever. I just saw it as fun, a cool opportunity, and you obviously want to promote the women's game in a good light, but yeah, no pressure whatsoever.
With playing for England, is it the main goal in your mind to try and attain again? Or is it more 'I know what I offer, I'd love the chance again, but ultimately, I'm happy with my life either way'?
Yeah, 100 percent that last quote. It's been four years now since I played for England, so if I kept thinking every time an England squad got announced 'oh, why didn't I get in?' then I think I'd be pretty much depressed by now! I think for me, I don't want to blow my own trumpet, but every club I've been at in my playing career, I've got top goalscorer, and that's a really proud achievement, and it's not an easy achievement as well, because I've been at some top clubs. I'm having fun. I'm really, really pinching myself with what I'm able to do in my career, and everyone's path is different. I'm more of the mindset that since I've travelled, I want to do it more. I want to challenge myself in different leagues, and people might look at me and think 'why isn't she settling anywhere?' Well, for me, until I find somewhere that I really think is the right place for me, I'm not going to settle anywhere. I want to go to these different leagues and come out of my comfort zone, have to challenge myself, different language barriers, set different goals. The last five or six years, it's been tough, but I've really enjoyed it. I can hold my head up high and say if I never play for my country again, I've been one of the few that has, and that's an incredible achievement.
Introducing your @BarclaysFooty Goal of the Month winner, @tatsdowie 🏆

Your votes chose Dowie's lob against Leicester City, let's relive the moment again📹 pic.twitter.com/01CCFtUxRa

— Reading FC Women (@ReadingFCWomen) February 10, 2022
I wish more than ever I'd been given a better opportunity. Maybe not just one start here and then you don't start the next game. I would have loved to have been given that opportunity and trust of 'we'll give you a few games and see what you're about.' Even now, I'm 31 but I feel fitter than ever, in the best form I've ever been in, and I think I could bring a lot to that England squad. I think it's a great England squad, there's so much talent in it, it's exciting, but I also don't think there is a forward like me in the squad. It's not easy to score goals and I think I'm probably one of the most prolific English goalscorers, and why not give me a chance, have a look at me? If not, I've been in the game long enough, and like what you said, I'm very, very happy in my personal life and my football life. I think it shows what a great place I'm in because that would just be an added bonus. I think I deserve it, but if not, I've done it, and I'm very proud of those caps.
Have there been any conversations, an email etc. from England in recent times, or has it felt like you've been almost off the radar?
I definitely had a couple of years where I felt I was completely off the radar. Then when I was in Sweden, and we played Man City, I heard that Phil Neville had maybe said he was aware of me and would be watching, but since then, no, nothing. I'm very open and would maybe not even shy away from my agent reaching out and showing some highlight clips of me, but I also think you have a bit of pride in yourself. If I'm not the type of player he thinks will add to his England squad, that's fair enough, but why not give me a go?
You're obviously not the only Dowie in football, how has carrying the family name with you felt throughout your own career? Has it ever influenced anyone's perception of you?
I definitely think earlier on in my career people had a perception because I was Iain Dowie's niece and he was managing in the Premier League; that I was well off and everything was kind of easy for me. That was a little bit tough, because I felt like just because my family have worked hard and got to where they are, that shouldn't then be used against me. I'm my own person, I'm living my own life, not through my dad (Bob Dowie, former Crystal Palace director of football, semi-pro player and manager) or my uncle. I think the older I've got, and maybe because my dad and my uncle have faded away from the game a little bit, it's become probably a little bit easier. It's something I'm proud of, though. I'm proud of what they achieved in football, especially my uncle on the playing side and to get to managing in the Premier League was unbelievable; I had great times going to watch Crystal Palace at Selhurst Park. I'm very proud to be a Dowie, and that's what's got me to where I am, footballing-wise, because it's in our blood, we live and breathe it.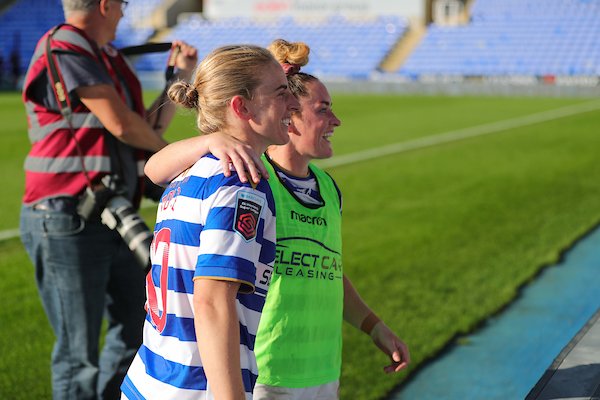 Lastly, do you think you've changed as a player/person through your career? From that 21-year-old who scored that FA Cup final winner for Everton (against Arsenal), or even from your time at Liverpool?
I've changed massively. I think one, it's got a lot to do with Becky. Meeting Becky and her influence on me, where she's been in the game and kind of maturing me as a player, and that flipping the switch to how to live a professional life. I think the older I've got and the more committed I've become, it really has become my life; the way I eat, the way I live is focused basically on my next training session. I think that's probably why – cross fingers and touch wood – I'm 31 and I've never missed a game through injury, because of the way I look after my body. I'd also say I've matured a lot in how I see the game. I think when I was younger, it was 'win at all costs', didn't lose in the right way, whereas now, losing hurts but I have the mentality of 'did I give everything?' If I gave everything, then whether it was good enough or not, even if it hurts like hell, the bigger picture – especially with what's happening in the world – it is just a game of football. That's been hard, to get that mentality, but I think the older I've become, I just couldn't keep losing a game and being depressed all week, you can't live your life like that. Don't get me wrong, I'm still a bad loser! But the highs are never as high as you think and the lows are never as low; try to have a steady outlook. Becoming captain as well opens your mindset up to having to worry about other people, not just 'as long as I'm okay'. As a striker, you do have a more selfish mentality. I think I've had to be a bit more approachable, a bit softer, check in on my teammates, make sure they're okay. That's the important thing as a captain, being approachable. I've changed a lot, and that's actually why I'd love to play for England again, because I would love to show people the type of player that I've become.
Interview by @chris_brookes