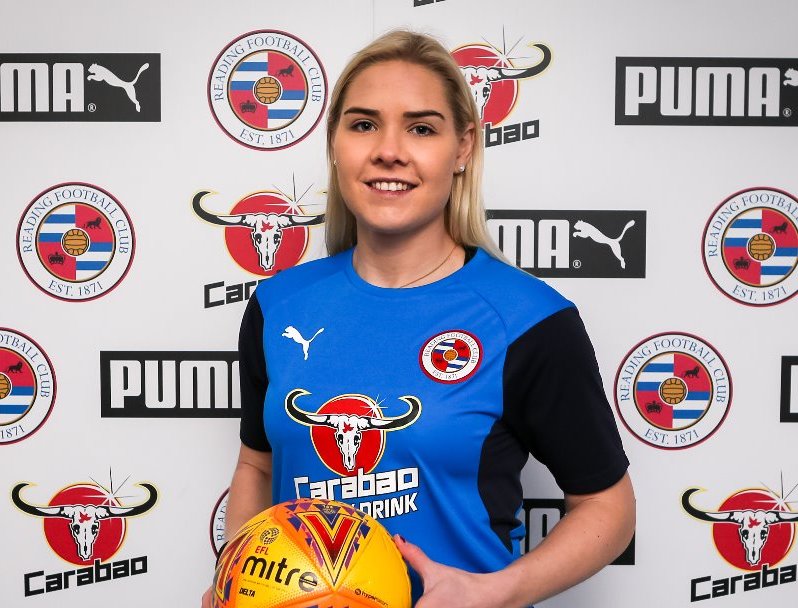 Coming from that famous Nordic 'Land of Ice and Fire,' Reading FC Women's recent signing Rakel Hönnudóttir has had the ice in her veins and fire in her boots so far. Coming on to bag two against Keynsham Town (13-0) in the SSE Women's FA Cup fourth round, the Icelandic forward was introduced in the final ten minutes against Birmingham City yesterday, notching the winner for 2-1 and putting the Royals into the quarter-final. 
The vastly-experienced and versatile 30-year-old came to Berkshire via the Malmö-based IF Limhamn Bunkeflo, and arriving in English football ticks off a long-held ambition for a player nearing a century of international caps. We caught up with the ever-willing team player and sometime songstress, who would take snowboarding over social media any day…
SK: When did you first hear of Reading's interest in you and what did you think?
RH: I first heard about it in the beginning of January. I was really excited right away. I wanted to come to England to play; that was my goal. The league here has been getting a lot stronger in the last few years.
SK: Have you ever had the chance to join a club in England before, and how did you feel when it came to travelling over? 
RH: No, I haven't. This was my first opportunity, so I was really happy. I was just excited. I was not really scared or nervous or anything, just excited to come here. I got a new flat yesterday, so I've just been settling down.
SK: As a forward player, or even in the other positions you have played, what gets the best out of you? What kind of playing style do you like? 
RH: I like the physical battle; I think all Icelanders do. We have been known to be pretty strong, and nobody really wants to play against us, because it's hard to play against players who play that way. I like that, and I like an attacking game, when we have the ball a lot.
SK: You have been a versatile player in your career but where do you feel most natural?
RH: My favourite position is forward, and also as like an attacking midfielder. Those are my favourite positions but I just enjoy playing, so if I'm in the team but playing as a defender, I just try to do that as best as possible.
📸 Here she is… #RoyalRakel pic.twitter.com/casD4TtYJC

— Reading FC Women (@ReadingFCWomen) January 25, 2019
SK: And as a person, are you laid-back and like to have fun, or do you prefer to be more intense and serious?
RH: I mean I like a bit of fun, but of course you have to be serious when the training starts. I try to be serious and listen to the coaches as best as possible. So, on the field I'm kind of serious, maybe, but off the field I'm just laid-back and like to have a laugh.
SK: Speaking of intense and serious, (Iceland captain and VfL Wolfsburg midfielder) Sara Björk Gunnarsdóttir certainly has that, though she has fun with her teammates, too. Is she one of your closest friends in football? Who else?
RH: Yeah, she's a really good friend of mine. We have been roommates for the national team for ten years now; this is the eleventh year. Of course, all the Icelandic players that I've played with who are not playing internationally, they are playing at home, so you make good friends when you're playing football. You grow up together, so you make good friends.
SK: What has your welcome been like at Reading?
RH: While I was waiting for my apartment, I had to live with four of the girls. They welcomed me and were very helpful. It was Sophie Howard, Molly Bartrip, Millie Farrow, and Maz Pacheco.
SK: You are active sometimes on Instagram, but Twitter less so (one tweet and one retweet in seven years!). Is Twitter something you may do more of, or not really for you?
RH: No, I don't think Twitter is for me! I follow it sometimes but I don't really tweet; just see what other people are tweeting sometimes.
SK: Social media is a huge thing for many players now, but has some pretty undesirable sides. In general, then, do you like to live your life away from it?
RH: Yeah, I don't really like it that much. Of course, sometimes I put pictures on Instagram or stuff like that, but I don't need everyone to know what I'm doing all of the time.
SK: Music, however, is that an important part of your life? Do you play?
RH: Yeah, I love music; that's my second favourite thing as a footballer. I'm just having some fun but I'm in a little band with two of my friends. We don't really play in front of people; just in the garage! I play guitar and sing. I've been trying to play the piano; I'm not very good at it, but I'm trying to learn!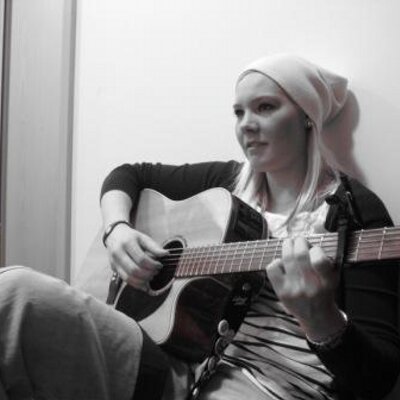 SK: Does it let you feel free, in the same way football does, but also in a different way?
RH: Yeah, I could play music for hours and just forget what I'm doing. I play music all the time in my house when I'm washing the dishes, or cooking, or whatever else. There's music playing, always.
SK: At any of your clubs in your career, did you have to sing for the team when you first joined as a new player?
RH: I heard that I need to do that here! I didn't have to do it in Sweden, so I don't know how that's going to be! I haven't done it yet but it's going to be soon, I think. I would be kind of nervous, because I'm not that used to singing in front of people.
SK: Other than family, what else do you need to make you happy? Any other interests you have?
RH: I'm interested in doing things outdoors. I enjoy snowboarding, which is weird because I really can't when I'm a professional footballer! But when I was younger, I was always snowboarding. That was really fun, so I think I will continue that when my football career is over. Doing things outdoors is what I like; I'm a pretty active person.
SK: In your career so far, has there been a most enjoyable time period for you?
RH: I have enjoyed a lot in my career, but there was one season, in 2015, that kind of stands out. I was playing in Iceland (for Breiðablik) with some very good friends of mine and we were champions that year. I enjoyed that, as well as going to all the European Championships with the national team (2009, 2013 and 2017).
SK: Has there been a hardest time, or a decision you look back on as one that did not work out as you hoped?
RH: It has been quite good actually, but if I look back, maybe I would have gone abroad to play sooner. I waited for a while, but that was because I went to Denmark (to Brøndby) when I was 19, and that was not really a good experience. I was there for just six months and I didn't really like it; I was spending a lot of my time alone and that wasn't a really nice experience. That's why I wasn't ready to go sooner.
SK: There are a number of your national team colleagues who have combined playing football with other jobs during their career. Have you also had to do that, and if so, any interesting jobs?
RH: When you're playing in Iceland you kind of have to work, because it's not a professional league, so I've done a lot of jobs through the years. I've coached football, I worked in an office, I've been a house painter, I worked at like a summer program for kids in sport. I was playing in Iceland for a long time, so I've done a few jobs.
SK: Speaking of the national team, are you intending to play for a while yet, and have you had many conversations with the new coach (Jón Þór Hauksson)?
RH: I have talked to the new coach and he just said 'I'm gonna play the team that I think is best for this game that we're gonna play.' I will just try to do my best while my body is okay and try to stay in the national team.
SK: Are you close to 100 caps? How much would that mean if you could reach that milestone?
RH: Yeah, I have 94 caps and I would be really proud if I could get 100 games for my country. It's an honour to be able to do that; not many players for the national team have done that, actually.
SK: Are there any other interesting facts to know about you, your family, another talent you have, or about where you come from?
RH: That's a good question. Well, I come from a small town (Akureyri), but it's still the third or fourth biggest in Iceland; 17,000 people who live there. I enjoyed when I was growing up; I was just playing football the whole day. When it was dinner time, my mum just walked up to the balcony and shouted for me – 'Rakel, dinner's ready!' I got some food and then just went back out to the football field. That's how it was for me, growing up. I was always outside playing and it was so easy to go; there were no dangers so I was outside playing from five or six. It was really nice growing up there.
SK: Finally, what do you hope people will see from you in this time at Reading and in the WSL?
RH: I would like to get some time to play and try to help the team score some goals and help them as much as I can. If that's by defending, or scoring goals or whatever, I'm up for the challenge.
Interview by @chris_brookes