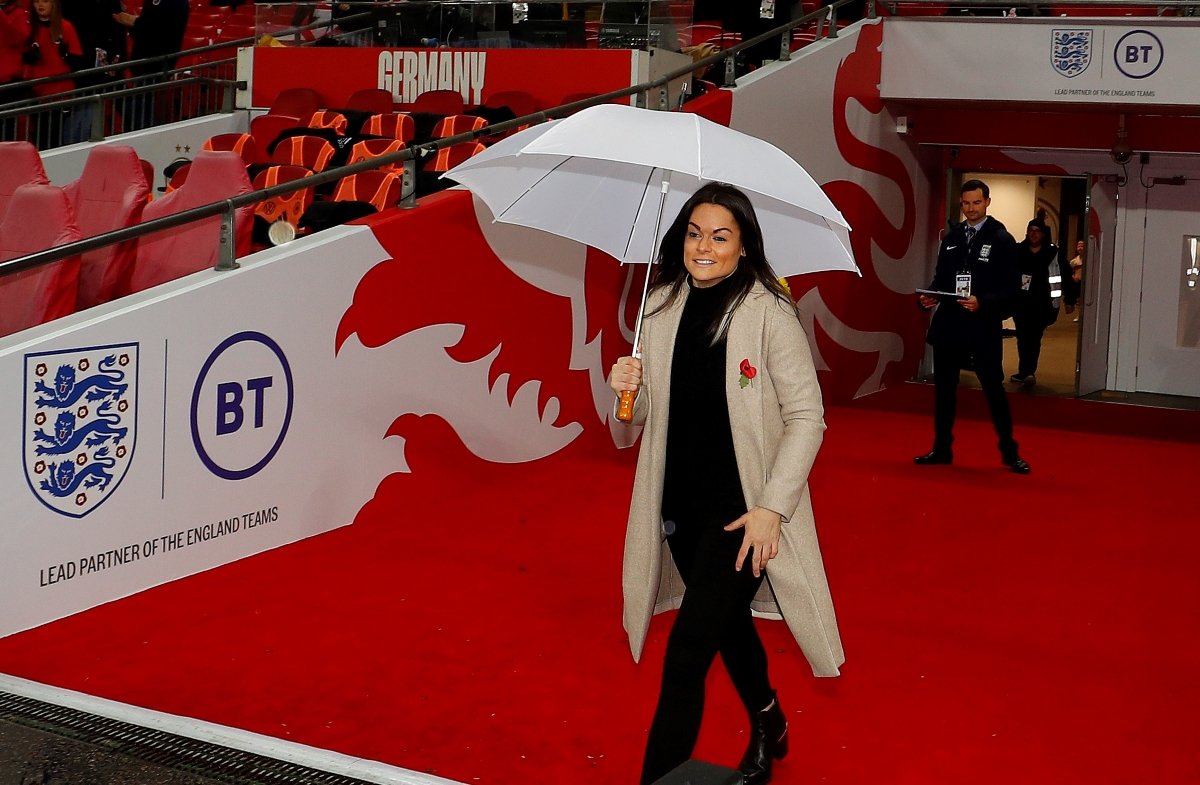 By Freddie Keighley, Rory Jones and Isaac Peltz
"It's very difficult to ask someone to pay the club millions of pounds. I thought the reach of Chelsea and the amount of fans would make it easy, but what I've learned very quickly is that there are a lot of big clubs doing the same things."
Claire Rafferty, for so long a reassuring presence on the left of Chelsea's defence, is now the club's Partnerships Sales Manager. And the 31-year-old is finding this is just as challenging as dealing with the likes of Elodie Thomis or Nikita Parris.
Having gained a degree in economics from Loughborough University, and maintained a career as an analyst at Deutsche Bank while playing for England, Chelsea and West Ham, Rafferty is as well-equipped as any ex-player for her new role. Nevertheless, the task has been eye-opening, especially when it comes to attracting sponsors to her old team.
"We are currently in the market for women's sponsors. It's a different conversation. It's more about the narrative around women's sport. Empowering women, how the club has grown. Because there's not as many eyeballs watching the game.
"If I'm selling the men's sponsor or training kit it's '108 million fans will see this'. I can't say the same for the women's. It's totally different. It's about what the women's team means to the club. I'm trying to figure it out myself because it's a difficult conversation."
We are talking, prior to the coronavirus-induced shutdown, in an executive box high in Stamford Bridge's West Stand. Once Rafferty would only have had eyes for what was happening on the pitch, now she will also looking at the advertising boards, considering possibilities just as she used to assess the opposition winger.
Making the women's game sustainable at Chelsea is her aim. "I think the strategy is to not have any [sponsors] that don't appreciate both [gender teams] equally," she says. In that respect the newly recruited shirt sponsors, telecommunications company Three, are ideal.  "It is exciting because the brand we had before didn't want any of the women's (shirts), but Three do," says Rafferty.
"There's only so much the club can keep pumping in without having some return in partnerships. The end goal for women's sport is to be sustainable. The only way you can do that is to bring people in the doors. People buying tickets, merchandise and sponsors on board."
Rafferty only played once at the Bridge, against Wolfsburg in the Champions League in 2016. Now the stadium is her office. Her old team-mates have also moved up in the world with a dedicated area at the club's Cobham training ground.
"It's unrecognisable now," she says. "We used to train twice a week in Cobham and we'd get a slot from half-seven to half-nine. As soon as we were done, we'd get kicked off. So, to see them now having their own pitches, own facilities, training every single day… everything is covered, from breakfast, lunch, accommodation."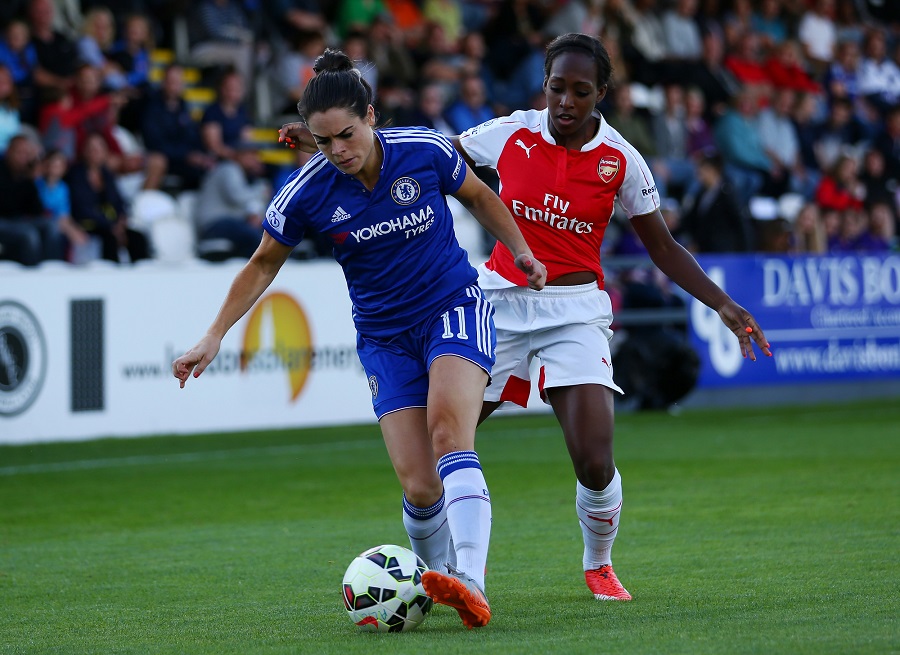 In many areas, however, parity is absent. We discuss the SheBelieves Cup, which was preceded by a row over the Lionesses having to travel to Orlando in economy.
"It's a joke", says Rafferty. "They charter flights for the youth squads. For me it's about giving the girls that respect. If you're going to be talking about winning stuff you need to be treating these women as they deserve to be treated."
"When you're sitting on a plane for that long [ten hours] it doesn't really do you a lot of good. The reason why athletes fly first class is the fact that you can perform better when you get off the plane. When I read that I just kind of rolled my eyes."
England coach Phil Neville has pushed for better travel and accommodation and Rafferty adds: "He probably can't understand why they're not given equality. That [mindset] is something he has brought."
Neville's profile has delivered other benefits. "I think the coverage and hype he brought were good. Off the back of that the announcements for the World Cup were all celebrity-focused and a big noise. Marketing-wise it's been a good move."
But Rafferty, like many, remains unsure whether the appointment has been such a success on the pitch.  "I think football-wise it's been quite static, there's not been a lot of growth. I wouldn't say he's proven himself now because the expectation was to go one better [than winning World Cup bronze as Rafferty's Lionesses did in 2015] and he hasn't."
But for her three ACL injuries Rafferty, younger than Steph Houghton, Jill Scott and Jodie Taylor, would have been in France last year. The first happened when she was 16 and while she says, "I was lucky I did it young because I was able to bounce back" she adds "looking back, that affected my whole career. It's not just the ACL, it's all the little muscle injuries you get in between."
The second came soon after she played at the 2011 World Cup. "I knew it had happened and tried to run it off – in denial a bit.  I'd just broken into the England team, and was poised to be their next left-back, and I think from that moment, it was difficult for me to fulfil the potential that I had, just because of the setbacks.
"That second time was the worst. I actually quit football. I went travelling for a couple of months and that was the best thing I ever did. As soon as I was able to walk after the operation, I just went, packed my bag, said bye to my mum and I went travelling around Asia."
Rafferty did not even tell people she met she was a footballer, but realised she missed it. "I was able to refocus on why I played in the first place. I found I actually wanted to come back" – and, she adds with a smile, "I went to another World Cup."
Now Rafferty has a new focus, selling the shirt she wore with such distinction. Few would bet against her doing so successfully.
Claire Rafferty on….
VAR
"It would help because there are a lot of stupid decisions made. But it won't happen. With the money that goes into making that happen… we can't even get good enough referees, yet alone have another team somewhere else."
That penalty in the 2015 World Cup semi-final
"I think about it pretty much every day. It was outside the box, and I didn't even push her, trust me!"
Smaller goals
"I'd have smaller goals and I'd have a smaller pitch. I'm not afraid to say that. Because we're not as strong, we're not as quick and we can't cover as much distance. So how can we be expected to? I would make the goals a little bit smaller because women aren't as tall, and we can't jump as high. And that's a fact – Karen Bardsley is quite tall though!"
Her toughest opponent
"Nikita Parris. Having to deal with Nikita was always a struggle as a left back. She was a very good player, very quick, and was always lively and fiery."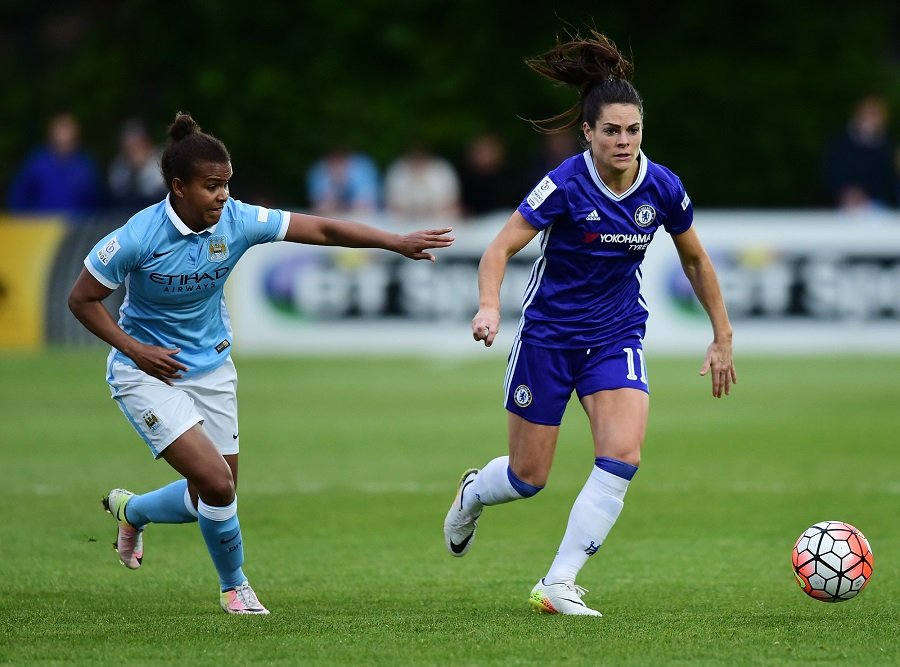 Retaining the WSL title
"It's very difficult to win back-to-back. I think the key is to bring in new players and keep everyone on their toes. It can almost become a bit stale. I think the following season (2015/16) we weren't anywhere near Manchester City."
On equal pay
"It always goes back to money, and how sustainable a team is. Chelsea women would not be able to pay the same as the men because they don't make enough money and they'll make a loss, probably a couple of million pound loss, every season.
"We've seen American [women's] leagues over the years go bust because it has not been sustainable – I think you have to be careful to not get a bit too far ahead of yourself, and at the same time, try and keep up."