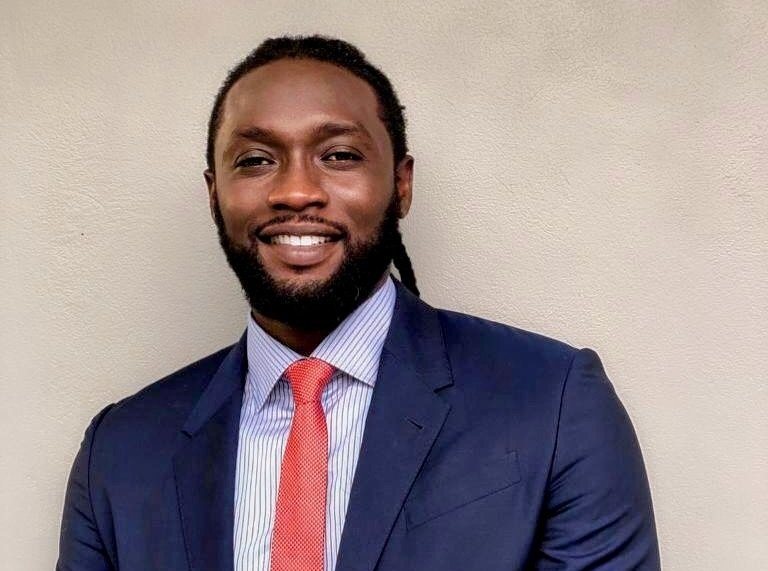 The growing list of former Premier League names to take on prominent coaching roles in the women's game had an intriguing recent addition in Kenwyne Jones. The one-time Sunderland and Stoke City frontman in full flight during his career was a sight to behold, and having taken the reins with Trinidad and Tobago's national team, he feels a big responsibility to try and help others soar.
Defenders who faced him will attest to how formidable Kenwyne Jones was at his best, and his memorable somersault celebration routine is surely as majestic as the Premier League has seen. While his career in English football, and specifically his seven seasons in the top division, elevated his profile to different levels, the former forward was also part of history being made back home.
Among the first – and to this day, only – Trinidad and Tobago team to qualify for the World Cup, he went on to captain the Soca Warriors later in his career, and by the time he retired at 33, had firmly established himself as one of his nation's most widely-renowned talents. Four years on from his retirement, he was recently appointed head coach of T&T's women's national team, following six weeks in interim charge.
"Well, knowing the story of our women's national team over the years, they needed stability, I think," he explains when asked of his initial approach with the players after stepping in. "The story has been a bit of a cringer, in a lot of respects, over the years, but during that period where the coach (James Thomas) left (to become Bristol City women and girls development manager) and the interim coach (Constantine Konstin) didn't last very long, I did have a conversation with them firstly, giving them my commitment that I would not just walk out and leave.
"In terms of knowing what they need, I think I've already known that for some time, representing the country and knowing the ins and outs of our footballing teams, association and that type of stuff. The initial thing was just having a conversation with them first-hand, and basically just showing my commitment to the cause."
The ex-Southampton and Cardiff City man has signed a nine-month contract, with an option for him to extend for a further year. Constantine Konstin, who had been in charge of the men's futsal team, had been named interim boss just a few days prior to Jones stepping in, with the Trinidad and Tobago FA citing 'personal commitments and conflicts that require him to return to the USA at the end of October.'
The Soca Princesses came agonisingly close to reaching the 2015 World Cup, with a pair of near misses at 2014's Concacaf Women's Championship in the United States. With three qualification places available at the tournament, a semi-final shootout defeat to Costa Rica was followed two days later by 4-2 extra-time heartbreak against Mexico in the third-place match.
That was the tournament in which they lost just 1-0 to the US in the group opener, when goalkeeper Kimika Forbes in particular earned rave reviews. The team had memorably arrived at their tournament training camp in Dallas with just $500 in expenses, leading then-Houston Dash coach Randy Waldrum, who had only inherited the Trinidad and Tobago team a few weeks earlier, to appeal on Twitter for any available help with food and equipment.
Their final chance to qualify came in the two-legged tie with Ecuador, which brought a packed home attendance of 22,000 to Hasely Crawford Stadium for the decisive second game, as Ecuador netted a stoppage-time winner. In 2018's qualifying competition, when Jamaica had their history-making moment, T&T did not make it out of an extremely difficult group with the US, Panama and Mexico.
When announcing Jones' appointment, the option to extend his contract by a further year was supplemented with 'based on the achievement of KPIs (key performance indicators) and a successful performance appraisal'. With regard to his specific remit, does he understand it to be based on on-field results, or more weighted toward what he can help implement around that?
"Well, I think all of that would be in one. My personal ambition is to first of all get out of the group (in next year's CONCACAF W Championship qualifiers) and move on to the Women's Championship, to give them that opportunity to be able to qualify (for the next World Cup).
"I wasn't given that remit by the association, but that's my personal ambition, because I think that the time is really right for us to be able to make that step. We've had two chances to qualify for the Women's World Cup before and we just failed at the final hurdle, so being able to take a look at that journey and take the experiences from that, and see how we can best tailor it to the group that we have now."
The Trinidad and Tobago Football Association (TTFA) is pleased to announce the appointment of Kenwyne Jones as Head Coach of the Trinidad and Tobago Senior Women's National Team.https://t.co/Qeiiz8tMUA pic.twitter.com/Vxi6XbkCMg

— TTFA (@TTFootballAssoc) November 26, 2021
Trinidad and Tobago have been among the women's national teams to historically suffer from insufficient support around them. It is somewhat impossible to build necessary momentum when your team becomes inactive for a prolonged spell.
As Kennya Cordner, the team's now-returned star forward and leading scorer in Norway's Toppserien in 2019, said last January: "I've been playing a very long time, and under the last administration, I couldn't stay and play, because they did not care about the women's program. The last game I played was against Mexico in 2018… I really cannot say what the future holds for me with the national team, but I am willing to go back and help, but only if the right things are in place."
Such a quote really sums it up – players who want to help and be part of progress, but too often have felt it unworkable. Of course, there is also the overarching plight of the country's football association, which has long struggled financially and made international headlines last year when FIFA imposed a suspension upon them, thereby preventing its teams from internationally competing.
The game's governing body had removed the TTFA's administration and appointed a normalisation committee in March 2020, citing 'various acts of serious mismanagement'. That decision was contested at the country's High Court, leading to the FIFA-imposed suspension in September for breach of its statutes. The Court of Appeal later ruled the TTFA had acted unlawfully by appealing to a local court. The suspension was lifted last November after the action against FIFA was withdrawn.
Players who have been there, seen it and lived it helping to shape the future for the better seems an ideal scenario, especially when those players have, like Jones, witnessed life at the highest level. He has spoken previously about the glaring need for improved infrastructure and development for the game in Trinidad and Tobago, with fresh ideas and new life being breathed into the system to ultimately haul the nation into the footballing present.
Having been given an authentic glimpse into the sport's 'business' and all that surrounds it over a number of years, in truth, it would be understandable if he chose to step away permanently when hanging up his boots. Whether it is coaching or another role, though, does the possibility of staying in the game and having a genuine impact stir some passion within him?
"To be honest, I think I have to. As you said, after being involved in football at the highest level, I think it would be a pretty bad thing if I don't try to help football move forward, especially at home, and in the region itself.
"There's always room for improvement. As we can see, a lot of places are getting saturated, and a lot of restructuring is always necessary at some point in time, but for me, especially at home, I think I have to lend my experience.
"It's more like duty, but the passion is there, because I was born, I met football, and I'm going to die and leave football here, but of course you want to see it be able to grow and be in a better place than it was before. We definitely need something like that to happen."
Really can't wait for the next camp, this team has my heart but most of all, my commitment…..let's go. pic.twitter.com/DhC50bMaAp

— Kenwyne J Jones (@kenwynejonestt) October 27, 2021
He not only rubbed shoulders with, but ruffled the feathers of some of the best during his time on the pitch. Ex-Chelsea and England captain John Terry suggested at one point that Jones was the best aerial player in the Premier League – some praise, considering he had Didier Drogba on his side. Liverpool, meanwhile, were trying to push through a deal to bring him to Anfield from Sunderland during Rafa Benítez' tenure.
As well as Chelsea and Liverpool, his time in the top flight brought goals against Manchester United, Manchester City, Arsenal and Tottenham Hotspur (another club who made an approach for him). There was also an FA Cup final appearance for Stoke City in 2011, after he had scored in the Wembley win over Bolton Wanderers in the semi.
To speak only of his physical prowess would be to dismiss a player who could link intelligently and finish, with understanding of multiple positions from playing in midfield, and occasionally at the back, during his development. Growing up, he was already watching football with an analytical eye, down in part to a father who played for leading domestic side Defence Force, and an uncle who was part of the national team's 'Strike Squad' who came so close to reaching the 1990 World Cup.
For T&T at the 2019 CONCACAF (men's) U-17 Championship, the UEFA A-licenced coach assisted his former teammate Stern John (who went the other way in the 2007 deal that took Jones from Southampton to Sunderland). Having also been an assistant at Queen's Royal College back home, he embarked upon and completed a post-graduate diploma in sports management when the pandemic put on-field action on hold last year.
Upon his full-time appointment as women's national team coach, the official announcement cited 'the positive atmosphere that he has created within the team, and the improved dynamic between the players and technical staff.' He is excited about taking that on into 2022.
"I think more than anything else, coaching comes with managing personalities. I've been in football all my life, and at a national level I've captained the team for a number of years, so I've had to manage personalities there as well.
"Being on the other side of it now, it's just about the total preparation that goes into preparing any team on any match day or training day. That is very detailed, and I think I have a great coaching staff.
"I have an assistant coach who's also a performance analyst, by the name of Charlie Mitchell; he's involved with Analytics FC, driving force behind Kevin De Bruyne's massive contract at Man City. I also have James Baird, who's an ex-Scottish international, played for various teams, and he's been here in Trinidad and Tobago for some time.
"The players are very resilient, they're very willing to learn and take things on board. They can only get better on the journey.
"We have our first qualifier in February (v Nicaragua), so we're working pretty hard to get prepared for that first test. As we speak, we've had two games in October (v Panama) and two games in November (v Dominican Republic); we came out with one defeat and three draws so far, but I do think that things are progressing and that we'll definitely make some strides going forward."
He is one of two former Sunderland players just recently to take on head coaching duties in the women's game, with ex-Black Cats loanee Darren Carter becoming interim boss at Birmingham City. Players he came up against in the Premier League, meanwhile, have also taken up positions with FA WSL sides, with Paul Konchesky assistant at West Ham United, Frédéric Piquionne doing likewise at Everton, and Emile Heskey the head of women's football development at Leicester City.
In no small part, the experiences, good and bad, that a player had with their managers are taken into their own coaching careers. Jones spent time working under the likes of Roy Keane, ex-Barcelona boss Gerardo Martino, Steve Bruce, Harry Redknapp, Tony Pulis, Mark Hughes, Ole Gunnar Solskjær and Eddie Howe. He considers what got the best out of him from a manager.
"For me, I think my most disappointing times or mental states were when you had dishonesty from managers, and I had that a lot. Dishonesty from, to me, just human beings at the end of the day.
"I'm the type of character where, if you tell me the situation, I can understand it and I can adapt to suit, but dishonesty is something that I don't regard at all. I try to be that to my players, to be as honest as I possibly can, about any situation.
"I think people respect that more, 'this is the situation, this is how I'm gonna deal with it', because I think that helps the person determine what type of characteristic they're going to portray. Whether or not they're going to fight, work harder, or just crumble under the circumstance, because football is just like life.
"You meet situations that you have to work around, where you might crumble or get stuck. It's a ball of different experiences, so the most I can do, which I try to deliver to every single person that I come into contact with, is honesty."
#ThrowbackThursday @kenwynejonestt marked his home debut for #SAFC in 2007 with his first goal for the club against @ReadingFC! pic.twitter.com/q9tCfH7KIv

— Sunderland AFC (@SunderlandAFC) April 12, 2018
He shared a couple of years ago how he had been enjoying taking a step back from the relentless machine of football, finding joy in simple moments like taking his children to school in the morning. For someone who felt the rush of scoring in front of big and sometimes mammoth crowds, the adulation of supporters along the way, and having his name sung from his sensational loan at Sheffield Wednesday through the majority of his career, does he miss anything now about playing?
"Absolutely not; I think I lived that life to the fullest. Of course, you might sit back and think 'what if this move happened?' and that type of stuff, but at the end of the day, I always believe that things go as they're supposed to, and it went like that for me.
"Being the person that I am, and being involved in football in the way that I have, it's difficult for me to sit down and actually enjoy a football match as a fan, because I see the game differently. I understand the things that happen behind the scenes every day before you go and play a match.
"For the rest of the world, it's entertainment, you get to sit and enjoy a game of football and watch your team win, but I know all the hard work and details that go into that, so it's really difficult for me to sit down and watch football as a fan, really and truthfully. I think now, I look more at coaches and team set-ups, and that analyst point of view, pretty much."
As we bid farewell to 2021, those CONCACAF W Championship qualifiers are a mere eight weeks from getting underway. Coming out on top in their group will take them to the Championship itself, and while it still seems some way off at present, plotting a route to the World Cup in Australia and New Zealand in 2023 is of course the ultimate aim. Twice in a lifetime for Jones to be at the heart of history for his country's football would be quite something.
He has been happily restored to sunnier climes in recent years, but could he see himself one day returning to coach or manage, on the men's or women's side, at one of his old clubs in the UK?
"Oh, wow, you're putting me on the spot with that question! You know, I don't know what the future holds.
"If an opportunity like that arises, of course I'm going to go through it and see how best it serves myself and my family, but I'm also not being biased towards anything. Coaching is a long career, but it's just about taking it one step at a time.
"I'll see what tomorrow brings."