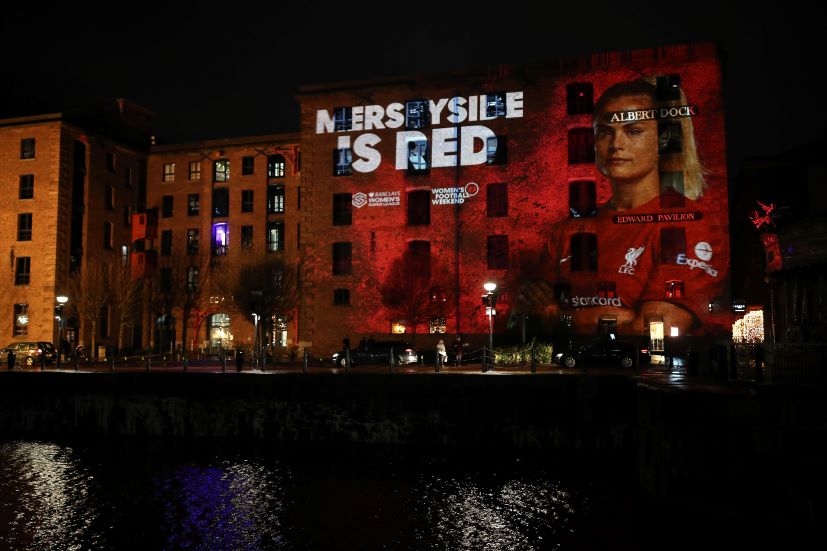 As the build-up to Women's Football Weekend continues, fans have come out in their numbers to project giant images of some of their clubs' biggest stars onto local landmarks.
Ahead of one of the biggest moments of the season fans of Everton and Liverpool, and Arsenal and Tottenham Hotspur were given the opportunity to go head-to-head and vote to turn Merseyside and North London the colour of their club through an online Twitter poll. Supporters in Merseyside will have seen either Liverpool's Katie Stengel or Everton's Gabby George projected onto Royal Albert Dock Liverpool, while for those in North London, Arsenal's Rafaelle Souza or Tottenham's Bethany England were beamed onto Brent Cross.
Fans and passers-by were able to change the player and team colour projected onto the two buildings at the touch of a button. The two activations were designed to engage both new and existing fans of the clubs and help their chosen team take bragging rights ahead of their respective derby.
On Merseyside, Liverpool's Stengel and Everton's George joined fans who descended on the docks to show their support for the two clubs, ahead of what promises to be a tightly fought Merseyside derby at Goodison Park this Friday evening, live on Sky Sports.
It was a resounding victory for Liverpool in the poll, turning the iconic docks red – to the delight of the onlooking fans.
Liverpool forward, Katie Stengel said: "Seeing your face on a huge projection like this really represents the incredible growth of the women's game and the support that is growing for the clubs in the Barclays Women's Super League. This weekend is an opportunity for new fans of women's football across the country to really see what the women's game is about, starting here on Merseyside. This derby game will be full of passion, a high stakes game and we need our fans to get behind us and get your tickets, so we can ensure that at the final whistle, Merseyside remains red!"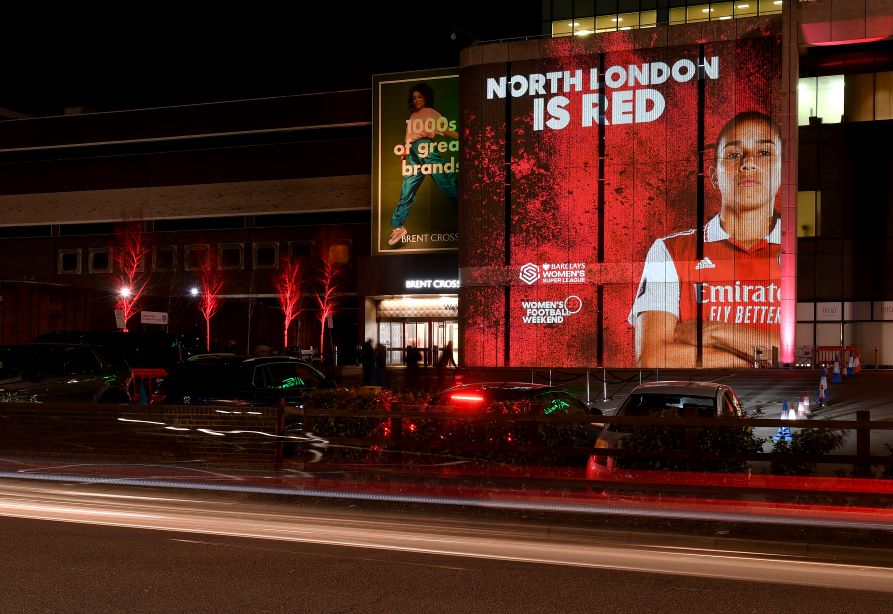 In North London, Spurs' Bethany England and Arsenal legend Rachel Yankey were present, with fans challenged to 'show their pride and pick a side' to light up Brent Cross. It was Arsenal that won the online poll and took the early victory ahead of Saturday's North London derby at Brisbane Road – also live on Sky Sports.
Commenting ahead of the weekend, Spurs' Beth England said: "Women's Football Weekend is such an incredible opportunity for fans to come and witness the passion and the rivalries developing in the women's game. So, if you've never been to a women's game, or watched women's football on the TV, there really has never been a better time to fall in love with it. So get down to Brisbane Road on Saturday and show your pride."