Exciting news for those who love the women's game and are fascinated by its history and origins and want to learn more about the sport from around the world as the National Football Museum and leading researchers and thinkers come together for ground-breaking conference. Find out more:
We are delighted to announce that Professor Jean Williams is the academic lead for the National Football Museum project Unlocking the Hidden History of Women's Football. Jean will be working with the museum, particularly the NFM project lead Belinda Monkhouse, on several aspects of the project and so if you would like to get involved, please get in touch Jean.Williams@wlv.ac.uk The current project will last until September 2018 so there is plenty of time. We are cataloguing, digitizing, and writing exhibition content on what we estimate to be 20,000-25,000 individual items from tickets and programmes to small statuettes and fine art, so it's the largest project in the world on women's football so far.
Jean and the National Football Museum will host the largest international academic conference on women's football on International Women's Day 8/9 March 2018. We will bring over speakers from the US, Canada, Europe, Argentina and Brazil, as well as a wide range of UK speakers. Although the conference programme is now full, there will be a competition call for Early Career Researcher Poster contributors, s if you wish to provide a blog post or contribute a poster presentation, look out for this later in January. We have been fortunate to obtain sponsorship from the British Society for Sports History; FARE and Football v Homophobia and the University of Wolverhampton. The conference is supported by Canal Street Blues supporters club, She Kicks magazine, and a number of journalists and student volunteers from Manchester Metropolitan University, led by Barbara Bell. So please do get involved if you can help promote the event.  At the moment there is an early bird rate so book before 25 January 2018 to obtain the best value https://www.eventbrite.co.uk/e/upfront-and-onside-the-womens-football-conference-tickets-41423084561
For Latin American specialists there is a smaller free event on 22 February 2018 led by Jean and Professor David Wood of Sheffield University. David has an AHRC-funded Research Network (International Development Highlight call) called 'A Level Playing Field? The Practice and Representation of Women's and Girls' Football in South America'.  Abbreviated to 'A Level Playing Field?' David is developing a wordpress site, which is still under construction, at http://www.alevelplayingfield.group.shef.ac.uk/ An Eventbrite page will be launched by the National Football Museum to register for this event soon. Papers include 'Women's Football in Brazil' (Professor Silvana Goellner); Women's Sport in Argentina (Dr Verónica Moreira)  'Representations of Women's Football in Argentina and Brazil' (Professor David Wood) and  'The Treasures of the Unger Collection: An Archivist and An Academic in Conversation' Professor Jean Williams and Belinda Monkhouse.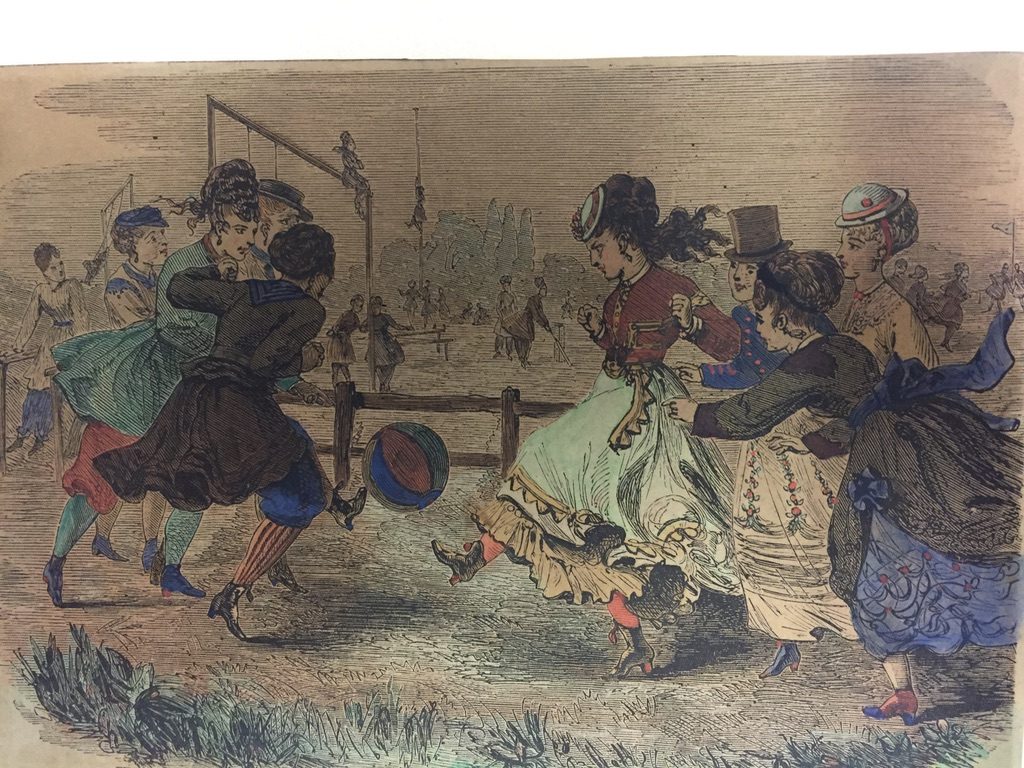 Jean will also research and prepare content to include women's football based on the Chris Ungar collection.  There are regular blogs here https://unlockingthehiddenhistory.wordpress.com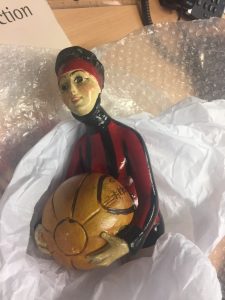 The next big task is to connect related collections on women's football. There are many museums and archives with holdings containing women's football, and Jean has worked with several of these including the British Library, The Imperial War Museum, The British Film Institute http://www.bfi.org.uk/people/jean-williams  and  The North West Film Archive and National Media Museum. There are also collections at various places of women's work such as Lyons Tea Houses and Marks and Spencer, and some public history work funded by the Heritage Lottery Fund on the women's team in Coventry, circa 1921. There will be an international element to this as Jean has worked in archives in China,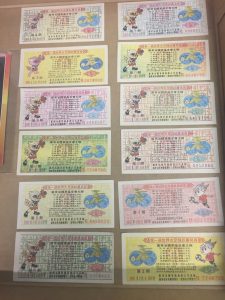 USA, Australia, Namibia, as well as FIFA, UEFA and the International Olympic Committee collections in Switzerland. One outcome could be a scoping exercise of what is archived, and where, in relation to women's football. The only bronze statues of which we are currently aware are in the National Football Museum, Zibo China, for instance, and it can be challenging to map where women's football is publicly commemorated.
Finally, we will explore the possibilities for a publication strategy. As a start, Jean has agreed a special edition of Sport in History for 2019, to coincide with Women's World Cup in France. If you know anyone who has collections or memorabilia do get in touch.
Get in touch with Jean.Williams@wlv.ac.uk if you can help out or contact us and we will pass on all messages.