Melbourne City FC have confirmed that Welsh international midfielder Jess Fishlock is returning to the Club for a third consecutive Westfield W-League season ahead of the 2017/18 campaign.
Highly regarded across the globe, Fishlock, 30, will continue her career with City after playing a key role in a historic period for the Club, both on and off the field, throughout its record-breaking two seasons in the W-League.
The Welsh midfielder made a significant contribution last season, earning selection in the Professional Footballers Australia (PFA) W-League Team of the Year with eight goals for the season; including two decisive strikes in both the Semi Final and Grand Final.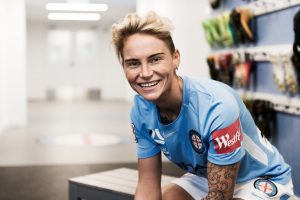 Fishlock will also continue her coaching career as a playing senior assistant, alongside Head Coach Patrick Kisnorbo. The duo helped coach City to a Final Series berth and a historic second consecutive Championship last season.
Commenting on her return to City, Fishlock told www.melbournecityfc.com.au:
"I'm really excited to be back here in Melbourne. I've been at City from the very beginning and to have been part of the success we have achieved, and to see the progress we have made is something that makes me not only proud, but extremely motivated to achieve more."
"City provides the perfect environment for me to continue my development as both a player and a coach. The people I have met here and the opportunities I have been given by the City Football Group have really made an impact on me."
Kisnorbo is delighted to have Fishlock, a player who impresses with both her talent and work-ethic, on board for the Clubs' title defence.
"Jess has demonstrated during her time at City that she is a natural born leader both on and off the field. She has been an instrumental part of the success we have achieved in the past two seasons and I am looking forward to working with her again this season."
Fishlock became the first Welsh player to reach 100 international caps in March and has returned home to prepare for Wales' upcoming 2019 FIFA Women's World Cup qualifier against Russia.
Fishlock joins Kyah Simon, Amy Jackson, Rhali Dobson, Hayley Richmond, Tyla-Jay Vlajnic and Sofia Sakalis ahead of City's season-opener against Perth Glory next Friday.
(Image: Melbourne City FC)