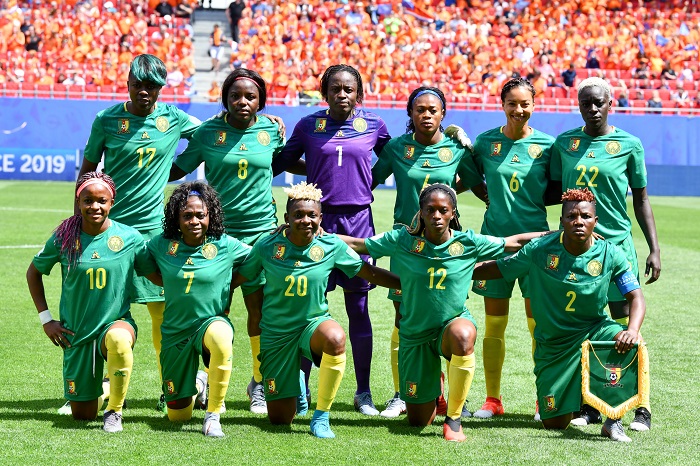 The Olympics in 2020 are now the next target for New Zealand, who exited the FIFA Women's World Cup after missing out on the win they needed against Cameroon. As the Ferns poured everything forward to try and grab a winner in Montpellier, Ajara Nchout showed superb composure to net her second of the game and bag a euphoric winner for Cameroon. The Indomitable Lionesses are now preparing for a last-16 tie against England, which takes place in Valenciennes this Sunday. Here was the post-game reaction from Thursday's encounter, starting with Cameroon's number 6 – a beaming Estelle Johnson.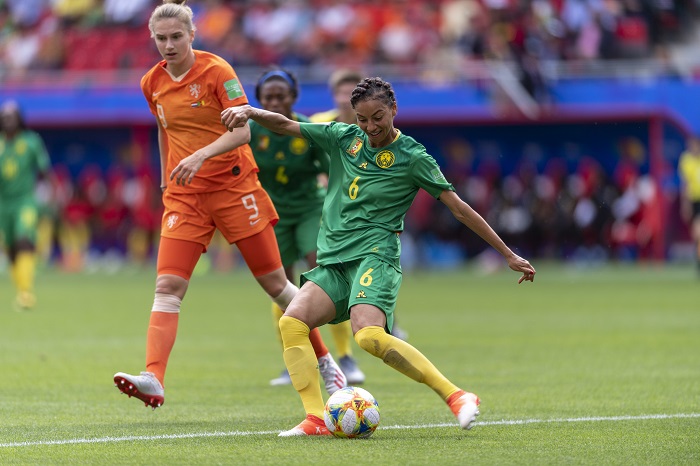 Estelle Johnson
On her emotions after Cameroon's last-gasp victory:
Just kind of on a high. We've been wanting, obviously, to get a win and to try to live up to how they performed at the last World Cup (reaching the last 16), so I'm glad we made it!
On how she thinks they have performed against strong opponents (Netherlands, Canada, New Zealand) in this group:
I think we have to take nothing but positives out of it, that we've hung with, and beaten, some of the best teams in the world, so that's only gonna give us more confidence going into the next round.
On what this time in France has been like so far, and whether the language barrier between her and French-speaking teammates has become easier for her:
Yeah, yeah, I'm learning each day; they tell me that I'm getting better with my French each day (gives a spectacular diva pose)! It was a little bit of a problem at first, but the more comfortable I get, it's easier for me to speak, so it's been great.
Has living out this experience at the World Cup so far filled her heart with a sense of contentment, or made her want to play for many more years? Which is it more of?
I guess the first. I'm just really happy. (Everything else is a bonus after this?) Exactly. I'm just happy that my family could be here, first and foremost. They've seen me train and play for years and years now, so it's awesome that I can give them this gift of being able to experience this as well with me.
Erin Nayler
On if it feels New Zealand got what they merited from the three games, or a little hard done by:
Yeah, definitely feel hard done by. I think our performances, we deserved something from the three. We worked really hard and performed really well today and in the first game, so yeah, we deserved something.
Although it eased off, and it perhaps affects her less as a keeper, was the hot weather draining in the first half for the team at all?
I don't think so, although in saying that, we definitely picked it up in the second half, so perhaps it was, I can't say.
On the general feel of what Tom Sermanni was saying to the team in the huddle at the end:
He was just saying there's a lot of little things we need to work on, and once we nail them down, we can be a really strong team. We're close right now and we just need to do a little bit more to get those results.
Having played in France in recent seasons (currently Bordeaux), what is her current overall outlook on her career – content with where she is, or desire for new experiences in the years to come?
I'm really enjoying it at the moment. I'm enjoying playing in France and it's helped me develop my game a lot. I will keep pushing forward to the Olympics next year, that's the next big goal, and looking forward to the season, and after that, we'll see what happens.
Beneath the frustration of the results, has this been a very happy time together for the team in France, and a wider experience they will look back on fondly?
Yeah, I mean our team are very, very close. We love being together and we've spent years and years together, so every time we come together, even for a long period of time like this, we really enjoy each other's company, so that side of it has been awesome. I think the performance side of it overall, I would say we're happy with some of our performances, but then again, we still have some things to work on.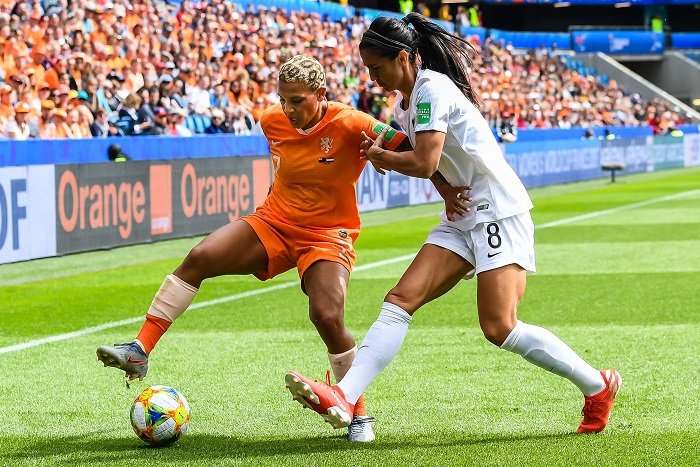 Abby Erceg
On whether it feels like fine margins separating New Zealand from progression, or if they were further away than that:
Yeah, we couldn't score goals. When you come into this World Cup, you have to score goals, otherwise you don't get three points.
Being part of successful sides at club level and knowing what that entails, how far away does it feel the Ferns are at present from pushing towards that top bracket in world football?
To the top bracket, we're quite a way. We should at least be getting a point from this game and we didn't do that, so a little bit disappointing, you'd hope that after three tournaments we'd be a little bit further on than that, but it is what it is.
What has to happen now for progression – continuation of what they've started with Tom Sermanni and keep the foundations together?
Yeah, excuses aside, we had five months together to prep, so it was short. Hopefully with him in there it will add a solidness to our preparation for the Olympics, things will be a little bit cleaner, a bit tighter. Obviously, we're working on a lot of attacking, scoring goals; I think the defence has been really good but we just need to be able to put goals in the back of the net.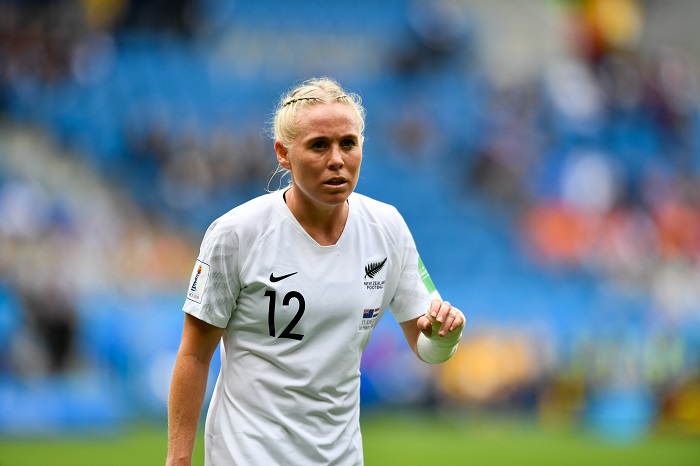 Betsy Hassett
On her reflections on the three group games:
We are really disappointed with the games this tournament. We should have definitely got some points. We weren't quite good enough today and the Canada game; I think we played our best performance in the Netherlands game, but we still didn't get any results. We've got to really improve for the Olympics.
Does it feel like they've started something with Tom Sermanni and stability/continuation is key now?
Yeah, definitely. We've got a new coach, new players coming through, and we're just trying to build our culture again and build the team. We're really focusing on the Olympics now that we're out of this tournament. It's positive, we can do it, but we've got some work to do.
On the whole experience of their World Cup, away from the games – a good vibe, fun times, happiness?
Definitely, we always have a good time, which is the most important part, to have fun. I think we did enjoy it, except for the results. Obviously, it's really disappointing, but we do have fun off the field, and that's good.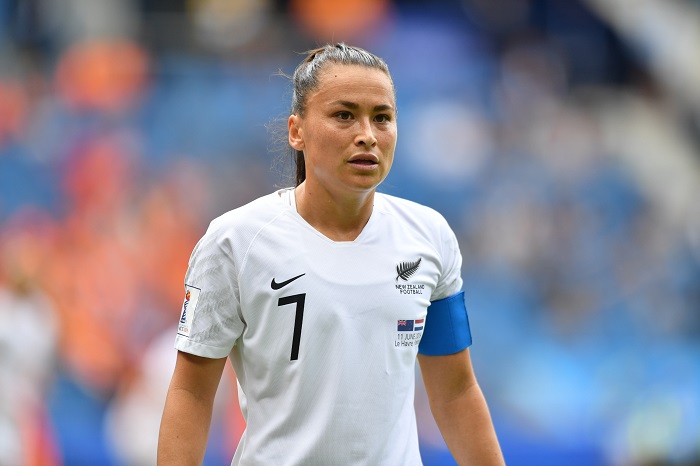 Ali Riley
Having competed in a group with top teams, and troubled the Netherlands, as well as beating England before the tournament, does it feel like there is evidence of the gap to those sides being closed?
Yeah, definitely. We did beat England on our way here, and then so close against the European champions (Netherlands), who just beat Canada, so I definitely think we're going in the right direction. I do think we could have won this game, if we had been a little bit smarter and a little bit more accurate on getting a ball in the back of the net, but I think every tournament we play now is going to be about getting that much closer. Before, the last few tournaments, I don't know if teams have been that nervous about meeting us, and it kind of felt like a given. Now, it's like we make everyone play their best against us, and Cameroon did a great job. I'm really glad we have the Olympics to look forward to, because it's another amazing tournament, another amazing opportunity to represent New Zealand and try to make history there, too.
On whether she thinks the pieces are being put in place now, and it's about making sure that the wider infrastructure means that players don't feel they have to step away from the national team?
Yes and no. I think if players wanna move on with their lives they can, and this kind of felt like this was our last opportunity to do something as a group. Obviously, I'm hoping that everyone will stick around, not even for one more year, but another cycle, to the next World Cup, and New Zealand is putting a bid in to host it. I really, really hope that we do have some continuity, but again, a lot of us have played together for four, three, two World Cups, so it's about growth, it's about developing the young players coming through, but Tom is a huge, huge factor in that. He is our coach through the Olympics, so that's a huge positive. I think we can just build on this, and as long as we get support from our federation and other teams take notice and they wanna play against us and we get more and more fixtures between now and next July, I think the sky's the limit. It's just obviously right now taking a break and getting a breather, and making sure that we can look back on this experience still positively and move forward.
On whether these past few weeks have been an enjoyable time overall to look back on:
Yeah, we've always had a great team culture, but this definitely did feel special because I think we felt we needed to make the most of what could be the last opportunity at a World Cup for this group of players. We've been together for almost six weeks and we had an amazing time.