Scotland 2-1 Switzerland 
FIFA Women's World Cup qualifier 
Simple Digital Arena, Paisley
Report: Catherine Etoe
Images: Lorraine Hill
A record crowd of just over 4,000 supporters were treated to one of the most electrifying starts in Scotland's World Cup qualifying campaign in Paisley last night (Thursday). Barely five minutes had ticked by and yet Scotland were two goals to the good against Switzerland after Chelsea star Erin Cuthbert then Arsenal's talismanic midfielder Kim Little bagged a goal apiece. The cheers were still ringing in the air when, two minutes later, skipper Lara Dickenmann spoilt the party with a goal for the visitors.
Knowing that they needed to win by a two goal margin if they were to overhaul the Group 2 leaders at the top of the table, Shelley Kerr's side spent the remainder of the tie throwing all they had at their opponents, who always posed a threat with the tricky feet of Ramona Bachmann at their disposal. Yet, despite their determination and a player of the match performance from 20-year-old Cuthbert, who had a vocal stadium of supporters in raptures with her technique and vision, that killer third goal remained elusive for the home team.
Now, with the two sides level on points, all eyes are on Tuesday when Scotland travel to Albania and the Swiss go to Poland in their final games of the campaign. A victory for Martina Voss-Tecklenburg's side will secure their automatic qualification for the 2019 FIFA Women's World Cup, leaving Scotland hopeful of a play-off place as one of the best runners-up. All is not settled yet, however, and Kerr and her players remain upbeat.
Here's what they had to say after the gripping match.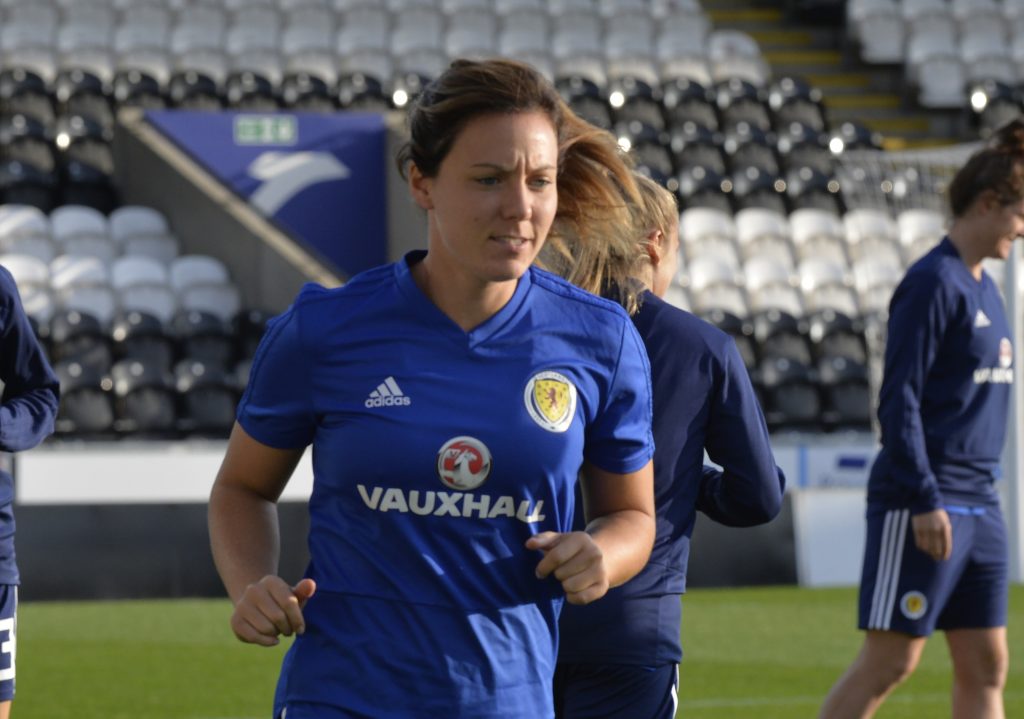 Scotland captain Rachel Corsie
On the performance:
I thought we performed really well, we were comfortably the better team, the start was magnificent, we wanted that, wanted to come straight out the traps and put them under pressure and I think we did that. It was unfortunate we conceded so soon after that because I think it just got them back in the game and gave them a little bit of confidence when they were probably feeling pretty low, but for the remainder of the game we dominated and dictated and it was a pleasing performance although the result is a little disappointing.
Scotland head coach Shelley Kerr
On the match:
I could not have asked for any more from the team, I thought they were magnificent. We've beaten a really good Swiss team with some fantastic players who are playing in some of the best clubs in Europe, we've got an extremely talented team as well but I think the magnitude of the game here, to come in front of a record crowd for Scotland and put on the performance we did, I'm extremely proud.
On whether emotion took over after the electric start to the game:
It was probably a bit too frantic at the start of the game, getting the two goals and maybe we needed a bit of time to settle into the game but we're here to entertain, that's what we've tried to do, we've implemented a new philosophy, a new style of play which the players have bought into and I think you can see that. Our last game, against Poland, so many people even that hadn't watched women's football said I'm going to watch your team when you play next so it's been great. And you know the crowd gave the team a huge lift and that's important for the women's game in Scotland.
On Tuesday against Albania:
The important thing now is that the players have worked extremely hard and they need to rest and recover and I like them to spend time with their families. So we'll go home and we'll meet back up on Saturday and fly to Albania. Again we'll have a game plan and our objective hasn't changed all the way through the campaign, we've gone into every game to try and win. We are sitting equal on points with a really really good Switzerland team who are a pot A team in our group and let's see what happens, they've still got Poland to play away from home which won't be easy, I can vouch for that.
On the importance of maintaining momentum:
This campaign so far has been, I would deem a success. We've developed and matured as a team and it's a huge credit to the players, so of course, let's see what happens on Tuesday first and foremost, our focus is solely on winning the game against Albania. It won't be easy. I know we beat them at home but it's not going to be easy.
On what she said to the players at full-time:
I just said I was extremely proud of them, we gave it all we've got, we tried everything in the latter stages of the game to get another goal but it wasn't to be but I couldn't have asked for anything more and I said you need to recover now and we get ready to go again because for them [Switzerland] against Poland I think it will be a tough game.
On Erin Cuthbert:
If I flip back to September last year, January, Erin has matured massively and it's from the good work of her club as well, all the clubs are a credit to the players because they are in a professional environment, even those in Scotland, the players are training four or five times a week so the clubs deserve a lot of credit because they are instrumental in developing the players.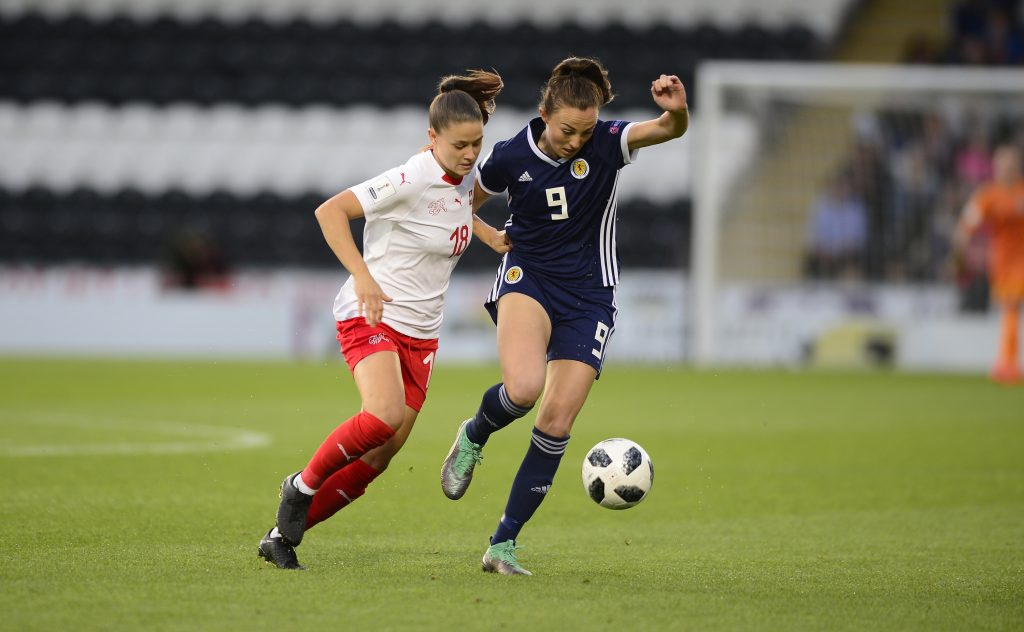 Scotland midfielder Caroline Weir
On Tuesday's match:
Yes, obviously it's a big game in Albania and it'll be tough, but we'll go there confident that we can put in a good performance and score goals. All we can do is focus on ourselves, there's no easy game to travel away in this campaign so we'll just focus on ourselves, we know we've got the depth in the squad to go and get the win hopefully and put a good performance in, so that's what we'll be concentrating on.
On the result against Switzerland:
Switzerland are a top side, we had a tough game away to them, we knew what they were about so I think it shows how far this team has come, we've played a very good game of football tonight and we've challenged one of the best teams in Europe so we can be pleased with that, we scored two good goals and yeah it was a strong performance from players all over the pitch so yeah we'll be proud of that.
On the squad:
We've got a very talented squad, very experienced players, talented young players coming through so there's a good balance in the team and a good feel around the squad and it's a very exciting time to be a part of it.
On Erin Cuthbert:
Erin is great, she does such a good job for us up top, she holds the ball up so well and causes teams issues, she's a young, energetic, enthusiastic player and has been great for us this campaign along with a lot of other players, there has been players in all positions that have been consistent for us throughout the campaign so it just shows the depth in the squad and how far we've come.