With Saturday's occasion at Wembley behind them, though perhaps not entirely out of their legs, Kenny Shiels' Northern Ireland squad are firmly focussed on achieving a positive result against 2017 Euros semi-finalists Austria, at a sold-out Seaview in Belfast tomorrow evening.
With one training session to go, it seems that Everton forward Simone Magill has an outside chance of being involved after missing the start of the 2021-2022 season through injury. While Magill's return would be a big boost for the side, there are concerns over central defender Julie Nelson's inclusion after she picked up a knock in the 4-0 defeat against England at the weekend.
Indeed, it is a very tight turnaround time for all of the team ahead of tomorrow's game. If you weren't aware, England are the only side in UEFA that have scheduled World Cup qualifying games on a Saturday, so Austria have had an extra 24 hours recovery since their 5-0 home win over Luxembourg on Friday evening.
In today's MD-1 presser, manager KENNY SHIELS was asked to reflect on his side's performance against England, 48 hours on, and he was as ever, honest in his assessment:
"Everyone said we did so well, but it was mostly based on high-octane, energy and worth-ethic but we didn't produce enough quality to hurt them."
It's worth repeating, on his and his team's behalf, the he was also a little unimpressed with the way the TV coverage on Saturday had suggested his team looks to play:
"I listened to the English commentary before the match and they said that Northern Ireland are going to play long ball. And that was quite hurtful, because that's the last thing we want to do."
Looking ahead to tomorrow's game, what does he want to see improved?
"We've got to do better with the ball this time. We can only have an impact on the game from an attacking situation if we keep the ball. We've got to keep the ball better and that's been the message I've cried out to the players, this last couple of days.
"When we have the ball we have to be brave, inventive and imaginative. Saturday was disappointing with the ball. We didn't play through the lines. It was a big, big stage for them but they did brilliant, they gave everything they had. But most of the time in football, the team that wins the game will not be the team that works hard, but the team that works smart. So we've got to think more about the latter."
He is also keen to stress the strong attributes of the Austrian side – a team very difficult to break down – and the national set-up that they are coming up against:
"They are quality team, one of the best teams in Europe. It will be interesting to see how they do when they play England because they're a very good team. Nicole Billa, their striker [for Hoffenheim], has won the Frauenbundesliga Player of the Year, one of the top leagues in Europe. We've been watching her and she's a very good player.
"They've got a great system in Austria, their academy system is fantastic and other nations are going there to have a look at it. So they're a very innovative international team in the women's game."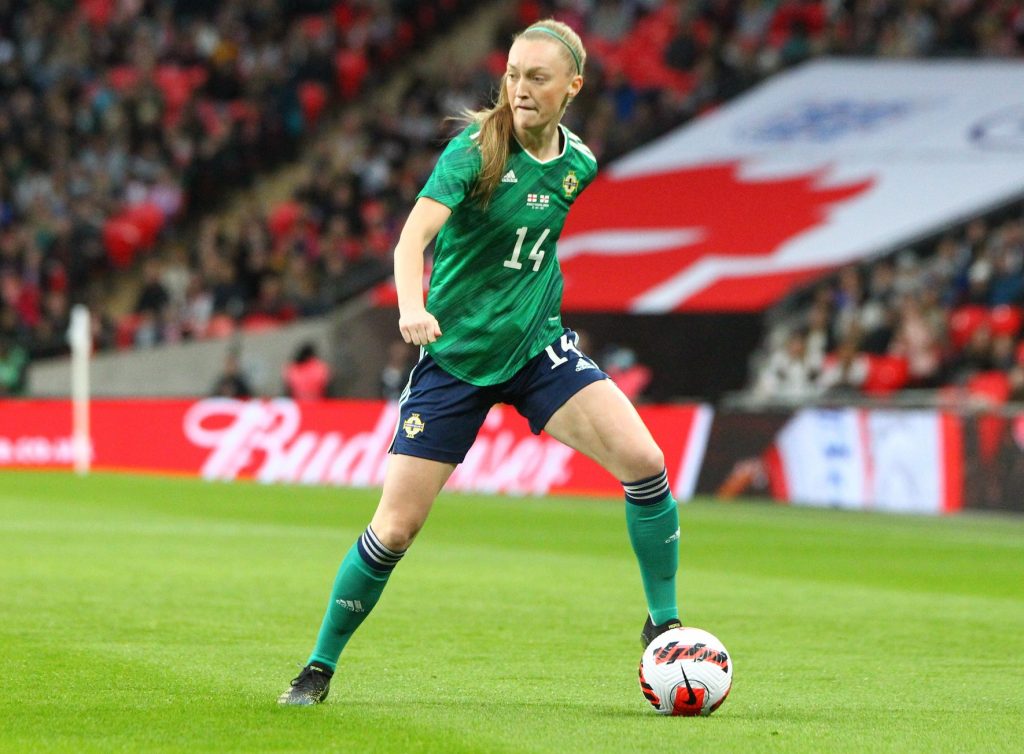 Wide forward LAUREN WADE (who had to work just as hard defensively as many of her teammates on Saturday) quickly added some of her thoughts, before being whisked off to team lunch…
On how difficult (or easy) it has been to recover and switch the attention from Saturday's experience to the nest fixture:
"The turnaround has been quite fast obviously with flying home Sunday and then you know we're into Monday and the game's tomorrow night but as a player you're always thinking about the game what we could have done, what we did well, what we didn't do well but now this morning our focus is on Austria."
On their determination and aims going into the game:
"We probably could have kept the ball a lot better [against England] and that's my and our focus going into tomorrow night. We know how good Austria are going to be and it's going to be another tough, tough game. But we, as a team, as a squad, we want to put things right."
On the fantastic support of the #GAWA at Wembley and at a sold out Seaview tomorrow:
"Yeah it's great to see all the fans coming out and giving us that that support you know, obviously what we've done over the the last campaign up until now, you've seen a real backing from the fans and we can't wait till tomorrow night."