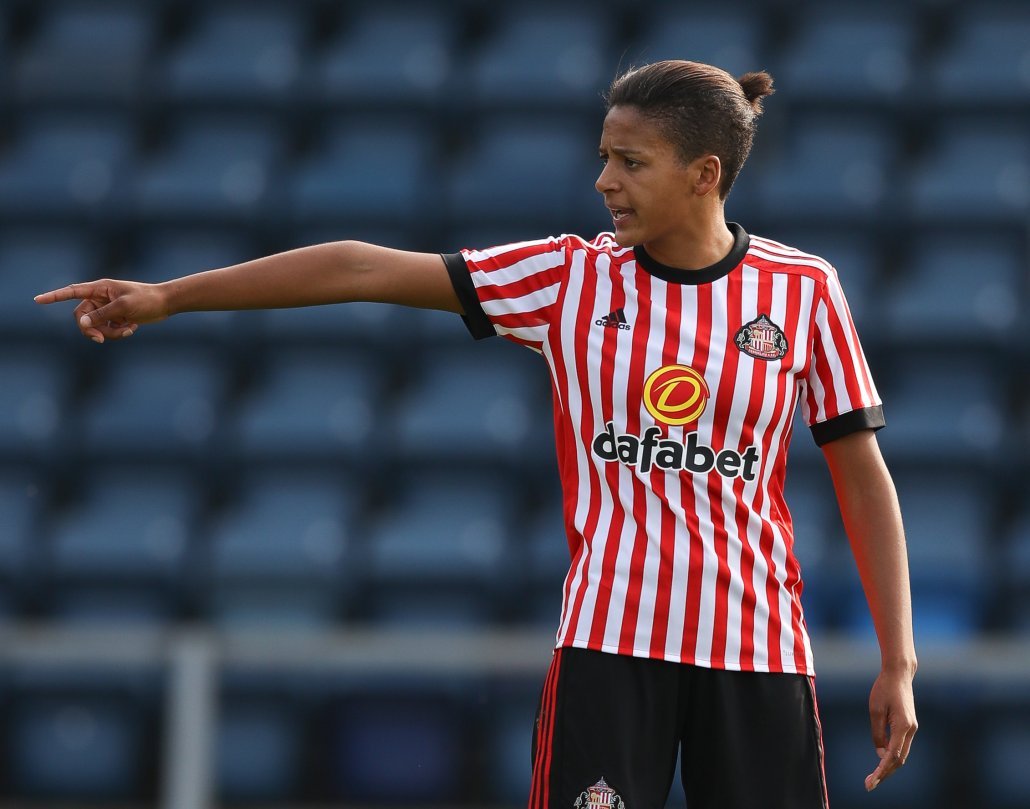 Sunderland may have handed Manchester City an almighty run for their money in the SSE FA Women's Cup quarter-finals last weekend but Victoria Williams insists Wednesday's clash with Everton is a bigger game.
Wednesday 28th March
FA WSL 1
Bristol City v Birmingham City (Stoke Gifford Stadium, 7pm)
Reading v Yeovil Town (Wycombe Wanderers FC, 7.45pm)
Sunderland v Everton (South Shields FC, 7pm)
FA WSL 2
Tottenham Hotspur v Millwall Lionesses Cheshunt FC, 7.30pm)
Thursday 29th March
FA WSL 2 
Oxford United v London Bees (Oxford City FC, 7.45pm)
Watford v Brighton & Hove Albion (Kings Langley FC, 7.45pm)
The Black Cats, who are seventh in the FA Women's Super League 1 table, return to league action for the first time since February as they take on the eighth-placed Toffees at Mariners Park.
Last weekend, Williams scored as Sunderland were on the verge of defeating FA WSL 1 table-toppers City, only for Jane Ross' last-gasp equaliser to force extra-time, the visitors going on to run out 4-2 winners.
The 27-year-old defender believes she and her teammates can take plenty of heart from their cup display though as they look to cast off the shackles against Everton.
"You kind of always expect a team like Manchester City, with the strength-in-depth they've got, to dominate over extra-time – I think most of us had emptied the tank by 90," said Williams.
"There were a lot of positives to take and a lot of confidence to take going into Wednesday's game.
"We've looked at trying to be more confident in our forward play and I think we took great strides towards that on Sunday, so it will be about carrying that forward.
"I thought we were braver in possession and we weren't afraid to commit numbers.
"Sometimes, it's about consolidating. Whilst we're not afraid of anybody, you have to respect the quality that teams have, so we can't just be throwing numbers forward, but we did look at it as an area we could be better at.
"It's a bigger game than Sunday, really, for us.
"It's not going to be easy for either team. We're next to each other in the table and they either catch us up on points or we pull away from them for a bit.
"We're certainly not going into it thinking it's a game we can take lightly.
"We've got to prepare for it exactly the same way we did for Sunday's game because that standard's the benchmark now – if we can push a Man City for 90 minutes, we need to be pushing the teams around us as well."
Everton warmed up for Wednesday's crucial encounter by emphatically booking their place in the SSE FA Cup semi-finals with a 6-1 win over Durham.
That's not the only time they've hit the goal trail this term, having defeated Sunderland 5-1 in then reverse FA WSL 1 fixture in December.
Williams added: "They had a strong performance and result at the weekend, so they're going to be coming into the game with confidence.
"They've got a lot of pace up top and they've got players that can get in behind, and as much as I don't really want to look back to December's game, we've got to be better prepared for the threats that they offer.
"I think we are – we've definitely improved as a team."
Sunderland are three points ahead of visitors Everton and no doubt bouyed by almost knocking Manchester City out of the SSE WFA Cup at the weekend. The Toffees went through with a big 6-1 victory at Durham.
Having held leaders Chelsea 2-2 for the second time this season, Reading would hope to secure three points at home to Yeovil Town, who still remain goalless.
By Sportsbeat
To buy tickets to an FA Women's Super League match near you click here: www.fawsl.com/tickets