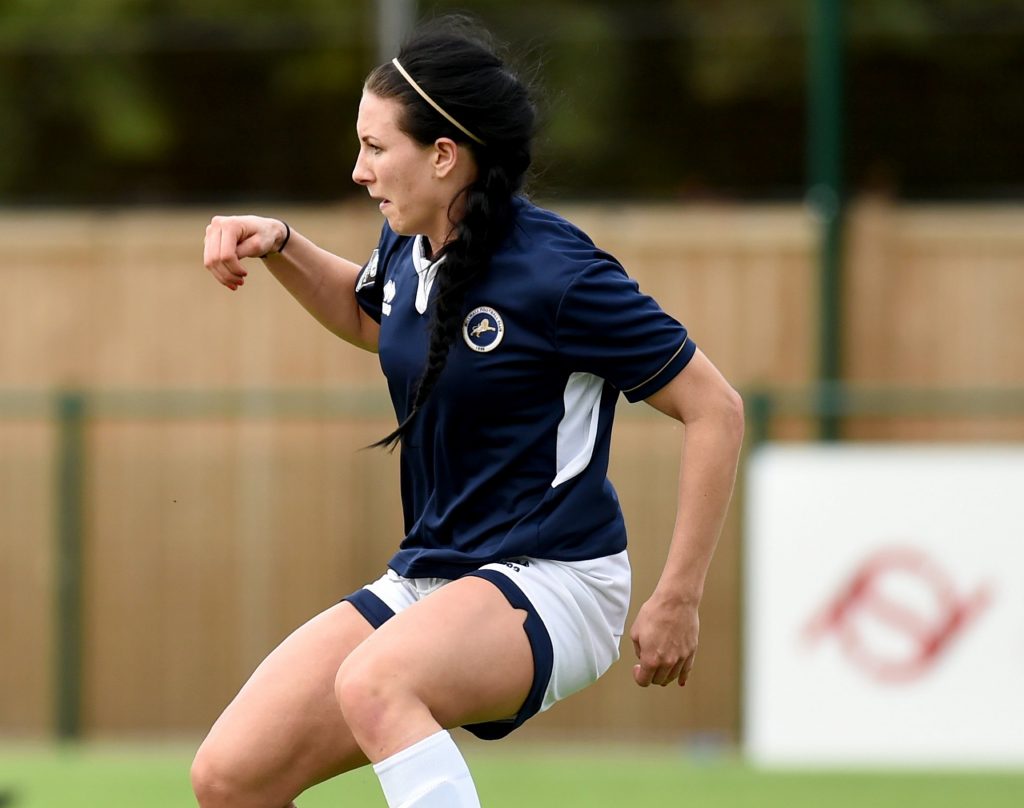 Captain Leighanne Robe struck a dramatic late winner as Millwall Lionesses came from behind in the closing stages to snatch a vital 2-1 victory against Aston Villa, thereby closing the gap on leaders Doncaster to three points.
Tash Baptiste had the first chance of the game for Aston Villa after 12 minutes when she cushioned a volley just wide from Chloe Jones' free kick, after stealing away at the back post.
Millwall then came very close after half an hour when Rianna Dean muscled Jade Richards off a long ball before lobbing a shot over Aja Aguirre that hit the top of the bar.
Five minutes into the second half, the hosts struck the woodwork again when Amber Gaylor sent her effort against the near post after being played in by Dean.
Elizabeta Ejupi's excellent strike, destined for the top corner, was then brilliantly tipped over by Millwall goalkeeper Sarah Quantrill.
Ten minutes from time, Ebony Salmon threatened a shock victory after being played through by Aoife Hurley, as she held off Robe before scoring through Quantrill's legs.
The visitors' lead lasted just two minutes, however, when Dean was quick to react in poking the ball into the net after Ashlee Hincks' effort had been charged down.
Two minutes into stoppage time, Millwall grabbed a winner when Robe's free kick from 40 yards out on the right drifted over Aguirre and into the net, to the delight of the 341-strong crowd.
WHAT THEY SAID:
Millwall Lionesses defender Leighanne Robe said: "It was amazing, especially with the last few days and what's been going on, to go 1-0 down and comeback to win 2-1 in the last ten minutes.
"Emotions are high, but we're a proud team and everyone dug deep.
"When they went ahead with ten minutes to go, we did start to think 'that's the unbeaten record gone, it's not our week, it's not our day.'
"But this just shows what this group of players is about – we said that there were ten minutes left, we're going to give 110 per cent in every tackle.
"The honest truth is the manager called me over and told me to stick it over the keeper and that's exactly what I've done and it has gone in, so yeah I can say I meant to dip it over the keeper.
"Word-for-word, that was exactly what the manager asked me to do."
Aston Villa winger Tash Baptiste said: "It seems to be one of the common things this season because in the last ten minutes we seem to lose games, but overall we keep playing well in most of the games.
"We've just got to keep it up towards the last ten minutes and hopefully we'll start picking up some results.
"Ebony [Salmon] is a great kid, she's got a great attitude, she does what she can in front of goal and she's continued to strive and do well.
"She showed that with the way she took her goal.
"Their winner was one of those where it was a bit of an awkward judgement and obviously when you're playing with floodlights that doesn't help.
"I think Aja [Aguirre] was great all game, she's really put the effort in and she saved us a couple of times, so we can't hold that against her."
Substitute Tricia Gould snatched a fine win for London Bees at the death as they picked up three points against high-flying Brighton & Hove Albion, watched by 321 at The Hive.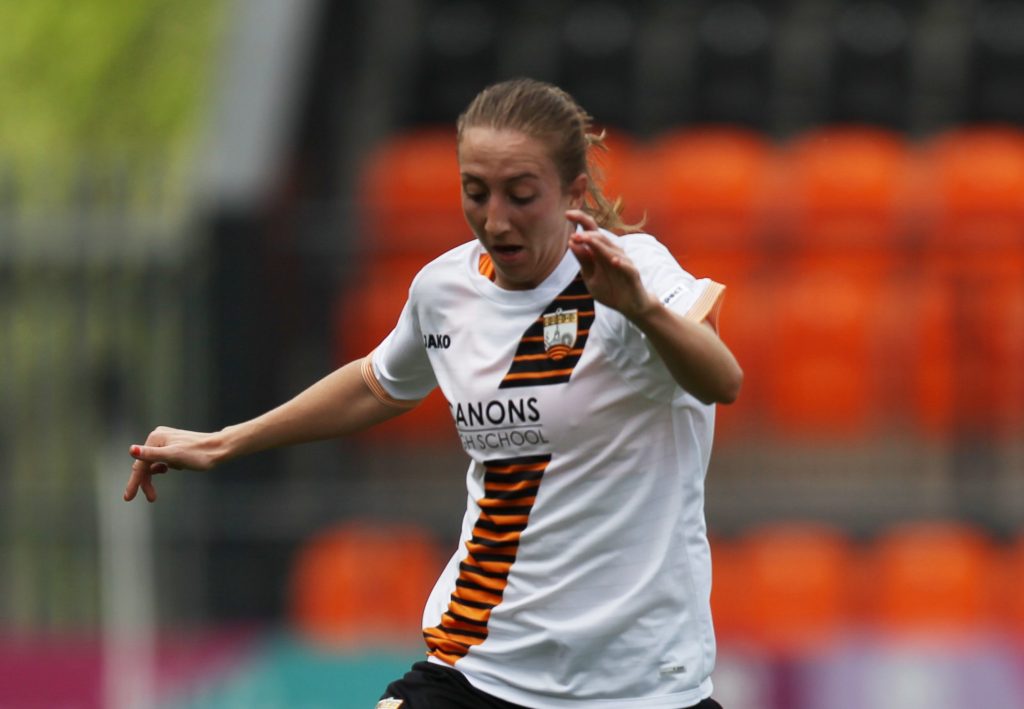 Katie Wilkinson's early goal came a little against the run of play, as Sophie Perry and Kate Natkiel shone for the visitors down the right flank, putting pressure on the impressive Bees goalkeeper Nicola Hobbs.
Brighton's equaliser was another well-taken goal, a looping header from Aileen Whelan that evaded the goalkeeper and the defenders as it flew into the top-left corner.
Paula Howells threatened on the right wing for the hosts, with substitute Evie Clarke providing plenty of pace, while Amanda Nilden was unable to convert a couple of good chances for Albion.
Smart footwork from the Gould's fresh legs deep into injury-time, followed by an incisive, powerful, weighted shot past the despairing glove of Laura Hartley secured a late victory for the hosts.
WHAT THEY SAID
Katie Wilkinson (London Bees): "Taylor [O'Leary] in the middle, she was pressing down the pitch, which is what we set out to do, and that's what set me up to have a shot on target. Credit to Taylor for that, and I think this evening we all worked really hard.
"This is our third game in something like seven days, and we were absolutely knackered coming into this game.
"We knew we'd have to dig deep, work together as a team, communicate, proper go for it, and against a team like Brighton, under Hope Powell, who are organised and really fit – I think to get a last-minute winner just shows how much of a team we are.
"For Trish [Tricia Gould] as well, she's come back from injury, so for her to come on and score that goal, I'm so pleased for her, and so proud of everyone."
Dani Buet (Brighton and Hove Albion): "The problem we've got is when we're trying to push for the win, because we want the win, we're always susceptible to the counter.
"Credit to them, they took their chances and it was a good finish, but for us, we've been on a good run, so we're bitterly disappointed that run's now ended, but thankfully it's a quick turnaround – we've got Donny at the weekend, so we go again."
By Sportsbeat
To buy tickets to an FA Women's Super League match near you click here: www.fawsl.com/tickets