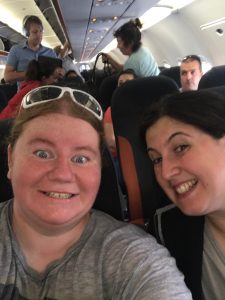 When we got up at the crack of dawn we weren't expecting a 6-0 finish over Scotland.  I mean, we have been fairly well matched when we have met them previously.
We checked into our hotel, had a nap and then headed to the game. It was really easy to navigate to the games; all busses to and from the grounds to a central pick up point (usually the train station) were free. Nice touch from the host nation. All stadiums are pretty far out from our hotel so its really handy.
Even before we had arrived at the stadium in Utrecht there was a real buzz from the growing numbers of Scotland and England fans arriving for the occasion. We didn't have time to hit the fan zone unfortunately.
As we arrived at Utrecht a convoy of police escorting the England bus to the stadium stopped our bus.  I've never seen them treated like that before. Its important because the stature of women's' football here is so different.
Once we got into the stadium we were hit with this joyousness and jubilance. What an atmosphere!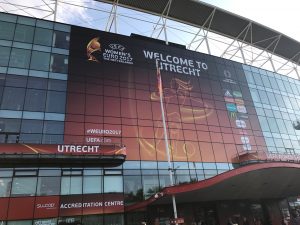 We spoke to a few people in our stand and the general consensus was that women's football in the UK is on the rise, and success for England, and Scotland even qualifying is helping to boost numbers. Which is handy as The FA set a goal to boost numbers by 2020, allowing us the 2019 world cup in France to also drive numbers up.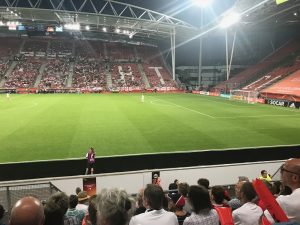 We were also astounded by the amount of families who had travelled from all over the UK to come and support the national team. There were also a handful of ex-professional male footballers there too; I had the pleasure of briefly meeting David James.
The game was exhilarating. Personally, and I've said this for a long time, the referee's and officials need to be better.  There have been some choice decisions during this tournament.
I lost my voice singing, I had beer thrown over me by excited supporters and even accidentally launched my phone when we scored. – It was perfect.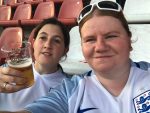 England was very clinical in their execution. It was clear they were told to find a way to win. And their hard work with the new strength and conditioning coach has certainly played off. It was so refreshing seeing a national team playing like a national team, and not some scrappy Sunday league club.
After the match all fans headed out in what has to be the most chilled exit I have ever experienced in any football.  We got on a bus pretty sharpish and were back at out hotel before midnight. Even in time to get the shuttle bus from the airport which saved us on taxi fees.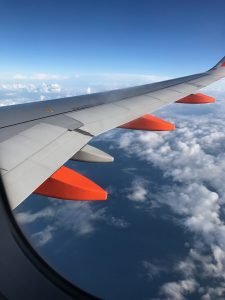 We flew back home for 2 nights, because we had to work and then headed back.
When we arrived we headed for Breda, where our hotel is. Our journey wasn't so straightforward and the trains were a little difficult to get used to navigating. We arrived and had another nap, all this napping I could get used to!
We headed into Breda, and found the fan zone pre Spain game. It was in a street and had a great atmosphere.  We had a wander and got some food and drink and then out of nowhere the heavens opened.  I'm not talking about a slight bit of rain, it was like someone emptying buckets of water onto us. I of course had no coat because why would I?
We waited for a break in the rain and made a dash to the station to find the bus. We managed to get on the first one, which gave us a good amount of time to have a wander around outside the ground. There was a few separate stalls, food, merch, games etc. It was again a great vibe.  We hung about and bought some merch, I got a dry shirt and then waited until we were seated to put it on under my England shirt.
When we got to our seats we found we were actually sat with the people who we had sat with at the England Scotland game.  This was nice as we had already chatted to them at the past game. We were also greeted by a group of drunk girls, one who threw up went with their friend and left one with us. She was really nice and super enthused about women's football.  This was again the general consensus of people. There were a lot more families at these games. We spoke to a family who had travelled over for their daughter's birthday present; she had waited 6months to see the tournament.
Again, they put on a bus and we easily navigated to back to our hotel with ease, now a master of the train system.
Today we have tickets to the Switzerland v France game. It will be interesting to see the demographic of fans and support for both teams.  Support for the whole competition has been overwhelming so far and I feel that the teams, especially England, are very humbled by their home crowd support.
Just as a footnote to this post, I just wanted to say that the support at home is also amazing and I feel that the only way is up with regards to support and engagement. The FA are offering loads of free sessions for age 5 to senior, its currently girls football week.
If anyone wants to join a team, or just have a kick about please check on The FA website to find your nearest session.
Check in with us again once we've been to more matches!