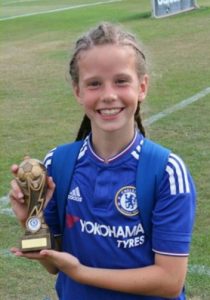 Imagine you are such a massive fan (there's a few of you out there, we know) that you travel overseas to see your favourite team as often as you can, and you're such a dedicated and ambitious player that you do likewise to train with the club you love…and then they get drawn to play in the UEFA Women's Champions League, almost in your own back yard!
Well, that's what has happened this month, for one young fan & baller:
My name is Freya Golos and I am 10 years old and a football player. I live with my parents and have three siblings. We live in Malmö, Sweden. Every year I attend Chelsea training camps in Cobham and I am the only one who comes from abroad. Last year I even earned reward for 'Most Improved Player' among 28 boys from different football academies, who were 1-2 years older then me.

To be able to watch Chelsea Ladies in my home town was absolutely amazing, especially witnessing them making history as our Chelsea Ladies have qualified for the first time ever to be in quarter finals of the Women's Champions League. After the game I managed to get autographs and pictures with Chelsea players and the best coach ever, Emma Hayes. Now I am looking forward to supporting our Chelsea Ladies at Kingsmeadow, in the next round.