The FA have announced the formation of a new England women's blind team. Ciaran Morrison reports from St. George's Park, where the side held their first official training camp utilising the world-class facilities on site and the Tony Larkin Pitch – a bespoke pitch for blind football and one of only two in existence in the UK. 
As part of The FA's Football Your Way movement, launched in October 2021,  a number of new squads that represent and raise awareness of disability football in England are being formed by 2024 and the first of these is the England women's blind team, with the aim of being firmly established ahead of the 2023 World Games that will be held in Birmingham in August.
Speaking at St George's Park, Female Para Development Coach Lauren Asquith is excited for the future of the women's blind team: "It's a relatively new developing squad but it's a really exciting opportunity for us. We've got the World Games in 2023 and it's really important we have our presence there."
Blind football is a five-a-side game played with an audible ball, where all players apart from the goalkeeper, who is fully sighted, wear eyeshades so they are completely without sight. Boards down the touchline are used for echo location and this means the ball never goes out of a play for a throw-in. Every time a player goes in for a tackle or is near an opposition player, they must shout 'voy' to prevent fouls. A player can only have one arm on a person at a time and one hand on the boards. Games consist of two halves of 20 minutes.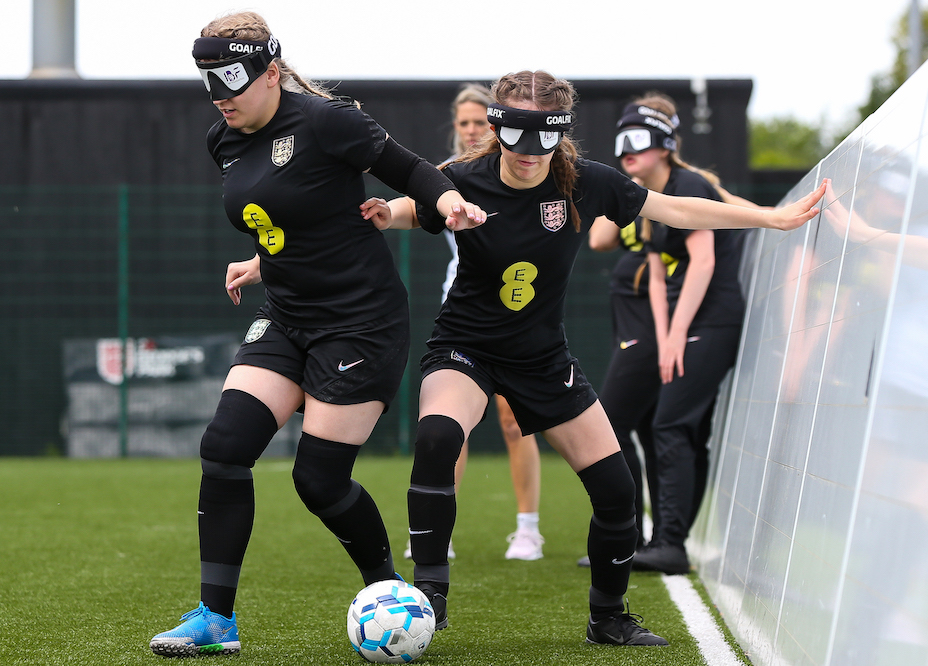 The long-term ambition of the sport is to be able to compete in the Paralympic games. Asquith said: "Hopefully blind football for the females will get into the Paralympic games. We have to show that the global movement is happening and show the Paralympic committee that women's blind football is ready to be entered into the games."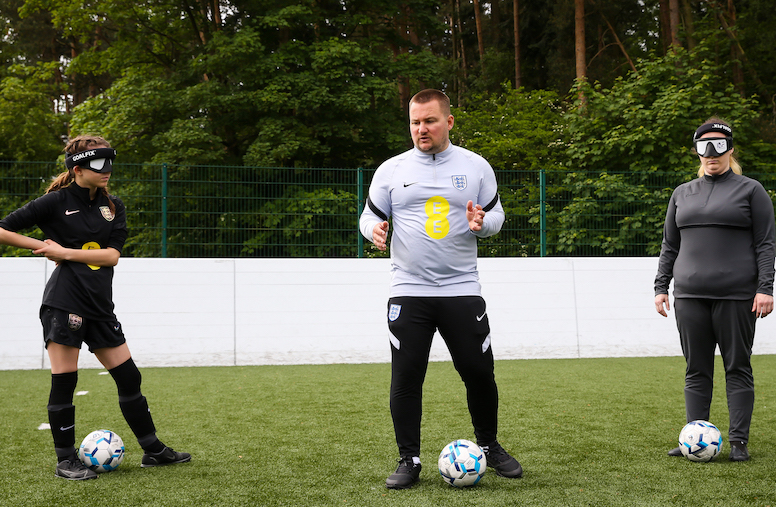 The team have recently played two games against Sweden, which both ended 0-0. Technical coach Adam Bendall knows where the team needs to improve. Bendall stated: "We felt all the technical and tactical elements we asked the girls to do they did. We didn't concede many opportunities, but I thought we didn't create many either."
You can watch a nice chilled and interesting chat with FA Female Para Development Coach (and 'Head Coach' according Adam Bendall, off camera – we left it in because it's a nice, light intro to the approachable characters working with the team!) Lauren, filmed by Chloe Reynolds, HERE: 
Players for the team have been scouted through several activity and open days with many playing the sport for the very first time. Nell, who plays right-wing on the team, said last September was her first experience of playing football after being introduced to the sport by her college, while Lucy, who plays left-wing, started playing in December after she was spotted in a charity event on a camp by the team's goalkeeper who volunteers there.
Asquith explained the differences between coaching mainstream football and a blind team: "The key differences are around communication, we have to be a lot more succinct with the level of information we give, sometimes you have to be very direct.
"One of the things we had to help them with at the start was how to run because a lot of us will learn to run through sight, so for us it's how do we audio describe that to get the same physical attributes."
Before next year's World Games, the team will compete in the European Championships against Germany in Pescara, Italy in June.
The full squad is:
Katie Christopher
Molly Ripley
Kaitlyn (U18)
Lucja (U18)
Alice Hopkins
Samantha Gough
Natasha Mead
Nell Doubledee
For further information and for opportunities to participate in blind football and other disability football formats, visit englandfootball.com/footballyourway.
Check out the team in action in some shooting drills (📹: Chloe Reynolds): shootin drills
Ciaran and Chloe are both students on the University of Derby's Football Journalism degree course.