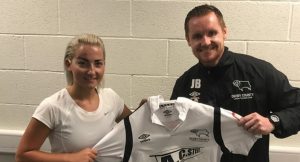 Without a club after the demise of Notts County and recovering from an ACL injury. Kirsty Allen has been signed up by Derby County boss John Bennett.
Allen said "It was a tough time with the demise of Notts County Ladies and I felt I was going to be left in limbo but having spoken to the manager before, he was quick to offer me the chance to come to Derby and I've never failed to be impressed by him and his passion for the game.
"Coming back from an ACL injury with nowhere to rehabilitate, I was working on my own to build back towards fitness and I am not too far away from being able to get back onto that pitch. A good pre-season will now be the focus for me and I'm looking forward to getting back on the pitch with Derby County Ladies."
Having spent time at clubs across the Midlands including West Brom, Stoke City, Nottingham Forest and Notts County, the midfielder told DCLFC Media that she feels the club is playing the football that will suit her game "I came down to a few games at the end of the season and saw the philosophy that they implement here and it excites me to be apart of that.
"Not only that but I know the Manager is very positive about what they do behind the scenes and you can see that this club is going to flourish and hit the heights of the WSL sooner rather than later."
Manager John Bennett was naturally delighted to get the deal tied up and said "I've known Kirsty a while and have followed her career closely and I firmly believe we've signed a quality player who can come in and make a difference straight away.
"We know that she is coming off an ACL injury but that is something that can happen and its going to be weeks rather than months, before she is back on that pitch. She will make an impact and she knows that the club can offer her an opportunity to get back to the WSL with us."
"Kirsty is just our first signing and we are shaping up nicely for the new season. We've needed to reinforce with a few new players this year because of long-term injuries and a couple of departures but we feel that we are going to be stronger than ever and it's players like Kirsty who will come in and be that difference maker."