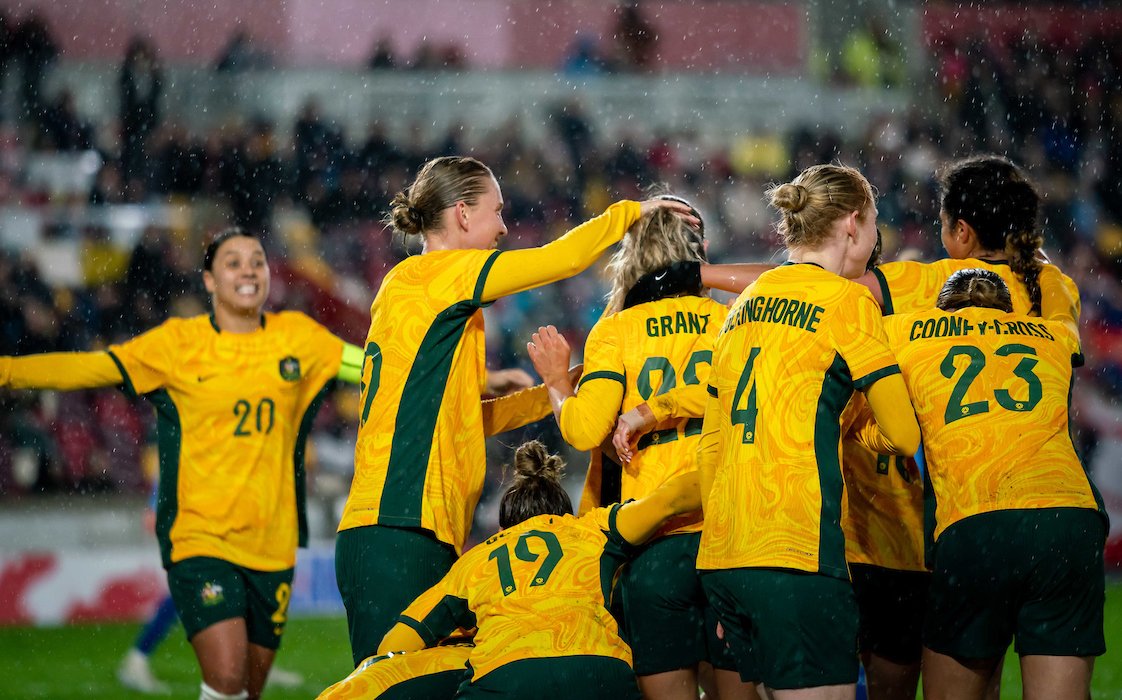 England's unbeaten run under coach Sarina Wiegman came to an end at a rainy Brentford with a 2-0 loss to Australia. What did the coaches and Matilda skipper and scorer Sam Kerr to say after the game? Rosa Maitland reports…
England coach SARINA WIEGMAN sums up her thoughts:
"Yeah, it doesn't feel great. I think it's a big learning game against a very physical, well organised, aggressive and good defending Australia. We had a lot of possession, we created some opportunities but we struggled to speed up the game, to go forwards and stretch them.
"We made some mistakes, where they can be dangerous on the counterattack, very dangerous. And of course, their first goal was a mistake from us, which can happen. in the second half I think we started pretty good."
On whether it was a reality check that may help the team:
"We want to win, but even when we have wins, we take out things from the game, good things, but also things to learn. We have had some games where we were struggling a little bit too, so we just want to move forwads. We don't see each other for a while now, but then we go into training camp, and we will have some moments to get some training sessions in."
On Australia being  realistic contenders for the World Cup this summer:
"I think they have some ingredients which are really good. What you see there is a very strong team, they do have some injuries too. We have to be really tight on the ball and precise  because if we lose the space behind our defence then they have some players that are really quick and very good…  think there are many teams that could win the World Cup, I think that makes it very exciting, and I think Australia is one of them."
On any concerns about a loss of momentum going into the World Cup:
"I'm not worried, I don't worry. We know we have to be at our top level and that's when we go into the World Cup too. So, every game we get some warnings. Against Brazil we got some warnings. We know where we want to go to and what we have to do. From this moment I don't think we are losing momentum I think it's building. It's 100 days to go and everyone is excited to go to Australia. This is just a very big learning moment for us, that we need to be at our highest level to win these games."
On whether the  30-game unbeaten run coming to an end relieves some pressure on the squad:
"I haven't focused on that yet at all. We just want to win every game. We are reminded of it all the time [unbeaten run] but we don't want to talk about it. We always talk about the next game. We want to improve our game and try to adapt to the opponent who is in front of us. It would have been nice to get the 31st win. I would love that too, but sometimes you lose. I hope we win a lot, of course."
On any concerns regarding Millie Bright and Fran Kirby being available  heading into the World Cup:
"I'm not that concerned about Millie. I think the expectation is that she will come back and play. Fran, I'm a little more concerned. She is assessed at her club, and she is progressing. We just follow her really closely and hopefully she can progress quickly so we can see her on the pitch."
Australia's scorer SAM KERR on how much of a boost the win is ahead of the World Cup:
"Obviously, they are a great team. So, it's always nice to put in a good team performance and beat a top team. But you know, you have got to take everything with a grain of salt. It's about building on our performance and see where we can get better. So of course, it feels really nice right now and we will enjoy it tonight but it's just one step in the journey to the World Cup."
On her injury which forced her to leave the game early:
"I have jarred my knee a little bit but I will be ready for Villa on Sunday, that's for sure."
On the momentum that can be gained beating the European champions:
"It's obviously a really big performance from us, we've got a lot of players out, but unfortunately beating England tonight doesn't win us anything. I wouldn't be here if we did, I would be out celebrating. But it's obviously really nice to put in a good performance. We have had some up and down performances over the last couple of months so it's really nice to finish with a win before the World Cup."
On her goal:
"Honestly, I thought the ball was going to get to me without Leah touching it, but the wind was swirly all night, so I just had to pray on it. Obviously as a striker that's what you do and have to hope that someone makes a mistake. Fortunately for me it went well."
And Matilda's head coach TONY GUSTAVSSON on his reaction after the game:
"First of all, this is a sense of pride. These players could have used all the excuses in the world not to perform today, playing the team with the best form in the world right now. 30 games unbeaten. They play phenomenal football – England and European champions. We had ten injuries going into the game and there could have been a lot of excuses not to perform. But that's not what this team is about. So, to be part of that type of identity and the heart that lives in this team, but then combining that heart with the head, meaning that the discipline or the tactical execution tonight was brilliant. So that combination between head and heart is what makes me really proud."
On how important  Sam Kerr is to Australia's World Cup hopes:
"I think one thing is her individual quality as a footballer, but what she gives as a person is even more valuable for this team. How she carries the team both in the locker room and on the pitch is amazing. I also want to give credit to the players around her, how they play for her and with her because without a team performance against England you can't win. But if you have a team that can back up an individual player like Sam, Sam can shine."