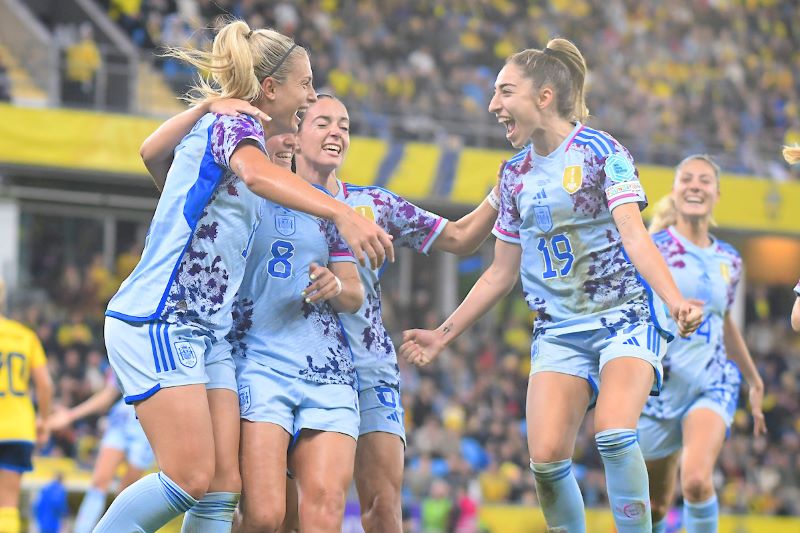 Match day 1 in the UEFA Women's Nations League featured wins for Belgium, Denmark and Spain over Netherlands, Germany and Sweden respectively.
Headers from Lucy Bronze and Lauren Hemp saw England beat Scotland 2-1 although Kirsty Hanson replied was denied an equaliser by the bar.
Wales went down to an 18th-minute Glodis Viggosdottir header in Iceland, with head coach Gemma Grainger telling faw.cymru: "I think that we've dominated the game but what we've learned tonight is that when you play against the best teams, fine margins normally matter and for us today conceding the set play is a disappointing way to lose the game. We go home, recover and then all focus is on the Denmark game Tuesday and we will prepare the best we can to put a performance."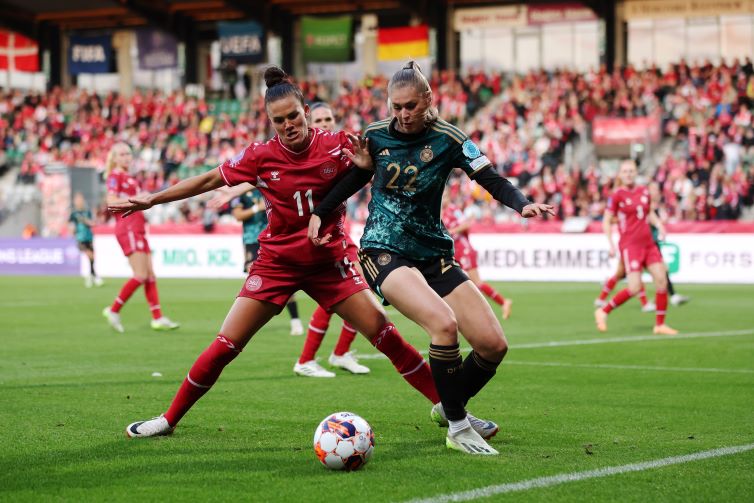 In the same group, Amalie Vangsgaard scored in either half as Denmark defeated Germany 2-0.
Magdalena Eriksson gave Sweden the lead over Spain but Athenea del Castillo and Eva Navarro turned the game around for Spain. Lina Hurtig levelled with eight minutes left but the Swedes had Amanda Illestedt sent off in added time and Mariona Caldentey won it from the spot for the World champions.
Belgium came from behind to beat the Netherlands in stoppage time. Jill Roord's goal on the hour was soon cancelled out by Marie Detruyer, before Jassina Blom struck the dramatic late winner.
France needed an 89th-minute Selma Bacha effort to seal the points against Portugal, having held a narrow advantage from Grace Geyoro's goal over an hour earlier.
Italy won away to Switzerland, with Arianna Caruso getting the only goal midway through the second half.
Elsewhere, there were very rare away wins for Andorra, Luxembourg and Malta.
UEFA Women's Nations League – Match Day One
Group A1: Belgium 2-1 Netherlands, England 2-1 Scotland
Group A2: France 2-0 Portugal, Norway 1-1 Austria
Group A3: Denmark 2-0 Germany, Iceland 1-0 Wales
Group A4: Sweden 2-3 Spain, Switzerland 0-1 Italy
Group B1: Albania 1-1 Hungary, Republic of Ireland vs Northern Ireland (Saturday, 1pm – live on BBC iPlayer/BBC Sport website)
Group B2: Finland 4-0 Slovakia, Croatia 2-1 Romania
Group B3: Ukraine 1-2 Serbia, Greece 1-3 Poland
Group B4: Slovenia 0-2 Czech Republic, Belarus 1-2 Bosnia and Herzegovina
Group C1: Moldova 1-2 Andorra, Latvia 0-1 Malta
Group C2: Lithuania 0-2 Luxembourg, Georgia 0-3 Turkey
Group C3: Azerbaijan 1-1 Cyprus, Faroe Islands 0-1 Montenegro,
Group C4: Estonia 0-0 Kazakhstan
Group C5: North Macedonia 0-1 Bulgaria