Oxford University defeated their Cambridge counterparts for the fourth year in a row in a thrilling Varsity encounter at The Hive, home of Barnet F C. After a 3-3 draw in 90 minutes, the Dark Blues won a penalty shoot out 4-2 .
Defeat was harsh on the Light Blues as they had led for the vast majority of the match and were within three minutes of breaking the Oxford hold on the annual encounter.
Both clubs have had highly successful seasons in BUCS competitions and it was easy to see why as they tore into each other from the first whistle, chances coming thick and fast at both ends of the pitch . Jen Atherton opened the scoring early for Cambridge, having already threatened the Dark Blue goal twice.
At the other end Cambridge keeper Laura Bleehen was kept busy, mainly by Bev Leon and when she was beaten, Fiona Conlon cleared off the line on 25 minutes. However, Leon was not to be denied and slotted home the equaliser on 40 minutes.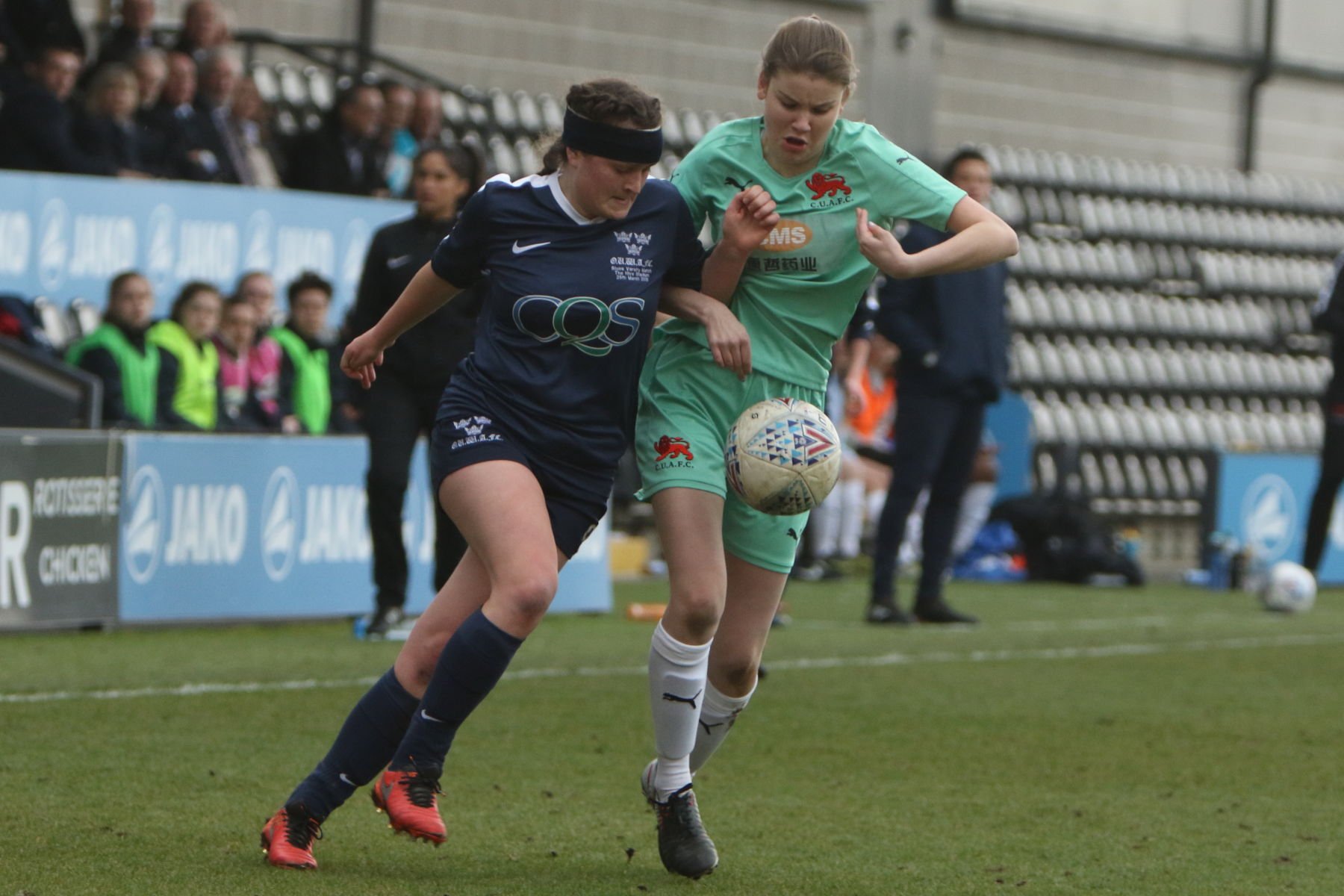 Parity lasted less than two minutes when Cambridge regained the lead through Sophia D'Angelo who netted from close range from a free kick delivery.
Cambridge extended their lead early in the second when Atherton won and converted a penalty. Oxford had continued to threaten with Leon striking the bar from distance and it was no surprise when she reduced the arrears on the hour, heading home a Sherrona Forrester cross.
Cambridge had chances to settle the match but were twice denied by Oxford sub goalkeeper May Martin before a defensive slip let in Mary Hintze on 87 minutes for the Oxford equaliser.
The large and enthusiastic support for both teams were treated to the drama of a shootout. Both keepers made saves but, in contrast to the previous 90 minutes, Oxford were always in the lead and their fifth penalty settled the outcome. Both teams deserve great credit for an excellent advert for Varsity football in the 33rd edition of the oldest university rivalry.
Cambridge University: Laura Bleehen, Linnea Gradin, Gerda Bachrati, Fiona Conlon, Katy Edwards, Isabel Luetkenherm, Jen Atherton, Daisy Luff, Liz Ashcroft, Sophia D'Angelo, Natalie Faktor
Subs: Connie Buettner, Zoe Cohen, Jamie Cyr, Henny Horsler, Temi Adeyemi
Oxford University: Anna Garcia, Claudia Hill, Kaih Rutz, Maddie Hooper, Lucy Harper, Helen Bridgman,  Beverly Leon, Sherona Forrester, Ellana Slade, Katie Plummer, Brigid Lahiff
Subs: May Martin, Louise Nolan, Erin Robinson, Mary Hintze, Isabel Stainsby
Words by Patrick Higgins
Pictures by James Prickett