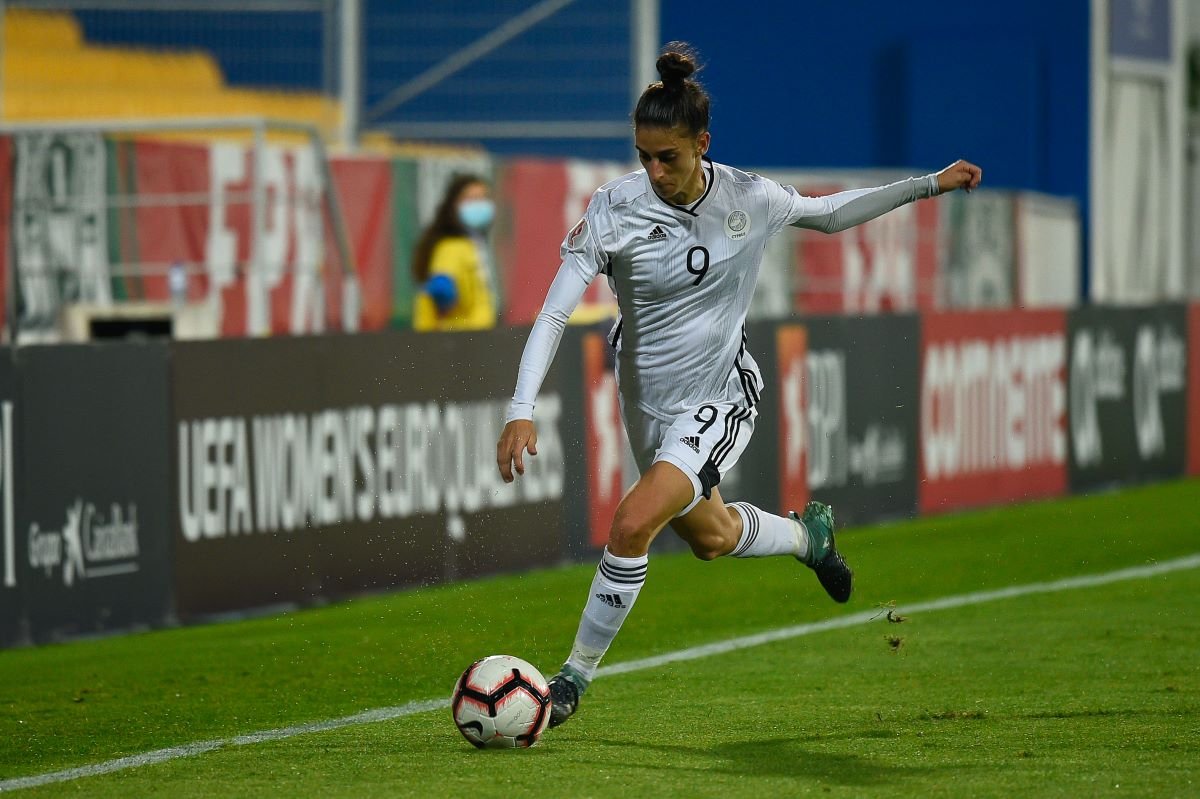 Javiera Moreno and the Cyprus women's national team are among the winners of the new FIFPRO Merit Awards, while there was also a special recognition for Aidana Otorbaeva.
The winners of these special honours were picked by a selection committee, consisting of former Merit Award winner Haley Carter, Global Player Council member Gabriella Garton, and union representatives from all FIFPRO Divisions (Africa, Americas, Asia and Europe).
Player Activism – Javier Moreno 
The captain of Universidad Católica in Chile has led the development and implementation of the "Protocol Against Harassment, Sexual Abuse, Mistreatment and other forms of Discrimination in Chilean women's football" a specific protection framework for women in football, which can be replicated for other male-dominated sports. She also collaborated in the elaboration of Chile's
National Sports Protocol for Harassment and Abuse in Sports with the Chilean government and inspired other Latin American player unions to copy this protocol, which means a huge improvement for the protection of players in various countries. Moreno also coordinated protection and support for victims in cases of sexual and workplace harassment and abuse during 2019 and 2020.
What the jury said: With her activism, Javiera raised awareness about the degrading behaviour towards sportswomen in Chile, female football players in particular. This is an exceptional case, which will have a lot of impact in societies throughout Latin America. She fought for vulnerable and marginalized persons, and is trying to address and eradicate a very serious issue in a challenging social context.
Players Voice – Cyprus WNT (November 2019 squad).
Before an international match in Finland, where the men's and women's national teams had just arranged equal compensation and conditions, the Cypriot women demanded the same working conditions as the players of their men's national team, including training facilities, daily allowances and equipment. They drew equality images on their hands and used their social media channels to protest.
Despite serious pressure by the Cypriot football association, who tried to silence them by excluding players from the national team and threatening to ruin their careers, the players continued their protest, which turned into a national debate. The women received support from the men's national team and many other athletes, fans, media, members of parliament, and the Commissioner on Equality Matters. This resulted in talks between player union PSAP and the Cypriot Parliament about creating legislation regarding gender equality in sports.
What the jury said: By speaking out and using their collective voice, the players risked their careers in football, but that didn't stop them. They stood firm and continued their efforts of trying to create a better future for all female players. This epitomises what FIFPRO is all about: acting as a collective and showing solidarity with other players. These players are a great example for many players in other countries that are striving for gender equality.
FIFPRO Hero – Aidana Otorbaeva (Kyrgyzstan)
Aidana Otorbaeva, literally put her life on the line to help other people. The national team and former Madrid player noticed the difficulties hospitals in her country experienced in dealing with Covid-19. She had no medical training, but wanted to help and turned to social media: "I am ready to volunteer. To help medical staff, run errands, or carry food. To make their job easier." She worked in the frontline for hours during many weeks, risking her own health and staying in a hotel to prevent transmitting the virus at home.
Her example was followed by many others and she created her own movement named Soobsha (Together) that involved 500 people. Other citizens also volunteered. A medical expert stated all volunteers saved thousands of lives.
What the jury said: Aidana not only became a role model for girls who want to be a football player, but also a perfect example of how you can help many others, and inspire through your own example and motivation. Taking into account the pandemic that has affected almost all human life on the planet in the past fourteen months, the Selection Committee is of the opinion that Aidana Otorbaeva deserves special recognition for these heroic efforts.
Keeper Carly Telford commits to Blues while also taking coaching role