#SHEBELIEVESCUP PREVIEW
To help us take a look ahead to the third edition of the SheBelieves Cup, we asked our women's soccer expert RICHARD GUNNEY, Assistant Coach of the current NWSL Champions Portland Thorns FC for his perspective on the four sides…
First up, FRANCE
SK: What is your general coaching opinion of the way the French women's team play – what are their characteristics?
Richard Gunney (RG): France is obviously one of the top teams over recent years, demonstrated by their win in the 2017 instalment of the She Believes Cup, this time last year. They can play a good brand of football and have some pace and athleticism to hurt opponents. On history they are going to be a strong opponent for all the other nations but there will be a little bit of uncertainty as they have endured some changes in the past eight months on and off the field. Winning the competition probably gave them a great deal of confidence and belief for the UEFA European Championships but unfortunately that didn't quite go to plan and I'm sure they will be trying to make amends. A new Head Coach means I imagine they will be trying to work on a few things in terms of playing style and tactics to develop ready for a home World Cup where they will be eager to perform. Individually they have some excellent players with plenty of experience but recent form has been a little inconsistent. The defeat in November against Germany (4-0, Alexandra Popp (21′, 44′), Svenja Huth (39′, 53′) will be further motivation to perform well, I'm sure. With some recent disappointment and changes it will be interesting to see how their results go but if they can get the team cohesion right they could display some exciting soccer.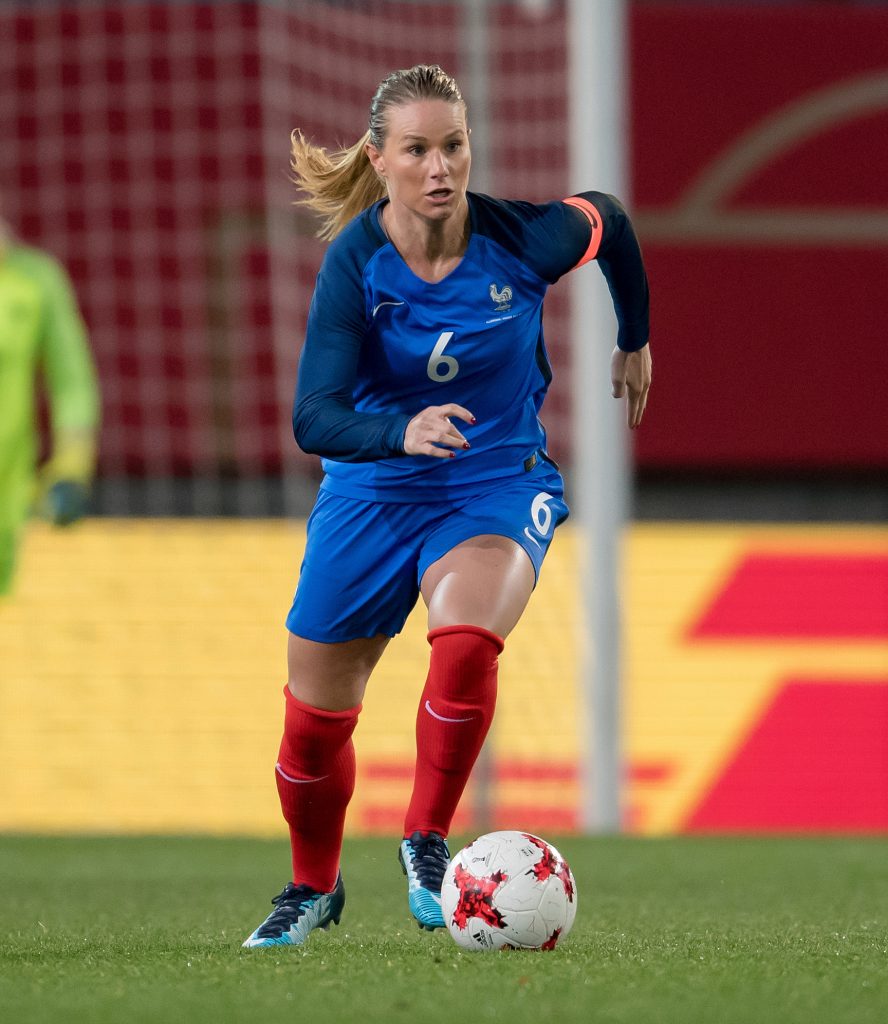 SK: You worked with Amandine Henry last season in the NWSL, she was recently named captain of France by Corinne Diacre, taking over from Wendie Renard – what qualities does she bring to a side? What do you think she will give to the team as the captain?
RG: Amandine Henry is an excellent player and my experience working with her in 2017 was absolutely fantastic. As a performer I'm sure she will be able to lead by example as she has so many qualities in possession of the ball, in all areas of the field. She is dominant, clever, creative and very gifted so I'm sure she will have the respect of her team mates. Off the ball she is strong, powerful and a fierce competitor so I'm sure she will do great job as captain because she commands respect. In Portland she was very well thought of by her team mates and she has a very funny personality and a great deal of intelligence in terms of the tactical side of the game so I'm sure she will flourish with the captain's armband.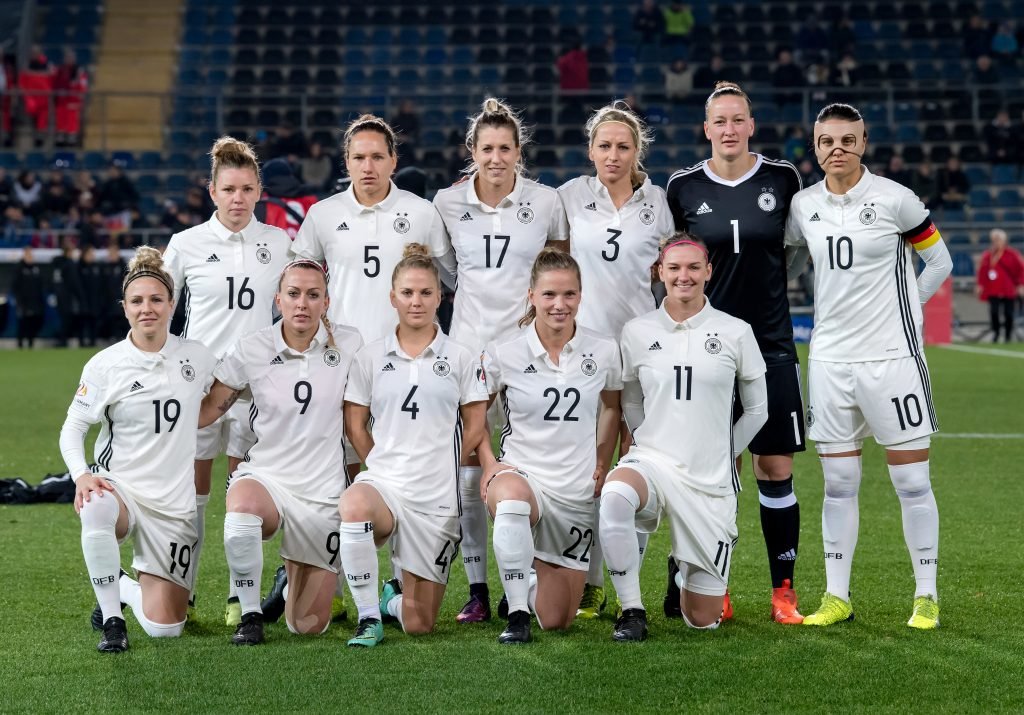 Next up, GERMANY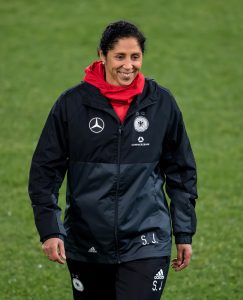 SK: Again, what are the characteristics/playing styles we can typically expect from a German side?
RG: Germany have been a very effective and dominant nation in the women's game for decades, so history would tell you to expect more of the same. I was quite impressed with their recent win over France not just because of the scoreline but more their intensity and pressure. There seemed to be a real intent to press high out of possession and their speed of play in possession also matched that. Until that game results had been slightly up and down, with the loss to Iceland in WWC qualifying, as they go through a transitional period under Steffi Jones. I will be very curious to see if this playing style utilised against France is a trend that continues during the tournament.
SK: You work with Nadine Angerer, who typifies that German 'will to win', will this Germany team be looking to get back to winning ways? Will only winning be acceptable?
RG: I'm not sure if Nadine typifies all German players and reflects the team as a whole but spending 2017 in the company of Nadine every day was a great opportunity to learn from a fellow coach from a different culture. Judging by my experiences with Nadine I'm sure the Germany team will not want to come out second best on any occasion and there will be a great deal of determination and hard work in place to ensure that.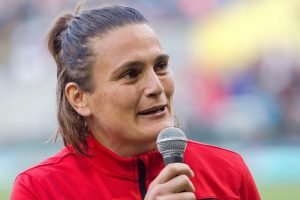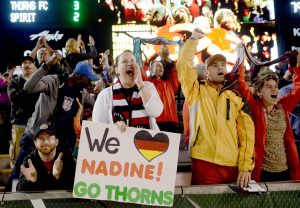 And then, USA
SK: You work with many regular USWNT players – tell us a bit about what it has been like working with those players for a season?
RG: It's been a great experience to work with so many talented players here with the Portland Thorns and working day in day out with the USWNT players has been thoroughly enjoyable. Whilst they are all very different in terms of characters on and off the field they are very determined, professional and competitive individuals. It's no easy thing being at the very top of your profession and here in the U.S. they are operating to a very high level which brings with it some pressure. They have great attitudes and work so hard to keep moving forward so it's a pleasure to work with them on a daily basis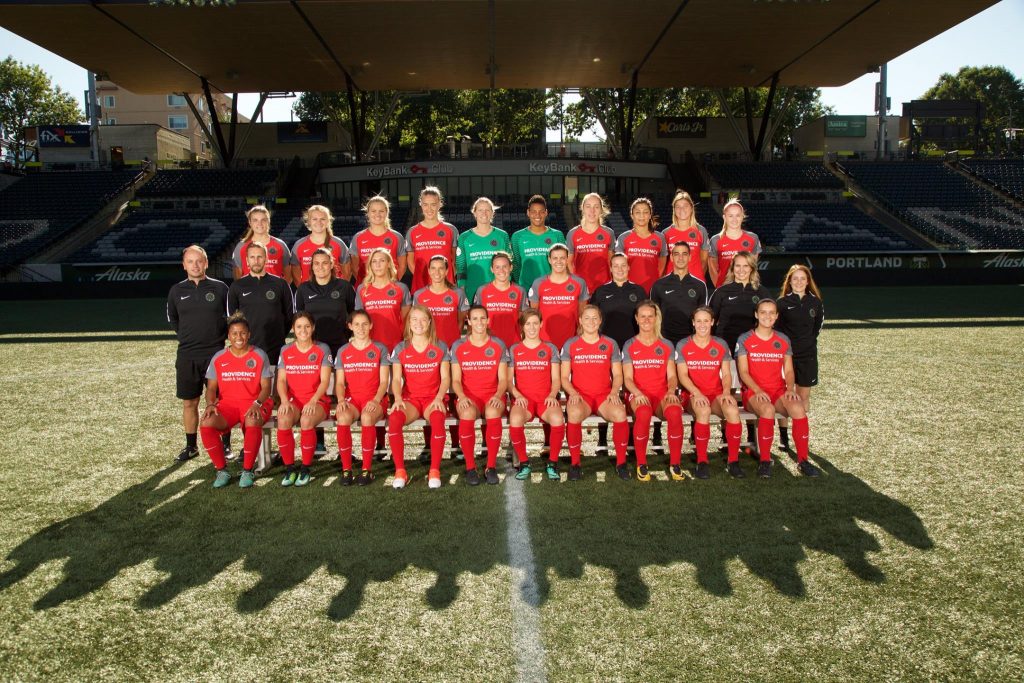 SK: What are the characteristics of US players/teams in general?
RG: What are the characteristics of the US playing pool? Simple: talented and strength in depth. As mentioned, individually they are extremely competitive and with the game so developed here in the U.S. in terms of number of players playing the game growing up as a child and the player pathway in place to get to the top, they have to be. As a nation they have been very successful and expectations are always very high so I'm sure you are going to see a very good USA team at this tournament. The domestic league here is very skillful and athletic with all the teams blessed with some talented USA players, so there is a great deal of technical quality to choose from and the team is an impressive sight in full flow.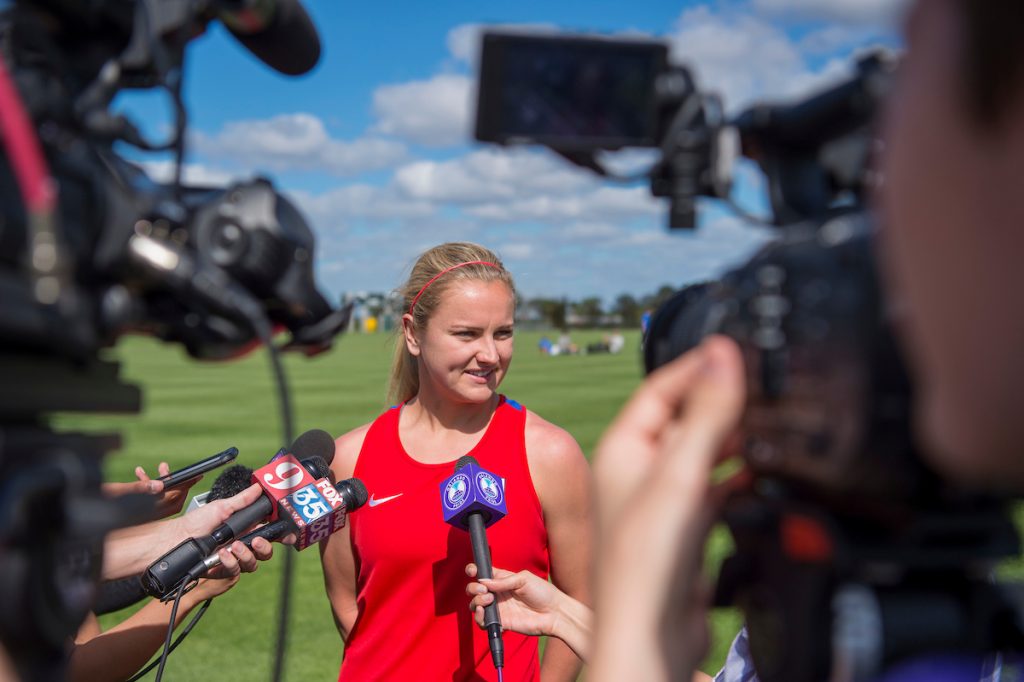 SK: Is the highly competitive nature of the NWSL helping the USWNT, if so how (or if not why)?
RG: It's been fascinating to see the dynamics of the league here in the U.S. compared to a European league structure, for example. It is very different, with the franchise and draft system as an example, meaning there are top international players on every team. Domestically that helps to create a very competitive regular season which helps to continue to raise the standards of the game as teams, players and coaches have to keep striving each year, week in week out. As with everything there are always positives and areas of improvements but my impressions have been very positive of the NWSL and I believe there are plenty of positives to the competitive nature of the league for the national team. From their perspective, it will be about having all your players fit, healthy and playing well with confidence. Hopefully the NWSL supports that and I'm sure it will see omething that continues to grow and develop each year.
SK: Last year was an up and down one for USA results-wise, compared to their usual immaculate standards (particularly on home soil), as Jill Ellis tried out players/positions/formations. What are the US Women's soccer community expecting from the USA at this #SheBelieves tournament?
RG: USA love to win so I'm sure the soccer community wants or maybe expects a win but hopefully they understand that there has to be some developing with any team and sport. It would be great if everything could be perfect all the time but sport isn't like that and that's what makes it so interesting and exciting. The only way to find out if you can climb a mountain is to actually climb one so if you need to find out if players can implement something the only way to test that is to play them on the international stage. I think you will start to see more of a consistent USA, which will be a daunting prospect for their opponents.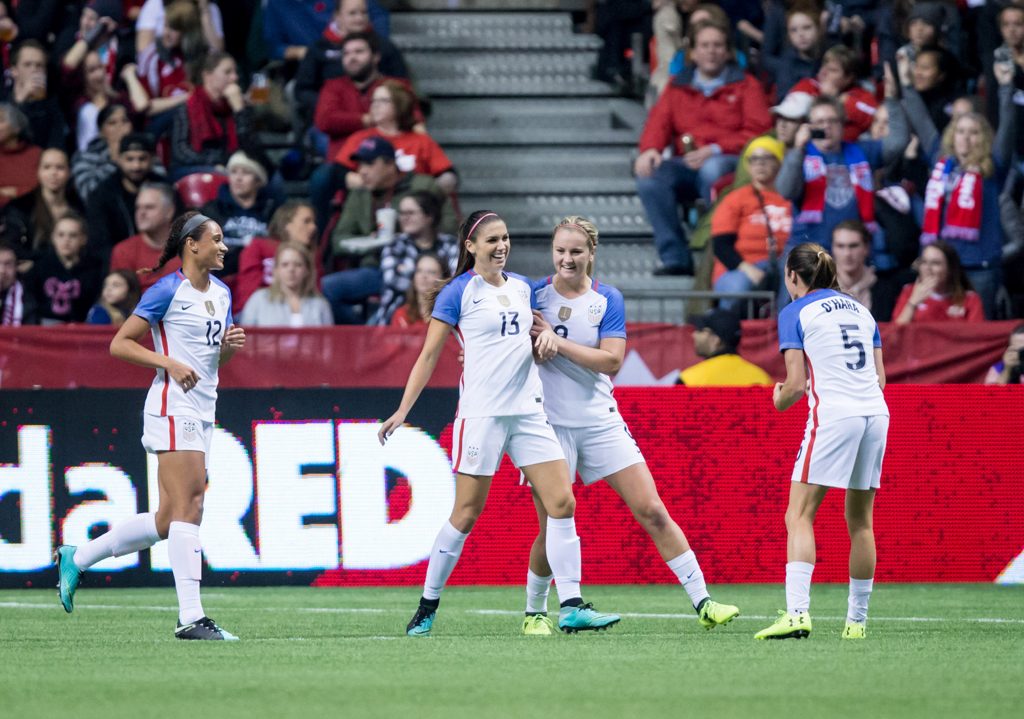 SK: Which individuals impressed towards end of 2017 that you expect to see a big start to 2018 from?
RG: I think the encouraging thing for USA is that they have plenty of players who were in fine form at the end of the 2017 NWSL season. The list of players could be very long and that's why I'm impressed with the strength in depth that they have. Just as an example Megan Rapinoe, Christen Press and Lynn Williams scored twelve, eleven and nine goals respectively and Alex Morgan scored nine in thirteen games in the league last year. That's just naming a few individuals and yet they have multiple other forwards of great quality to choose from so competition for places is very high. I wouldn't want to predict who is going to stand out because the US have so many players from all areas of the field that can perform and make the headlines.
Lastly, the Lionesses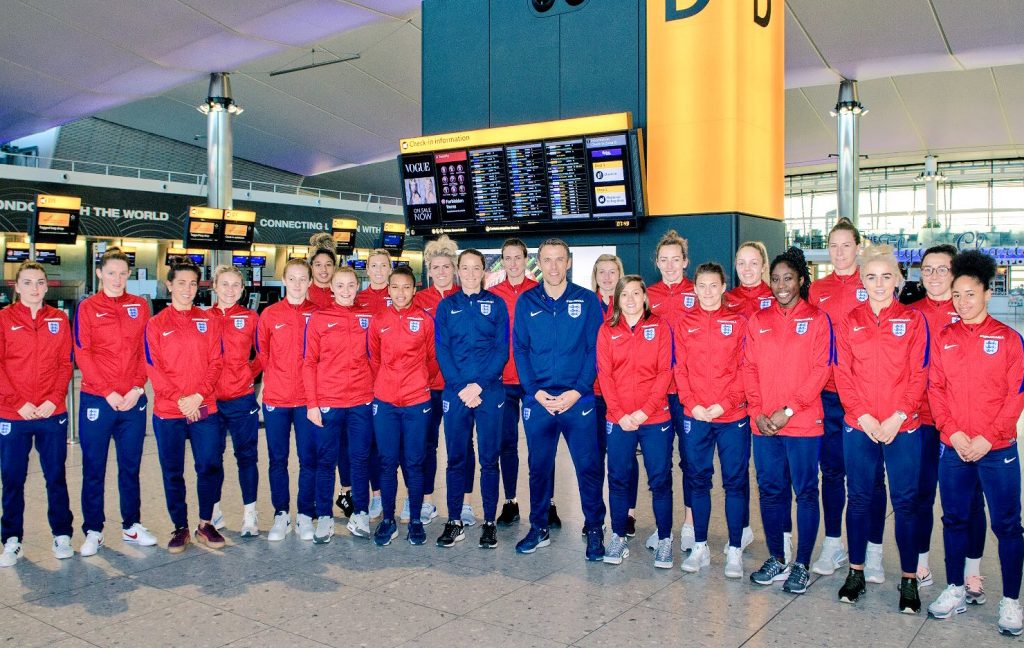 SK: Lastly, England – what's the view of the development of England over the past 2-3 years and what are you expecting from them, with a new coach but an established squad, at this tournament?
RG: England have performed well in terms of results in qualifying and making the semifinal stage of tournaments recently but it's a bit of a fresh start and new dawn for England. It's going to be intriguing to watch how the team operates under the new coaching staff and I guess that's part of the excitement with sport that there is always the unknown. The squad is talented with experience [though late withdrawals may affect that] and some emerging players as well so there is plenty to be confident about on their part. With the recent change on the coaching side of things it will be a tough first task here on US soil but in terms of next summer's World Cup, a fairly useful one to have the experience of playing some of the tournament favorites as a new group of players and staff. The players will be confident and determined but they have to familiarize themselves with the new dynamics and the tournament has come around very quick so it makes it just a bit more difficult. However these games go for England the experiences together to reflect and draw upon when it's going to be knock out 'win or go home' situations will stand them in good stead for next summer I'm sure.