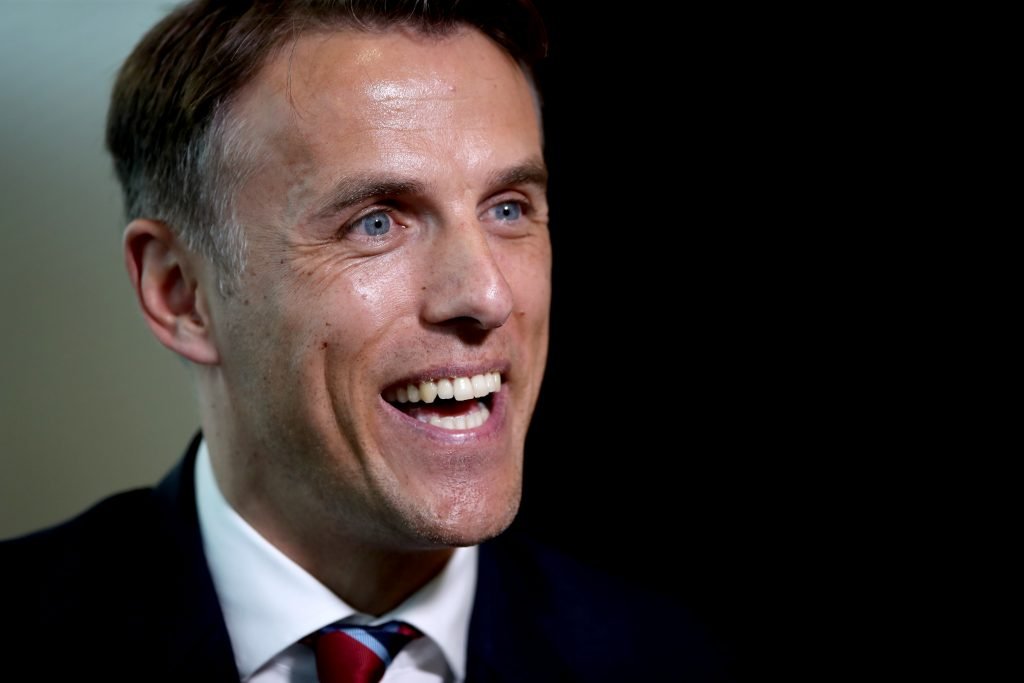 Just 24 hours before he sends his Lionesses side out to play their first game against old foes France at the #SheBelieves Cup, we cornered new England Head Coach Phil Neville for a convivial chat about how things are going and how he wants things to go. The mainstream media – it's nice to see them interested at least – seem to be interested in a slightly negative agenda, but there's zero negativity coming from the new boss…
SK: It's been a crazy few weeks and you've undoubtlessly been cramming so much stuff into your head, so – not to take this the wrong way – have you started dreaming about women's football yet!?
PN: Do you know what I dream about? I dream about winning the World Cup! It's a nice feeling to have that opportunity to have a team that are capable of doing that. There aren't many coaches that have that opportunity. I'd say the last three days have been the best three days I've had in the job because I've been on the grass, dealing with players, doing my job. The stuff that surrounds management, the meetings, the structural meetings, the development pathways are great but where you want to be is out on the grass, so actually being out here, having first contact with the team and the team being mine for the first time, that's been exhilarating.
SK: Was it a bit of a baptism of fire in the sense that you had to scramble in replacement players when injury forced personnel to withdraw at the 11th hour?
PN: Yeah it was the amount of people that dropped out that surprised me really, in a way. The doctor said to me, that it's never happened with this team before, it's a first, so it's part of being an international manager. I spoke to Gareth Southgate about it last week – you do all of your planning and preparation beforehand and then all of a sudden, on Saturday – we're calling it 'Black Saturday' – we had four or five pull outs and all of your planning goes out of the window! That's management though, you have to think on your feet, and there are opportunities now for those that have come in and that's the most important thing.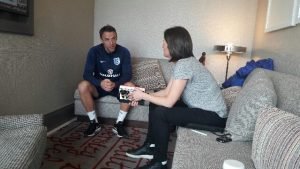 SK: Have you prepped for all three games and have a set plan already for each or will you go game-by-game?
PN: I always like to work in advance and the first two games I think I've planned but the America game, I've just got a feeling that that will look after itself, in a way. So my plan for the tournament is to make sure we get to that USA game with everyone fit and well and not underused or overused and in a position where we can really go for that game. That's not taking the other two games lightly it's just that there's a plan for the first two and then that last one is: 'everything in your golf bag and more' to beat the best team in the world.
SK: Do you approach these games with a tournament mindset where the most important thing is not to lose a game or are you not worrying about results and performance is key?
PN: My challenge to the team is that I want to win all of the games. We used to have a saying at Man United: 'reach for the moon and you might catch a star' so I want three wins, that is the mentality I want. If we came here as the third best team in the world and planned for survival, we aren't going to become the best team in the world. The Americans don't have that mentality. They're going to this tournament wanting to win all three games, so are the Germans and we have to adopt their mentality.
SK: You have a sizeable Manchester City contingent in the squad and their coach is suggesting that at some point they might start to fatigue, are you seeing that?
PN: No but what I would say is that the games programme last week was tough on Chelsea and City. Three games in a week, City players had extra time, then we've got a nine hour flight, so we have had to protect them (we've not been silly). I know from my own personal experience, I won't be flogging my players because I want them fresh for Thursday and if I overdo it in training they will suffer. It was a concern when I saw the fixture list and the fixture list in April is a concern too – with three or four WSL games on the Sunday that we meet up taking place, with some of our best players playing. It's something I've got to say when I'm doing my debrief. Making my notes during my time in the last few days I realise it's something I do probably need to get on top of when it comes to the arrangements of these fixtures, to give us the best opportunity to be successful. The U.S. have been in camp for the last seven days, the French had no games at the weekend so ultimately, we are the least-best-prepared team in terms of freshness and contact time with the players.
SK: The French are a team in transition, they suffered a heavy defeat to Germany in November and they are still smarting a little from the defeat to England at the Euros in the summer, what do you expect to see from them?
PN: Yeah, well the 'team in transition' line is a always a dangerous one. I think coaches sometimes do that to take the pressure off a little bit. 'We're a team in transition and we're picking a lot of young players'. I've got a lot of young players in my team but you'll not be hearing me saying that, I want us to go and win and we'll do that with the 23 players that we brought.
I think the win that we had in the Euros was a massive psychological barrier that the players overcame. Was it 43 years we'd not beaten France? So we've got a team now that the majority know how to beat France, so that's big for us and has set us up nicely for this game. They beat us in October in France. It was a tight game but they beat us. I see the game tomorrow as being tight. They've got good front players, they've got speed, they've got physicality but we feel we've got the players to exploit them.
SK: Are your family all set to watch the game tomorrow?
PN: Yeah, I think the majority of my family will be at the game in April in Southampton and all of my family will be watching. It's a big moment in my family life. My kids, you know what kids are like, we look after them but they've been sending me lots of nice messages about how proud they are and how they can't wait for the game on Thursday. It's no different from when I was called up as a player – the emotion for me and my parents – when I was named in this job and the fact I could put three lions on my chest. I don't care where you are or what job or profession, the opportunity to put three lions on your chest, for me is the pinnacle. You can't get much better.
SK: So will you be a tracksuit manager or are you going for a suit?
PN: No, no, I've been brought up in the old-fashioned way, that it's about first impressions. So I'm a suit man on the touchline. I want my team to mirror me and the girls will probably say 'not your style' but I will be in a suit. I think Gareth sets a great example – he looks and carries himself as an England manager – and that's the same way I want people to see and perceive me.
SK: Your first team talk before your first match, how will that go?
PN: Well I named the team today for the first time. Presenting is something that doesn't phase me and I actually enjoy it, I'm quite a good communicator, but today when I went in to name the team I've got to say I got the butterflies in my belly. The difference between the male and female game that I've noticed, is that when you're in meetings, where maybe on the male side we lose a little bit of concentration, the girls are glued. Absolutely every single one of them is looking you in the eyeball and there is no hiding place. To tell eleven players they were playing was great, but to then see the faces of the other twelve was disappointing. But what we agreed on on Saturday night when I met them was that actually at this top level of sport, not everyone is going to have the opportunity to play and we've got to deal with that disappointment and there are three games in seven days so there's an opportunity for everyone to be involved.
We're wishing that 23 – in all three games – and their new coaching team all of the best!