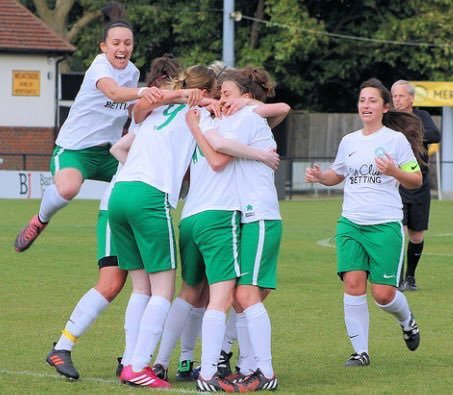 Whyteleafe Ladies FC are celebrating back to back league titles since forming just two seasons ago. 
The team also remains unbeaten since Manager Charlie Bickell approached Whyteleafe FC in 2016 to support a senior ladies team. The goals from Katie Kingshott, Shauni Griffths and Liv Woolacott in a 3-0 win at home to Hemel Hempstead were enough to secure the Greater London League Premier Division title after closest rivals QPR Development lost 4-1 to Tottenham Hotspur Development.
"We are of course elated at the result and having won the title," said Bickell.
"It has been a tremendous season and all the players have worked very hard to achieve this success.
"But this is still the beginning of a journey that we hope will end up at the very top level of women's football. That long-term ambition is shared by Whyteleafe Football Club and we are very grateful for the club's support."
Whyteleafe have won 16 of their 17 games so far this season, only dropping points in the 4-4 draw away at Tottenham in October.
In a fantastic season the side also reached the last qualifying round of the SSE Women's FA Cup before narrowly losing out to Southern League title favourites Chesham United.
"It has been an extraordinary unbeaten run by the team over two league seasons and we are extremely proud of the players," said Whyteleafe FC Vice-Chairman Clive Davis.
"They are a credit to the club and thanks to their success and high profile the club will be starting a Girls' U-11 team next season."
Whyteleafe will be keen to see out an unbeaten league season on the final day of the season – against QPR Development away. But the boss and his assistant Harry Martin are already making plans for the 2018-19 campaign in the London & South East Regional League Premier Division.