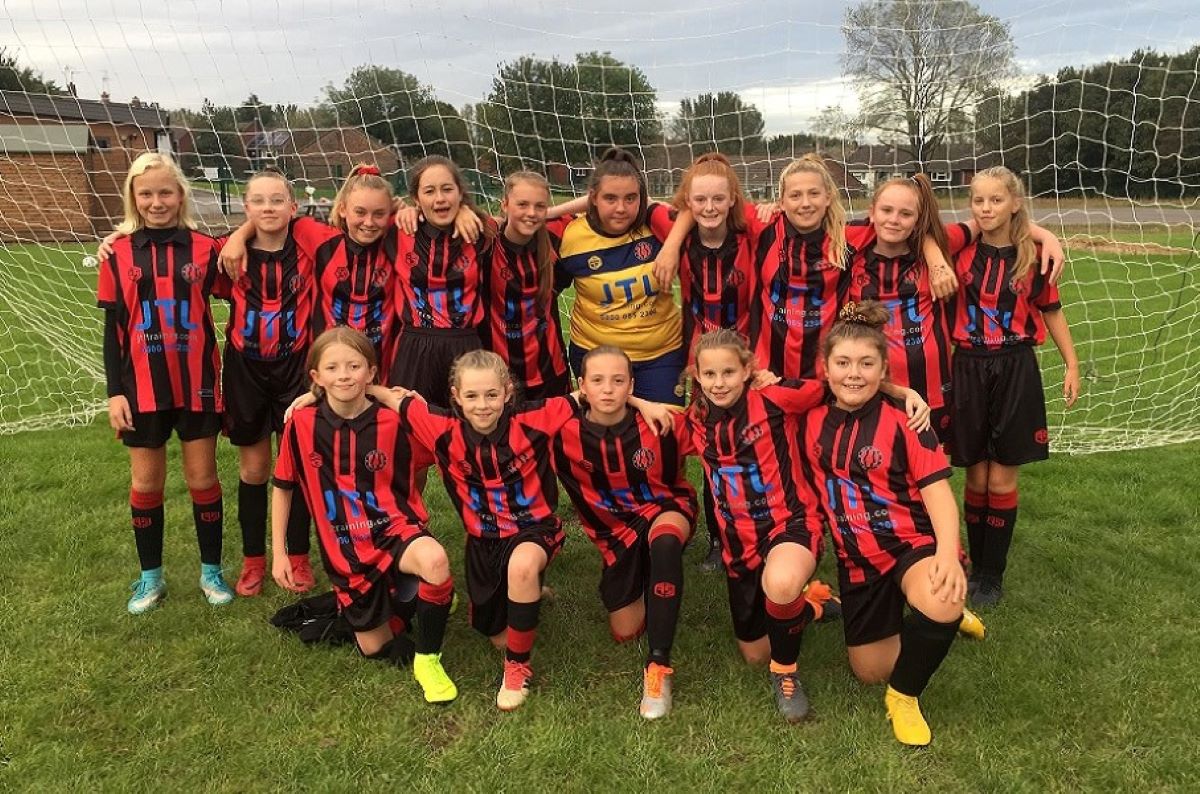 Manager Landen Burton told us about his City of Stoke U-14 side, who last season were the only all-girls team in the North Staffs Mixed League and ended up being nominated for an award.
SK: How did the team come about?
LB: It all started when my daughter Angel, who plays in the team, wanted to start playing the game and follow in her brother's footsteps at six years of age.
We attended a local boys' team training session as there were no local girls' teams at that age group at the time. She didn't like the fact she was the only female at such a young age, it was a little strange for her and she asked if we could set up a girls' team as I had passed my coaching badge and helped out with my son's team.
We contacted a local club (Stoke Town FC) who had older girls' teams, went for a training session and after speaking with the club's head coach, we started an Under-8 girls' team with only three players.
SK: What was the initial aim for the new side?
LB: Our initial aim was to provide a platform for girls to get involved and play and with local adverts we soon had a team of seven. It all continued from there really, as over the last few seasons most of the girls have had various successes in the Staffordshire League and last year were Cheshire Girls' League champions under the banner of Cheshire Blades.
This year we have joined the North Staffs Mixed League as City of Stoke Girls FC and are the only all-girl team. We have since been recognised for our courage and spirit and nominated for the prestigious Our Heroes Awards in the 'Bright Young Things' category.
Our mission is to inspire girls to take up the game and realise that football is more than winning and losing. It is a lifestyle that can lead to greater things.
SK: Do your players still also play in a girls' league too?
LB: Half of the team also still play girls' league football for Port Vale FC, which then requires training 2/3 times per week and playing twice a week. The others have alternate sports to also occupy their time, with one girl also playing in the England Girls' Hockey Academy.
SK: What was it like being the only all-girls team in the league?
LB: I personally think that is feels an honour representing girls' football in the mixed league. We just want to raise awareness of the popularity of girls' football and with all the talk over the last few years of girls playing boys. Everyone is now aware that 'the girls are in town'.
SK: Where there any notable responses to your performances from opponents?
LB: They don't underestimate the girls – they have been very welcoming and respectful. I think a lot of them do try harder and it spurs them on because they don't want to be beaten by girls.
SK: What are your plans for next season and beyond?
LB: The club have recently had a few requests from girls wanting to start on their football journey. Our vision for the future is to keep inspiring younger girls and grow the girls' game. We also want to develop our own club's ladies team with a clear pathway and who knows, maybe create the next Fran Kirby?
Skipper Alex Saunders led Spennymoor Town Ladies to promotion at first attempt