Chelsea Ladies have announced that captain Katie Chapman will retire from professional football at the end of the season, taking up an ambassadorial role with the club.
Chapman, who will take on the new role at the end of the season, said: 'I think the time is right. As everyone keeps telling me, I've been going for 21 years, I started at the top level at 14, and now it's time for my kids.
'I've had a great career, no regrets, and I've won so many trophies – I don't even know how many, off the top of my head, and I probably should!
'I'm grateful I have my children and I managed to have them during my career, so they've been able to grow up while I'm playing and see a lot of it. For me, my focus is on enjoying them and having a bit of my time back.'
One of the most decorated players in the women's game, Chapman has played an integral role in helping Chelsea Ladies become part of the elite in not only England, but also Europe.
The club she joined in 2014 could scarcely have been farther from that. Indeed, in the first three seasons following the switch to a summer league with the Women's Super League, they finished in the bottom three of the division. The technical level of the playing squad was improving, but the missing ingredient was a winning mentality.
'I'm looking to improve myself as a player and, more importantly, to drive this team forward,' Chapman said upon signing. 'I worked with Emma [Hayes] at Arsenal and in Chicago, so I know what a great coach and football manager she is. She has a great ambition to bring this football club forward and I hope to play a big part in that too.
'I've experienced a lot during my career and I hope I can use that to bring some positivity to the club and help some of the younger players. I want the club to reach the next level and enjoy success.'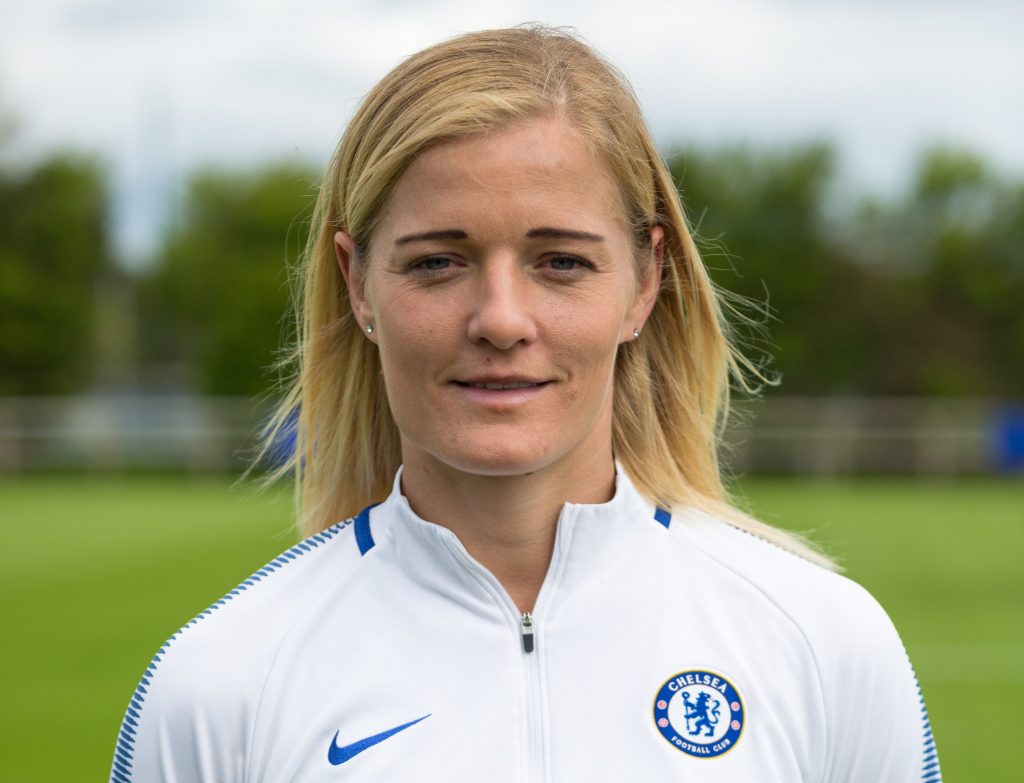 The signing of Chapman, who was immediately handed the captain's armband, alongside her Arsenal team-mate Gilly Flaherty made a huge statement to the rest of the WSL and their tenacity, allied with the guile of fellow new arrival Ji So-Yun, helped transform Chelsea from also-rans to title challengers.
Dramatically, a final-day defeat against Manchester City meant the Blues missed out on the championship to Liverpool on goal difference. Though it felt like a failure at the time, huge strides had been taken – and with a leader like Chapman in the ranks, it would be viewed simply as the first step towards success.
After beginning the 2015 campaign in fine form, leading the way in the title race once again, Chelsea also reached the Women's FA Cup final, which was being held at Wembley Stadium for the first time. Chapman had scored against her former club, Arsenal, in the quarter-finals, a result which further underlined Chelsea's rise to be London's top female club; victory against Notts County in the final, however, revealed them to be the best in the country.
Finally, major silverware had been won by the Blues' Ladies set-up. But even when it was her honour, as club captain, to hoist aloft the trophies, Chapman shared the moment with the Blues' longest-serving player, Claire Rafferty. It simply isn't in her nature to hog the limelight.
'I just said to Claire, "Would you come up here and lift it with me" because she's the longest-serving player at this football club,' she said. 'She's been here ages and I thought it would be really nice for her. I'm really proud of not just Raff, but all of the girls – it's a great honour for me to be captain of Chelsea and part of the first team to win the FA Cup for the club. For Raff, it was a big moment in her career, too.
'From where the club was a few years ago, it's incredible where we are now. Every FA Cup final I've won has been special for different reasons, but to do it at Chelsea, with a "new team", and to make history at Wembley Stadium was just a great feeling. I've had many highs in my career and this is right up there.'
She was also brought back into the England set-up before that triumph at club level, and her leadership proved vital as the Lionesses secured a third-place finish in Canada at the Women's World Cup at a tournament which will be looked back on in years to come as a watershed moment for the sport.
Even better was to follow, as Chapman led the Blues to the WSL1 title with a final-day win over Sunderland, ensuring their first two pieces of silverware would combine to make a domestic double. Amidst the eye-catching attacking performers and the solidity at the back, it was Chapman's contribution that was rewarded with the coaching staff's Player of the Season award, shortly after she'd captained the club in its first-ever Women's Champions League outing.
'They've just given it to the captain, the old one running the show in there and keeping everyone going,' she joked upon receiving her award. 'But we can only do it as a team, it's about everyone chipping in and doing their bit. I feel like I've helped a lot of the younger players at the club during what has been a huge year for us, and it's been nice to be really respected as captain and to be given credit for what I've done.
'I actually think it's worked the other way in that they're bringing the best out of me as a player. It's been a two-way thing: they believe in me as a player and a captain, which drives me to be better. They keep me going.
'Captaining this great bunch of players means more than any individual honours and recognition. I love this team, I absolutely love all of the girls. We've got a bunch of players who are blessed with great talent and personalities, a really good mix, and I love leading them.'
One of the young players who has benefited from Chappers' influence is Millie Bright. Voted the best player in WSL2 during her last campaign with Doncaster Rovers Belles, the 24-year-old has been under Chapman's wing for the past three years and in that time she has developed from a midfield powerhouse into an international-quality centre-half who regularly features for England.
'She has been my role model since I was little,' said Bright in 2016. 'It was only the other day I was looking at a picture of me at Doncaster up against Chaps. I always used to look forward to those games, because I knew it would be a tough battle.
'To play alongside her and have her to look up to as a team-mate is just amazing. She always gives me support and she's always there if I need to talk to her. She's been the ultimate role model.
'On and off the pitch, as a captain and a player, she's the best of the best. No one can ever take away what she's achieved and she deserves credit for where I'm at and the awards I've won. But I'll never be able to do what she's done – three kids and still playing at that level. It's amazing.'
More silverware followed for Chapman and co. with the Spring Series title won in 2017, another triumph which married devastating attacking play with a miserly defence. The other big takeaway, however, was the growing leadership from within the ranks; where once there had very much been a reliance on Chapman, now others were stepping up.
That has been evident again this season, with five different players taking the armband at one time or another, but only two members of the squad have started more matches this term than Chapman. Her influence, as shown in her unprecedented 10th Women's FA Cup triumph, will be sorely missed, but she bows out at the top of her game and having given more to Chelsea than they could ever have hoped for when she signed four years ago.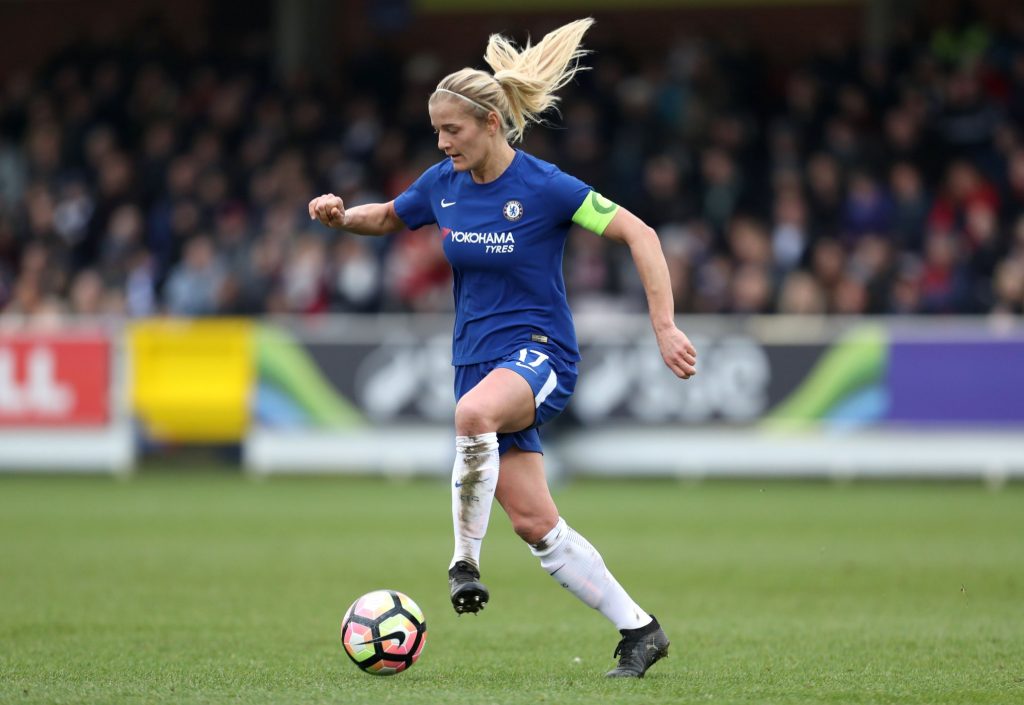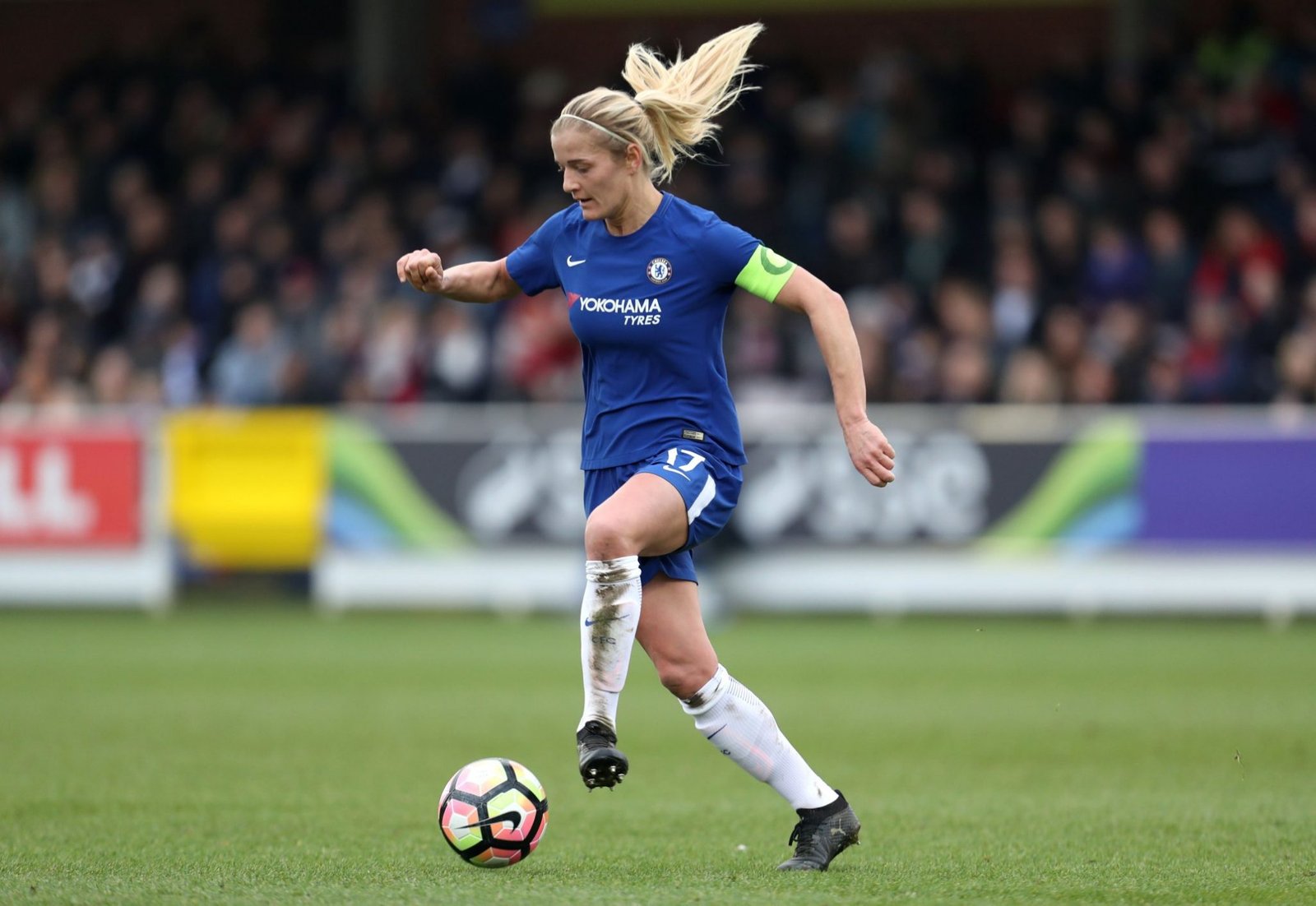 While some may view 35 as an early retirement age, she has been playing football at the highest level for the past 22 years. She started her career with Millwall Lionesses, lifting the Women's FA Cup as a 14-year-old, and continued to win a steady stream of honours as she moved around London, representing Fulham, Charlton Athletic and Arsenal, plus a brief spell in America with Chicago Red Stars.
It was as a Gunner that she enjoyed the most successful season of her career, winning a domestic treble and adding the UEFA Women's Cup, which has since become the Champions League.
Internationally, Chapman fell just short of a century of caps for England, her tally stalling at 94 after she had helped the Lionesses finish third at the World Cup in Canada in 2015. She represented her country at one other World Cup and three European Championships.
She is a two-time winner of the FA International Player of the Year award – in 2002 and 2010 – and also won the FA Young Player of the Year prize in 1999 and 2001.
'I've won quite a lot of trophies throughout my career,' she said. 'I've got a silver medal from the European Championship, a bronze from the World Cup and I also did the Quadruple with Arsenal.
'But I think my most prized possession would be my children and the fact they've actually been able to live my career with me. For me, being a mum, and for them to see me actually playing and not just hear about it later in life, has been the best thing I ever could have done.'
Source: www.chelseafc.com