One hundred years ago, on this very day, 17th April 1918, 14-year-old Mary Lyons, from Jarrow (Tyne & Wear), stepped out to a thronging crowd and made her footballing debut for Palmers Ladies Munitionettes!
Palmers faced a male team of 'Navy Theatricals' with the game penned as a charity event to raise funds for verterans of the Great War. Both teams played in ridiculous fancy-dress for the spectacle but the Navy Theatricals had no idea what they were in for as Palmer Munitionettes ran rings around their opposition, ending in a triumphant 4-1 win, with 'wor Mary' scoring twice!
100 years on, women's football is bigger than ever and it's safe to say that Mary and the Munitionettes will be cheering them on from the sidelines in the sky! Ha'way the lasses!
SO, WHO IS MARY?
Mary was born in 1902 in Jarrow. Her Irish-born parents – Julia and Patrick – came to South Tyneside as a young married couple. Patrick and Mary's six brothers were employed at Palmer's shipyard. The youngest of eight children.
Despite being a staunch Catholic family, football was their preferred religion and Mary was taught the game by her brother John. Practising from dawn 'til dusk, her incisive and exquisite footwork quickly drew the attention of friends and neighbours.
In 1914 the Great War broke out and raged for four years. The "shell crisis" of 1915 saw ammunitions factories spring up all over the region (and throughout the UK) with female labour much sought after.
After leaving school at 14, Mary joined Palmers Munitions Factory where lunch-time kickabouts led to her being asked to play for Palmers Girls.
Women's football grew rapidly from 1915, with teams from munitions factories competing against one another. Teams were based in Newcastle, South/North Tyneside and Sunderland and regularly attracted crowds of 20,000-plus. The interest was incredible. The proceeds would go to war-related charities.
Mary's skills rapidly gained the attention of newspaper sporting columns and in 1918, aged 15, she was poached by the mighty Blyth Spartans – the best women's team in the region at the time – for the national Munitionettes Cup against Bolckow, Vaughn & Co at Ayresome Park. Mary led Blyth Spartans to victory, scoring in their 5-0 victory and won the accolade "Woman of the Match".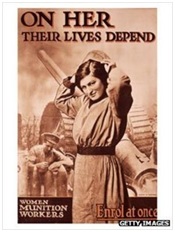 In addition, Mary took the Palmers team from a scratch side to the best in the region, bringing The Munitionettes Cup to Jarrow a year later in 1919.
When the war ended and soldiers were demobbed, women were no longer expected to do "men's work" in the factories nor did the system want them to be independent.
In 1918, women aged over 30 (still disenfranchising millions of women like Mary who had sacrificed for the war effort) were given the vote; arguably a sop for being forced back into domestic subservience of home keeping and child rearing. Indeed, the Parliamentary voting fare comprised overwhelmingly middle-class, male representatives.
As a consequence, women's football quickly became a shadow of what it was in those heady wartime days.
With no professional outlet for women footballers, the unelected bourgeois gentlemen of the English Football Association banned – yes "banned" – women's football in 1921. Mary was just 18 years old.  Tragically, the ban was not lifted until 1971, 50 years later!
Post 1921
Sadly, in her late 20s, illness confined Mary to a wheelchair. She had trained as a nurse maid.
Understandably, robbed of her main passion in life, Mary became embittered and consequently alienated friends and family. She never married and bore no children. Hence, on May 29, 1979, when she died in a Jarrow care home, tales of her footballing heroics appeared to have been buried with her…until now!
The women's game today…

In 2017, four million TV viewers watched England's Lionesses in the semi-final of Euro 2017, women's football is healthier and more popular than ever and continues to be the fastest growing sport in the UK. The FA are ambitiously looking to double the number of women and girls taking part to nearly six million, by 2020. While the region where Mary lived and played her beloved game, the North East, currently provides many of the England's leading players.
The story of Mary Lyons is a dramatic tale of female empowerment in the male-orientated world of the 19th century.  A forgotten pioneer in the tremendous resurgence of women's football, her hugely entertaining and inspirational story deserves to be heard. The Lions' Roar will tour the North East region later this year!.
More Info: @LyonsRoarPlay