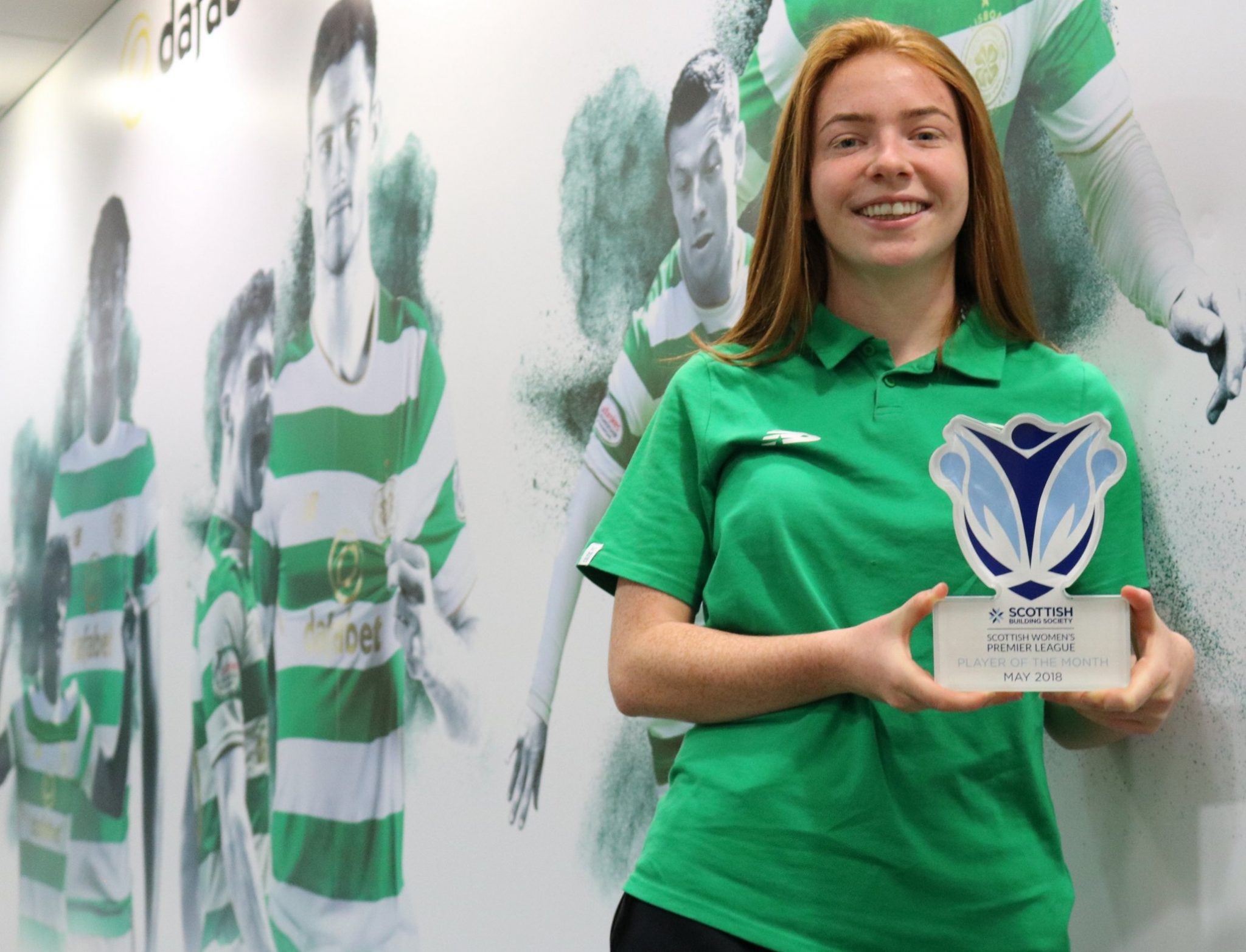 Colette Cavanagh has been voted as the winner of the Scottish Building Society SWPL Player of the Month for May 2018. Over 2,100 votes were cast, the highest total ever, with Colette getting nearly 38% of the vote.
It was a fantastic month for Colette, scoring in two of their four games as left-back. That included a goal in their 4-0 win over Hamilton Academical and a 2-1 win over Forfar Farmington, where Colette scored a fantastic individual goal that proved to be the winner. Those results have kept Celtic third in the table and they remain outsiders for the title.
Speaking from Celtic Park, she said: "It's a fantastic feeling to have won this award. I feel I've been playing well this year. That has been rewarded by the manager based on the fact I've played in every game this season.
"It has been an odd month for us as a team. While we won three out of four games in the league, our loss to Glasgow City and the SWPL Cup Final were two big disappointments. I think the biggest thing we've taken from that though is we managed to bounce back from these defeats with wins in our next match."
Celtic Women are also about to go through a period of transition with David Haley stepping down as Manager to become the Head of the Club's Women's Academy.
"I'm extremely thankful to David for the faith he's shown me in this season. It's obviously disappointing that as a team we couldn't provide the results that we all wanted in some key games. We're all keen to make sure we end this first part of the season well and then refocus for the remainder of the season under the new manager.
Elaine Tayler, Glasgow Branch Manager for Scottish Building Society, said: "From watching this month's nomination video, this was an extremely though award to win! Colette's strike though in the match against Forfar Farmington, to win the game, was incredible. She's had a fantastic month overall but that moment was special."
Also nominated for the May award was Rebecca McGowan (St Johnstone), Chloe Logan (Stirling University), and Brogan Hay (Rangers Women).
"I'd like to say well done to all those who were nominated" said Elaine. "This was the biggest vote ever in the history of this award and there was huge support for all four nominees. As a sponsor, it's amazing to see this support and to also see interest increasing month to month."