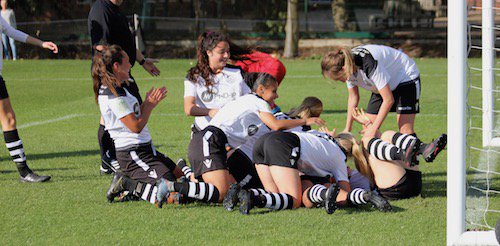 Eastern League leaders Cambridge City believed they had knocked FAWNL neighbours Cambridge United out of the SSE Women's FA Cup but now they have to try to do it all over again.
The Lilywhites were 2-1 winners in the 1st Round tie played at Trinity Fields but their more senior visitors had apparently complained about the pitch size before kick off and then later lodged an official protest with The FA, which was successful.
A United statement read: "After being independently measured following the game, the Trinity Fields playing surface was found to be both too short and too narrow.
"The pitch measured 94 metres long and 58.7 metres wide. It was almost 14% below the minimum requirement and in our opinion, this is a major irregularity."
The tie will now be replayed at United's Mildenhall Town FC base on 25th November, with the winners to travel to Oxford United a week later.
Meanwhile, one postponed match from last weekend will be played this Sunday, as New London Lionesses take on AFC Wimbledon at Northwood FC, kick off 1pm. At stake is a home tie against Portsmouth.