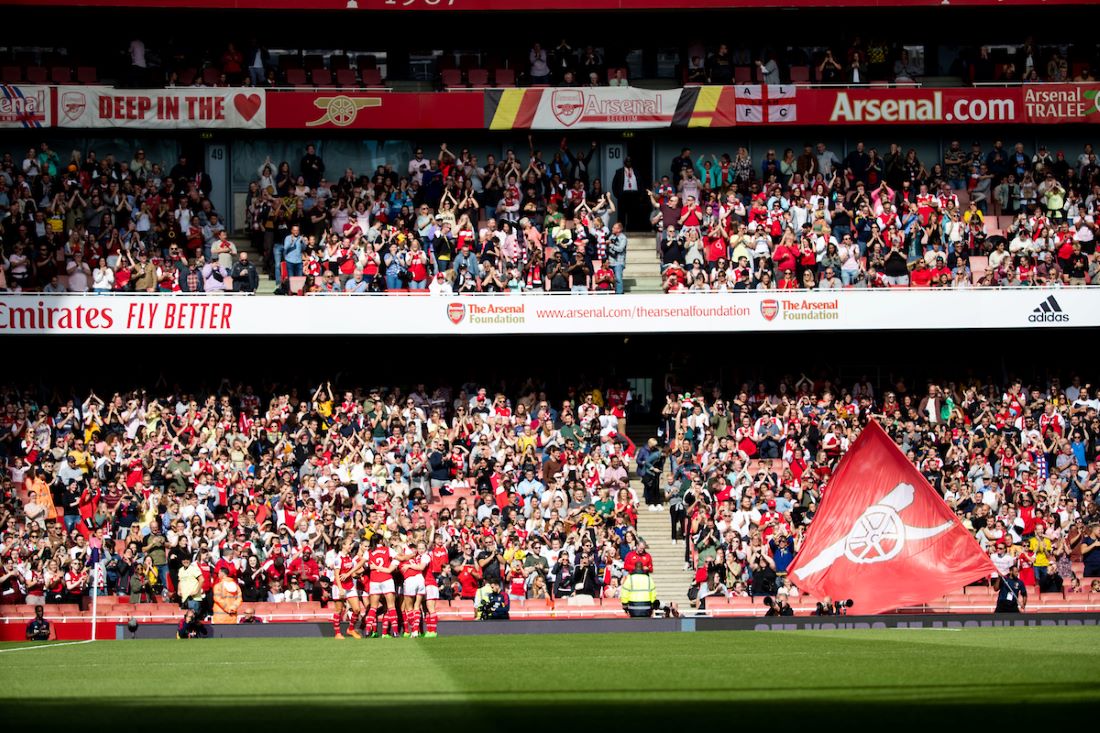 The opening two weekends of the Barclays Women's Super League season has seen a number of records broken, including new individual and combined attendance records.
Arsenal are the new holders of the league attendance record after 47,367 fans witnessed their win over Tottenham Hotspur in the North London derby on Saturday at Emirates Stadium, surpassing the record that was previously held by their rivals of 38,262 from November 2019 at Tottenham Hotspur Stadium.
Some impressive attendances across the second weekend of the campaign, including a club record 27,574 at Anfield for Liverpool in the Merseyside derby, contributed to a cumulative record 89,381 spectators that attended a Barclays WSL match.
The total number surpasses the previous record of 74,247 from Women's Football Weekend in November 2019. It also equates to an average attendance of 14,897 across the league, passing the record set during Women's Football Weekend of 12,375.
There was an additional 6,402 spectators across the Barclays Women's Championship, meaning a total of 95,783 attended fixtures across the top two divisions.
The FA Player also saw record numbers, with Arsenal's win over Brighton & Hove Albion on the opening night of the season streamed live by 23,366 fans, beating the 20,046 viewers that tuned in to watch the FA Women's Continental Tyres League Cup match between Arsenal and Manchester United back in January.
There were also individual club records across the two weekends as well.
As well as their highest attendance at Anfield, Liverpool's win over Chelsea also saw the Reds break their highest attendance for a match at Prenton Park, with 3,006 spectators in attendance.
Manchester United also had their highest attendance for a match at Leigh Sports Village on the opening weekend, with a crowd of 5,315 watching their win over Reading.
Kelly Simmons, The FA's Director for the Women's Professional Game, said: "It's incredible to have seen a number of records broken so early on in the season, which really highlights the significant interest in the Barclays Women's Super League right now.
"We set out at the start of the season wanting to break records and really highlight the unstoppable momentum generated from the UEFA Women's EURO, and I am delighted we have been able to do that alongside seeing some enthralling matches and lots of entertainment.
"I'm particularly pleased to see new records set both in stadiums and by those watching through our broadcast partners and The FA Player. It really does indicate a growing audience and I hope we continue to see that growth throughout the season."