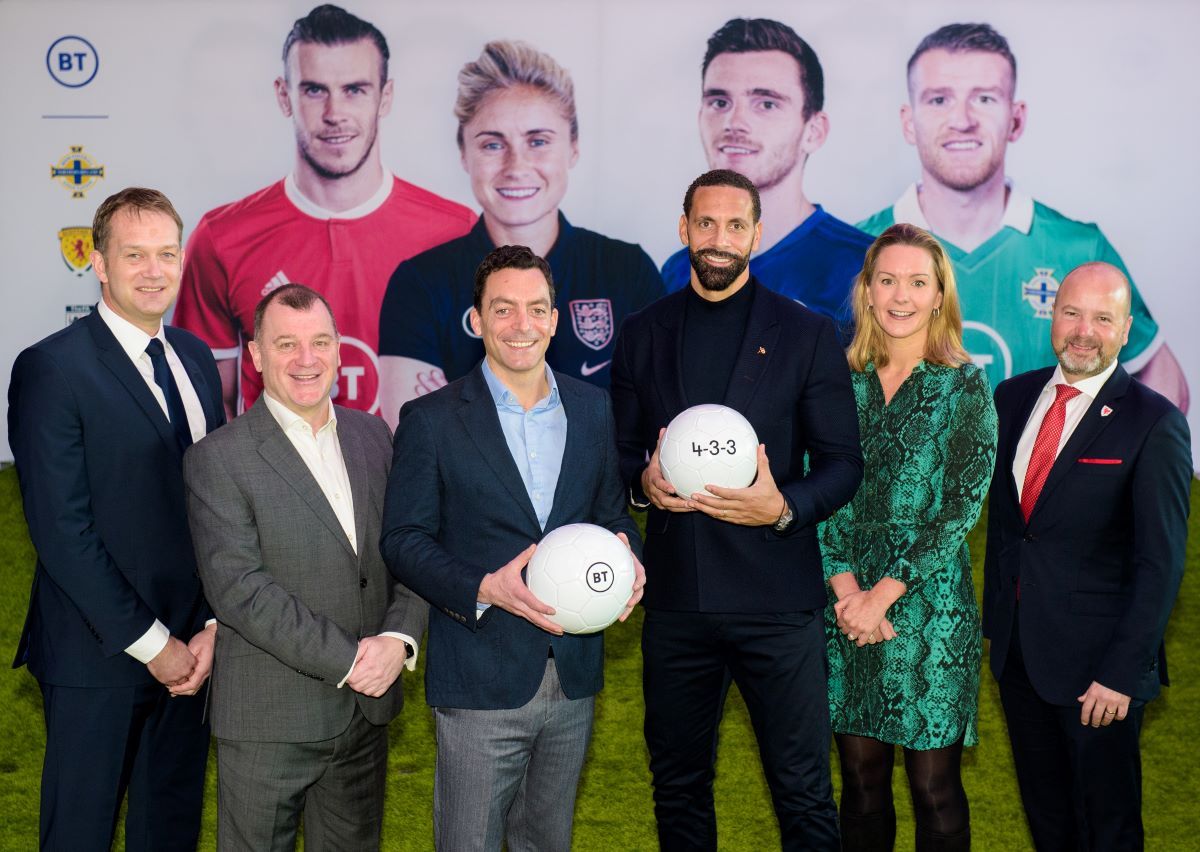 BT has unveiled its 4-3-3 football partnership strategy to use technology, innovation and digital skills in footballing communities to help change the lives of millions of players, coaches and fans.
In partnership with each of the four Home Nation Football Associations, BT say they will help break down barriers to playing or supporting the beautiful game by creating a para and disability innovation hub; launching The FA Playmaker, an official FA entry-level online course; and boosting support for men's, women's, para and disability football from grassroots to elite levels.
4 NATIONS. BT to unite the Home Nations in one of the largest ever footballing programmes to run across the UK in partnership with The FA, Scottish FA, Irish FA and FA of Wales
3 COMMUNITIES. As part of new brand strategy, Beyond Limits, BT to help release the potential of disability and para, grassroots, and women's football communities
3 GOALS for BT to:  

Develop new innovation and technology to enable new ways to play and engage with football
Create closer football communities and opportunities through new digital and football skills initiatives
Inspire a new generation of girls and women to participate in football, on and off the pitch
BT will use its digital innovation and broadcasting expertise to inspire a new generation of girls and women to participate in football, on and off the pitch.
Football Mum to Football Manager:
BT will bring 50,000 new women directly into the grassroots eco-system via the FA Playmaker online course as well as offering bursaries and mentoring schemes for women wanting to progress in football coaching.
Broadcast opportunities:
BT will provide an opportunity for girls and women to follow their ambitions for a career in sports broadcasting, increase its work with female students to offer broadcast training and presenting opportunities to create programming around women's football and produce more TV and online content celebrating and showcasing women in football.
Marc Allera, CEO of BT's Consumer division, said: "This is the start of a very exciting journey that goes far beyond traditional sponsorships and we're looking forward to successful partnerships, on and off the pitch, with all the Home Nations over the coming years."
Mark Bullingham, CEO of The FA, commented: "BT is using the partnership to have a transformative impact on people throughout the country. They have identified three important areas for growth and we are looking forward to BT bringing their digital expertise and innovative thinking to achieve these goals."
Ian Maxwell, CEO of The Scottish FA, added: "BT have some ambitious plans to combine football and technology to engage communities across the nation. Their goals for grassroots, girls' and women's and para-football dovetail perfectly with our own and we are excited at the opportunities our partnership with them holds for Scottish football."
Jonathan Ford, CEO FA of Wales, added: "Football has the power to transform communities and it's fantastic that this partnership will enable grassroots, women's and para football clubs across Wales to benefit from the expertise and services that BT have to offer."
Irish FA Chief Executive Patrick Nelson said: "This strategy will undoubtedly be of immense benefit as we strive to promote, foster and develop football for all in Northern Ireland."
Women's Regional League Round-Up: Four cup shocks for one division